NFT trading volume: NFT sales have reached their lowest point for the year, with total sales volume across five of the largest NFT marketplaces in November declining another 20% from the month before.
According to new report from NFT gaming platform Balthazar, the total sales volume across the five marketplaces: OpenSea, Magic Eden, X2Y2, LooksRare and Solanart clocked in at US$394.02 million for the month, down US$100 million from October, officially setting a new yearly low for NFT sales in 2022.
In terms of total NFT users, the numbers suffered there a little as well. In November, there was a total of just 1.32 million users overall, signalling a 28% drop from last month, which also unfortunately marked another yearly low in terms of users.
While four of the five marketplaces witnessed a steep decline in sales volume throughout November, the Solana-based Magic Eden was the only marketplace to see an increase in sales, surging from US$58.7 million in October to US$94.4 million in November.
It isn't all just doom and gloom however. One key statistic in the NFT world firmly bucked the trend, with the total number of trades in November surging 48% from October, with a whopping 39.7 million total NFT trades being made. This November figure marks an incredible 950% increase in the total number of NFT trades when compared to activity in January this year.
NFT trading volume: Down
Basically, the value of the NFTs is on the decline but people are trading them more often. What does the mean? Could it be that people are getting out of their positions long-term? Or perhaps that those with conviction are scooping up discounted NFTs?
The average trade size across the marketplaces also jumped, increasing by US$68 in November, to a new average of US$966 per trade, up 8% month-on-month.
Speaking to the general downward slump in overall NFT sales, Balthazar CEO John Stefanidis said that the current state of both crypto and broader financial markets makes it fairly easy to see why people aren't pouring all of their money into NFTs.
"It makes sense for the NFT market to have slowed down this year due to macroeconomic pressures as well as the three cataclysms of 2022: Terra Luna, Three Arrows Capital and FTX.
"We've seen interest rates rise and disposable incomes tighten, volatility in stock markets. People have lost trust and are being more cautious," he added.
New utility for NFT technology rolls in
"What we've seen is obviously a decline in sales largely for NFT images and art, but what we're starting to see is really cool and different applications of NFTs. For instance, someone bought a house with an NFT," added Stefanidis.
Stefanidis is making reference to the sale of a a three-bedroom South Carolina property which sold on popular NFT marketplace OpenSea for US$175,000 in October this year. The property was listed for sale by Roofstock, a real-estate fintech firm that combines NFTs with physical property.
The buyer paid for the property with the Ethereum-based stablecoin USDC. Despite purchasing the house on as an NFT, the owner now has full rights to the property, which had its "traits" listed on OpenSea much like any other 'regular' NFT.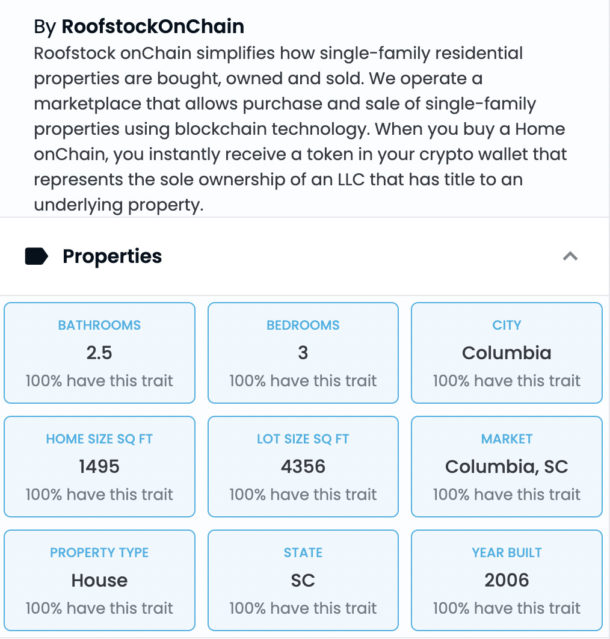 "So perhaps in 2023, 2024 and onwards, when you buy an NFT it won't just be buying a piece of digital imagery, you'll actually buy something bigger that's attached to that photo. And you can also buy the tokens from the companies that create that technology," Stefanidis added.
"It's a really exciting, thriving space but understandably, people are waiting for more uses of the technology."