Alejandro Javaloyas: While the crypto space is going through one of the chilliest winters in the history of the industry, it would be wrong to ignore how the space has introduced new income generation opportunities for creators.
In 2022, creators earned more than US$1 billion on OpenSea alone, and the wider creator economy, not restricted to decentralised technologies, surpassed more than US$100 billion throughout the year.
Finding sources of income as an artist has long been a challenge. In the traditional world, artists often find themselves struggling in local markets, competing for a place in IRL galleries where gallery holders often take a significant cut.
Alejandro Javaloyas: Web3
In Web3, there's a new opportunity: artists can showcase their work to a global community, building a network of fans from across the world. But entering the world of Web3 is complex.
In this series, we dive into the stories of artists who have made the jump with success, and learn how they made it in a new world merging culture, finance and art.
Insert the talented Spanish artist Alejandro Javaloyas. Alejandro grew up in a large catholic family in Mallorca on the conservative island in the Mediterranean Sea. He knew he was different from a young age, and found drawing as a mechanism for his escape. Today, he resides in France and keeps busy with regular exhibitions and contributions to the Web3 community he's grown on Twitter.
His style is abstract humanistic, inspired by classical painting training and his desire for outworldly experiences. We spoke to Alejandro Javaloyas about his journey into Web3.
Can you take us through your story of diving into Web3? How did you get involved?
Alejandro Javaloyas: I'm a visual artist from Spain, based in France. My work explores a broad spectrum ranging from post-abstraction to ultra-photography. I hold a BA in Fine Arts from the University of Barcelona, as well as a Master's of Fine Arts in Filmmaking from ESCAC Barcelona Film School. I've always been interested in mixing photographic images with painting, and for that reason I had always used digital tools to develop even my physical work.
I've been involved in the traditional art world for almost 10 years, trying to survive through it, before I first heard about Beeple selling one of his digital artworks for US$69 million at Christie's. I did tons of research to understand the tech, but lost interest when I saw most projects were PfPs. I wasn't sure my work was a fit for that ecosystem.
But a year later, I was talking about NFTs with my internet friend and the amazing post-abstract artist, Daniel Curtis. He showed me there was a booming post-abstract community on Exchange.Art on Solana, and I fell in love with some of the works. In addition, there seemed to be a decent pool of collectors genuinely interested in digital abstraction so I decided to give it a try.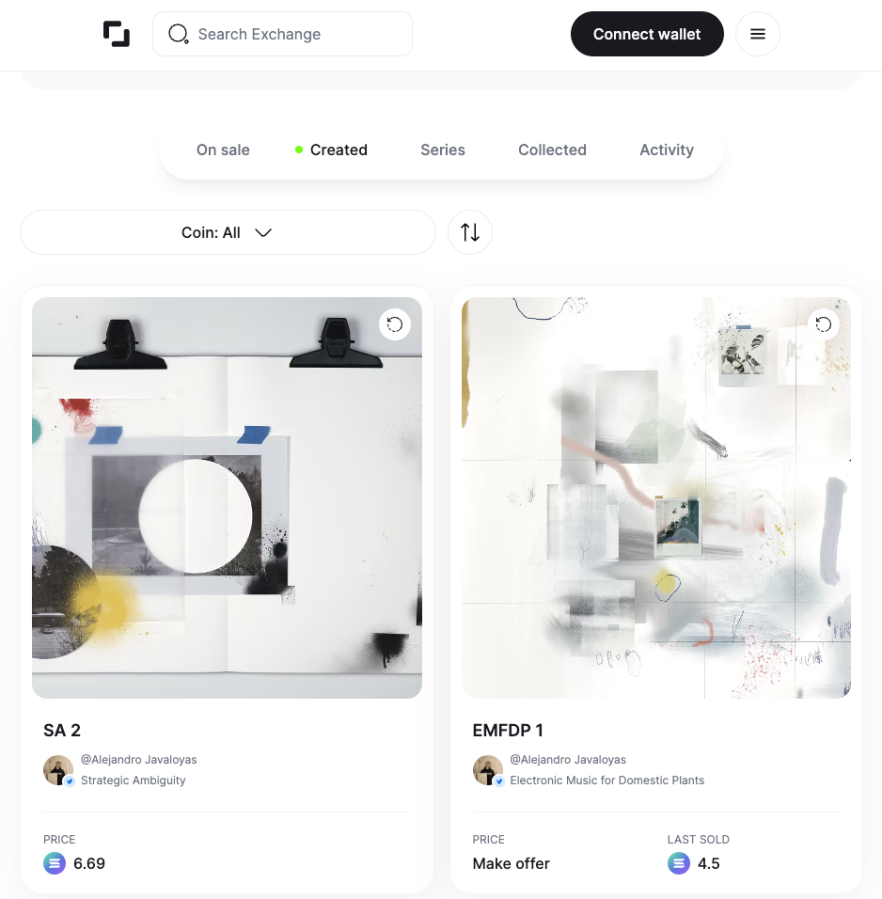 How did you onboard yourself?
Alejandro: Daniel was kind enough to schedule a video call with me to answer all my technical questions, help my open my Phantom wallet, create my exchange profile and develop a Twitter strategy to grow my community so I could start minting and listing works.
After three collection drops on Solana, I minted my genesis collection on OBJKT on the Tezos blockchain. And some months later I was invited so be an artist on SuperRare, so I started my journey on Ethereum.
What are your tips for deepening your expertise in the space today?
Alejandro: The most fascinating aspect of the crypto-art space is its people and the strength of their sense of community. Artists, curators, collectors, platform staff and developers are the main source of insight and everybody is willing to help you out, give you a hand and share their knowledge.
My major tip would be to go on Twitter, reach out to people whose work you like and simply ask for help. Another tip is to not mint too early. All marketplaces on all blockchains are crowded with thousands of works and difficult to navigate for collectors. In order to collect you, people need to be aware of your drops.
I would recommend getting started on a Twitter account, craft a clear bio and pinned Tweet, and start interacting meaningfully with comments, retweets and DMs. You need to grow your community first, so when you drop your genesis piece, there's already an audience for it.
How did you go from noob to degen? How did you overcome some of the complexities?
Alejandro Javaloyas: Ask questions, talk to other artists, be a part of artist group chats on Twitter and Discord. Listen to podcasts, attend Twitter Spaces. It's a constant learning process that never ends.
Creating and using crypto wallets, signing up on different platforms, minting, listing and airdropping can feel daunting at the beginning, but it's actually very user-friendly. It's easy, so don't panic. However, some aspects I find difficult are pricing, strategising drops to avoid oversupplying, understanding what's a good fit for different platforms, and avoiding burnout from being too much on Twitter.
Can you share the story behind your first art collection? How have you grown awareness of your art since?
Alejandro: My genesis collection was titled "Electronic Music for Domestic Plants" and was a series of nine digital abstract pieces that incorporated Polaroids I had taken of my domestic plants during the first Covid lockdown.
Formally, they were influenced by the work of Cy Twombly and Julius Heinemann. I love the way they incorporate pictures in their paintings. I dropped the series on Solana. I would do a weekly auction on Wednesdays and the pieces all sold out.
After that first collection, you start getting a better understanding of the market interest and your pricing. I then dropped two more collections on Solana before I started with editions on OBJKT on Tezos. After three collection there, I got started on Ethereum.
Every chain is different. Prices, mood, drop frequency, 1:1s vs editions … these are things you really have to take into consideration, and that will change depending on the chain you're minting on.
Do you think there's a place for all artists in Web3 or is it saturated?
Alejandro: I do believe we are still early. There's a place for everybody and in the upcoming years we're going to see how actors from the traditional art world, like museums, curators, gallerists and also collections, come over and start operating in the crypto-art space, enlarging the current market.
How does Web3 differ to your experience in Web2?
Alejandro: I think decentralisation is a massively powerful concept that makes Web3 highly appealing. For artists, that means less gatekeepers, more autonomy, and fairer compensation. Now it's time for us to fight for what we have accomplished in order to make sure that royalties on secondary sales, one of our biggest wins, stays in Web3 and don't become a forgotten utopia of the past.
Alejandro Javaloyas: What's your favourite NFT communities and why?
Alejandro: I'm currently a member of the 5th Cohort of the VCA Residency, and having a blast and learning so much. I think that VerticalCryptoArt is doing a fantastic job in terms of redefining contemporary culture by empowering Web3 art and the culture ecosystem. They help artists create and present art in meaningful and impactful ways.
They assist brands and institutions to explore Web3 and blockchain through art and culture initiatives. They organise and curate IRL and online live events connecting and educating people globally. And they're been encouraging meaningful and critical conversations about the future of crypto-art. I definitely look up to Micol and the rest of the VCA team because their job is priceless.
Alejandro Javaloyas: What's your final tips on "making it" in the world of We3?
Alejandro: Space Case ADHD, an amazing post-abstract artist and good friend of mine, once told me "just make sure you stay connected to the muse". And that's been the best piece of advice I've got so far. The space is hectic and very noisy. So the best we can do is make sure we still have time and mental space to keep creating art, no matter what's going on out there.
You can learn how to make an NFT with our guide here.