Deadfellaz: Betty tells us about unleashing her 10,000 NFT Zombies as NFTs challenge traditional advertising.
The front page of The Hollywood Reporter traditionally covers 'breaking news' headlines like Britney Spears' first release since her conservatorship, drama on the set of the latest Star Trek film or the formal confirmation of Sylvester Stallone's latest divorce.
But it's 2022 and readers of the gazette are receiving a different kind of story: how 10,000 zombies have been signed to a leading Hollywood talent agency. United Talent Agency (UTA) is responsible for representing some of the most acclaimed figures in popular culture, including names such as Johnny Depp, Jim Carrey and M. Night Shyamalan.
Now, the agency is entering a new realm of representation, signing Aussie-grown Deadfellaz, an NFT ecosystem launched in mid-August last year that has rapidly become one of the most iconic projects within the Web3 space.
Deadfellaz: Horde mother
The Chainsaw sat down with the great 'Horde Mother' herself, Betty of the Deadfellaz, to find out how she has managed to rapidly cement a community of green ghouls both online and IRL as a pop culture powerhouse.
But what are these 'undead' characters and how are they potentially disrupting the way that successful pop culture businesses are built?
According to Betty, NFTs — and Web3 — are introducing a new style of business success to the mainstream world that requires no ad or marketing spend. But how?
Each zombie is representative of a living and breathing human in the real world, who become brand ambassadors rather than cookie-trackable users targeted by the many billions of dollars of advertising that make up the traditional success of the Web2 world.
Deadfellaz: Genesis
So how were the little retro-clad zombies born?
Covid and the introduction of a new digital necessity for socialising — fuelled by governments forcing people to be exposed to no-one but housemates and kitchen microbes for a full year — definitely played a significant role.
That was coupled with the fact that cryptocurrencies, and the underlying recognition of blockchain technology, garnered mainstream interest as people questioned whether governments were sending us directly on a path towards the end of the world.
Betty, quick to recognise that Covid lockdowns were rapidly generating a new paradigm for how people congregated in the digital world thanks to blockchain technology, sat up in her seat.
She first came into contact with NFTs in January 2021, after artist friends of her husband, Psych, began to mention their interest and subsequent success with the emerging tech. At the time, Betty and Psych ran a creative agency with briefs predominantly coming in from corporate clients.
Impact
Betty struggled with the fact that there wasn't something truly impactful to give her time to. So, when the pandemic made their day-to-day work even more difficult, Betty recalls the discovery of NFTs as a "lightbulb moment".
"This technology felt like a major disruption — like it could shake up a lot of things in a lot of industries, and change things for a lot of people, starting with creatives," she said.
After forming an initial sense of the type of innovation and industry-shaking this emerging tech could have, Betty began drinking up as much information on the world of NFTs as possible. She spent days listening in on Clubhouse chats and lurking on Twitter spaces. Everywhere she went, however, she kept noticing a similar theme: the space was profoundly male-dominated.
She distinctly recalls Clubhouse meetings where crypto bros would freak out the second a female voice would ring out through the chat, exclaiming, "Woah, there's a girl in here?!"
Creating space for inclusivity in Web3
At the same time, what's known as the profile picture (PFP) phenomenon (NFTs designed to be used as profile pictures on social media) was properly kicking off. PFPs introduced a new way for people to 'be themselves' online. We saw this space pop off when heavyweight projects like the Bored Ape Yacht Club and CryptoPunks began reverberating with great success across international headlines.
Betty, who had always been fascinated by the idea of identity, and more recently by how this might translate into the digital world, told Psych that a PFP project was something they could do "really, really well". But Betty found no other projects that aligned with her own sense of identity.
She recalled only finding projects where female avatars were identified by "boobs", and while she stressed that there's nothing wrong with that, she found a lot of the depictions erred towards being insulting.
"Everything in the PFP space was largely male, and if it wasn't, it was binary. And even in the cases where it was feminine, it was… "borderline offensive," she told The Chainsaw.
NFTs and representation
It was this fundamental lack of representation in the world of NFTs at the time that formed the catalyst for Deadfellaz.
So 10,000 non-binary zombies — some blood-dripping, some fedora-wearing, some Rockabilly-styled leopard jacket-wearing — were brought into the world.
Ever gripped by society's ghoulish curiosity with the spooky and macabre, and the consistent presence of the undead in popular culture, Betty said she wanted to "be the one to bring that Halloween concept into the world".
She continued, "I think the fascination with the spooky and the macabre is something we've been obsessed with societally since the dawn of time… so I said to Psych, let's do this. And so we did."
And on August 13, the project went live, selling out in less than 20 minutes.
The end of traditional advertising?
To the uninitiated observer peering in at this undeniably strange subculture from the outside, the fact that a single one of the Deadfellaz NFTs still demands a minimum price tag of 0.6 ETH (roughly US$1000) might seem ludicrous.
Undoubtedly, the 'NFT craze' played a contributing role in these historically 'hefty' price tags — in late-January, a single Deadfella would set you back roughly $17k. But unlike other thousands of other NFT projects, which saw their floor prices rapidly reach near-zero, the value of the Deadfellaz ecosystem has held strong.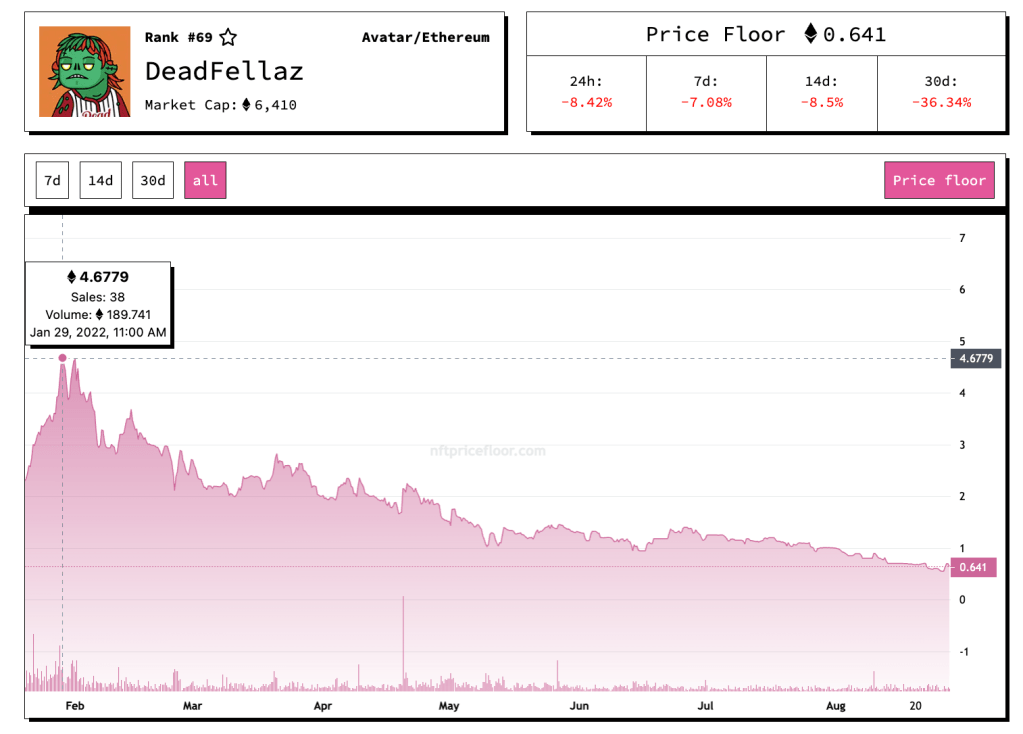 Why? Because their value is agreed by thousands of real people from all over the world who believe these ghoulish beings much more accurately represent who they are online. According to Betty, PFPs are an extension of digital identity.
"They're the intersection of art and technology, and a progression of culture and community online," she told The Chainsaw. "How do you express yourself in the real world? What clothes do you wear? Where do you hang out? We're progressing into a digital world and the younger generation are more focused on digital identity than ever before."
Betty believes our identities have been owned by corporations for so long and "Web3 is a chance for people to own their identity online."
Much like hunter gatherer societies of old, tight-knit groups of people with a strong sense of shared identity are creating their own values and economies of trade, except this time reimagined and re-enacted through an immutable, digital medium.
A pertinent symbol of this new era of digital identity can be found snapping up the interest from stars like the NFL's Odell Beckham Jr, along with his close friends and family, choosing to purchase Deadfellaz NFTs with rare purple-fur traits.
A different type of success
In the world of Web2, where every interaction is mapped in a complex web of metadata only to nudge you into purchasing something you didn't even know you wanted, Web3 is offering a new kind of business growth.
The younger generation have a growing aversion to the styles of advertising and growth deployed by Web2, where the effects of the predatory, attention-monetising revenue model can be felt everywhere. 74% of the chronically online Gen Z and younger millennials say that they feel "constantly bombarded" by digital advertising, with a whopping 84% saying they've lost faith in traditional and influencer marketing tactics.
While advertisers in Web2 copy gambling tactics to "elicit psychological cravings" and keeping them glued to their screen for as long as possible, Web3 keeps people engaged voluntarily. And the signs of a mass exodus among the younger generation are only just beginning to make themselves clear.
This is because Web3 isn't just a different paradigm of value creation, it's fundamentally changing the way businesses experience, or achieve, success. And it's led by community.
"The value of digital items can be just the same as perceived value in the real world. So if one person says, 'This is worth this,' and other people say they agree, then that's what it's worth," Betty says. "While people might see the value of these pictures and say it's ridiculous, it's important to remember it's been agreed upon by thousands of people."
Betty's: Community-focused values
Despite what a lot of mainstream media — or boomers — may think, NFT projects aren't just groups of random people speculating on the price of JPEGs together, they're mostly made up of global ecosystems of like-minded human beings sharing their time and experiences with one another on the internet.
This was, after all, the fundamental reason for Betty creating the Deadfellaz project in the first place. What started as a way for Betty herself to feel more comfortable expressing her identity online merged into a shared space for thousands of people to do the same.
"I loved seeing the communities form," she said. "It was saying so much more than, 'I like this piece of art.' It's a communication tool."
She recalls the different communities meeting up around the world, from Singapore to Italy. In New York, she joined her Horde for breakfast and said it was "wild" seeing how much everyone cared for one another. "It's like a family," she said.
For Betty, despite the Deadfellaz project witnessing success, it's never been about the money. From the very beginning, Betty and Psych have always seen building community as priority #1. Betty recalls the fact that she and Psych elected to absorb the (quite costly) gas fees associated with minting when the Deadfellaz were first released — a decision that cemented their role as genuine leaders in the eyes of their community.
The Horde released in the real world
Apart from the monster UTA deal that will see Deadfellaz expand ever deeper into brand partnerships, merchandising and gaming, they've also collaborated with super interesting IRL brands like Gilson Snowboards, fusing together the world of digital art and snowsports.
Following the partnership, the Deadfellaz ecosystem NFT holders (which has now grown to include Infected S1, Deadfrenz and Betty Pop Horror collections) were able to to 'mint' a 1-of-1 snowboard or pair of skis for 0.32 ETH.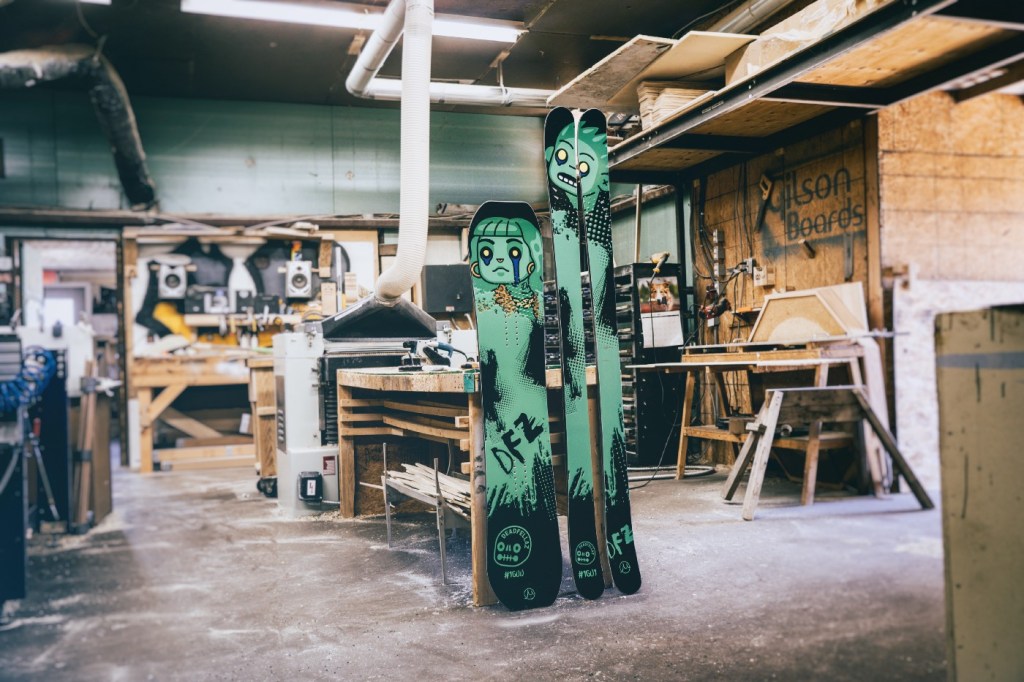 Moving forward, the Deadfellaz roadmap is paved with interesting projects set to be released in the near future, most notably an entire Play-to-Earn trading card game centred around the Deadfrenz collection, opening up the Deadfellaz ecosystem to even more new Web3 users.
It's all too easy to peer in and see the world of Web3 as a wild frenzy of tokens, flashy digital artworks and so on, but if the rise of Deadfellaz is anything to go by, there's a new wave of culture change brewing just beneath the surface that Betty thinks is only starting to get properly warmed up.
While businesses leaders and CMOs may scratch their heads at the multimillion-dollar success of NFT collections right now, in due time they'll recognise the fact NFT tech represents a transformative new era of digital community.
Like a bubbling cauldron hanging suspended above a bed of glowing coals, projects like Deadfellaz are the mixing pot where the concepts of identity, value and connection are melted down and transmuted into new concoctions of expression and meaning, and are challenging the very foundations of what it means to build a successfully influential culture online.