A skilled hacker who stole unreleased music from British Pop star Ed Sheeran and American rapper Lil Uzi Vert has scored himself 18 months in prison.
The hacker, who went by the pseudonym "Spidark", sold at least two Ed Sheeran songs on the darkweb in exchange for Bitcoin (BTC).
Spidark — real name Adrian Kwiatkowski — is a 23-year-old dude from Ipswich in the UK. Late last week he pleaded guilty to a whole host of different charges, including three counts of computer misuse and 14 copyright offences.
Spidark first captured the attention of authorities back in 2019 when the New York District Attorney began hearing complaints from numerous music agents that their unreleased version of their clients work had been appearing online. When police first raided Kwiatkowski's home later in the same year, they confiscated seven devices with thousands of unreleased songs.
Kwiatkowski worked by hacking into cloud-based databases of musicians, stealing unreleased music and then selling it on the darkweb for Bitcoin and other cryptocurrencies.
The City of London Police, which were the lead investigators on the case, found that Kwiatkowski cleared around £131,000 (US$148,000) on the sales.
Lucrative crypto crime just not a thing anymore
While many people, including Kwiatkowski, believe that crypto is a good way of hide the sale of illicit goods online, there's quite a bit more to the story. No doubt people's knee-jerk association of crypto with crime comes from Bitcoin's role in facilitating purchases on the now defunct dark web black-market Silk Road.
While crypto still endures a pretty bad rap for its role in facilitating the sale of illegal goods, the increasing industry-wide understanding of blockchains and how they work has seen crypto be used less and less by criminals looking to obscure their online transactions, meaning dickheads like Kwiatkowski likely won't get away with shit like this anymore.
In fact, a recent report from blockchain intelligence group CipherTrace shows that the amount of crypto used in criminal activity is at its lowest point since the birth of crypto thanks to massive advancements on-chain crim tracking technology.
The report estimated that illicit activity accounted for between 0.62% and 0.65% of all cryptocurrency usage in 2020 and has since fallen to between 0.10% and 0.15% of overall activity throughout 2021.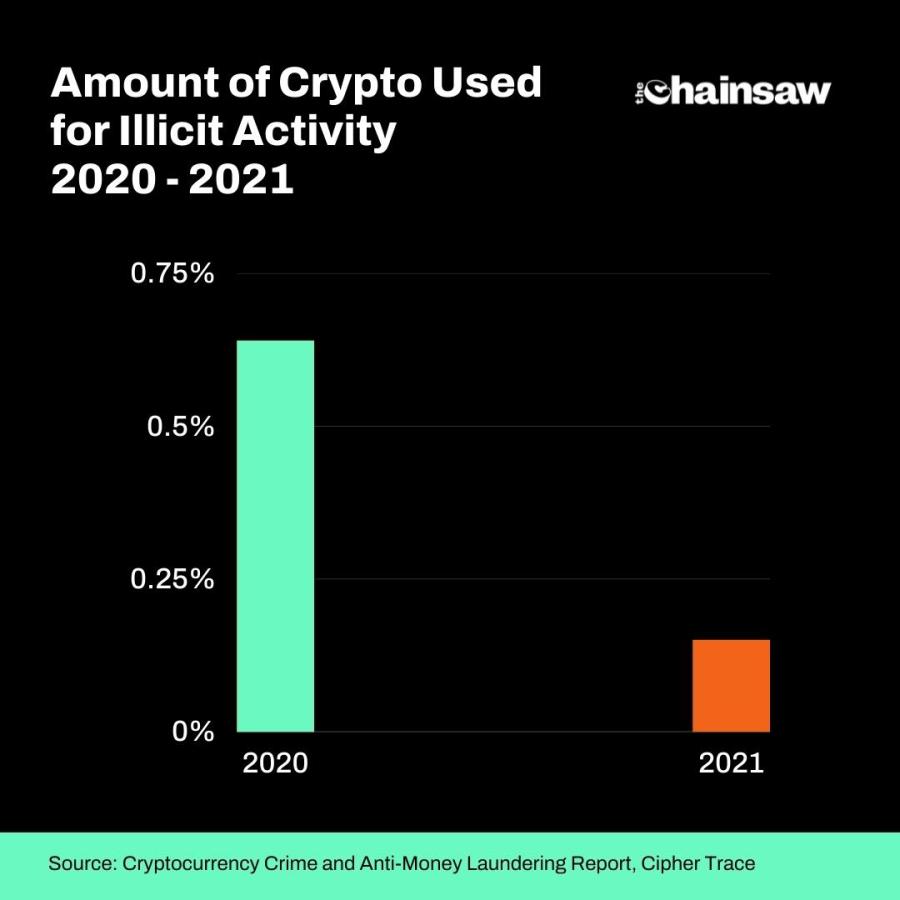 With Blockchain analysis firms like Chainalysis offering highly sophisticated investigation tools, while the "shadier" tools like mixing service Tornado Cash come under increasing scrutiny from regulators, using crypto to hide online financial behaviour becomes less enticing with each passing day.
While the overall volume of cryptocurrency being used in illicit activity has been falling, the volume of hacks has been increasing. October has already been the worst month for exploits on record, with Chainalysis finding that more than US$718 million has been stolen in hacks this month alone.
At this rate, 2022 will almost certainly overtake 2021 as the biggest year in exploits. "So far, hackers have grossed over $3 billion dollars across 125 hacks," the blockchain analytics firm wrote on Twitter.