Annie Hamilton: Australian musician, fashion label owner and designer Annie Hamilton has become the latest artist to join the Serenade roster this week, beginning her exploration in how NFTs can drive greater fan engagement. 
Annie's album, "the future is here but it feels kinda like the past" comes with a collectible package of unreleased tracks, voice notes and a digital mini magazine (or zine) from the artist.
More than one year on from the pandemic, the music industry remains to be one of the most harshly hit. Musicians are grappling with increasing costs of touring, skyrocketing flight costs, and overbooked venues that are still playing catch-up from lost gigs.
"It's such an interesting time to be an artist," Annie shared with The Chainsaw. "It's never been more accessible for artists to make music and release their own music, but it's never been such a difficult time to earn money as a musician. Live music is back since Covid, but any touring musician knows that this can be financially unviable and unfeasible for the vast majority of artists."
Unless artists are able to sell-out venues with hundreds or thousands of people across different cities, Annie noted artists are losing money on tour with the rising cost of flights, accommodation, travel, on top of the increasing costs of living.
"There's so many expenses that go into touring. You need to pay your band and your crew, and now there's so many international artists flooding cities across the world who weren't able to travel during the pandemic," she said. 
Annie Hamilton and Covid
Covid was one of the key disrupters to the once thriving music industry of Australia, but more recently, events and tours have been cancelled due to flooding. Before Covid, Australia's bushfires put the industry on hold for many emerging musicians.
"In the age of streaming, everyone knows that source of income isn't paying anyone's rent, unless you're in the top 0.0001% on Spotify. As a musician, your income is made up of a pie chart — things like merch, touring and streaming are a part of that, and Serenade's Digital Pressings are another chunk of that pie that gives an artist an opportunity to be paid for their work."
Annie believes that music and arts are culturally under-valued, and it's hard for audiences to consider paying when they can just stream. But she loves the idea of doing a deluxe, exclusive release that allows people to better connect with the entire process of releasing her music.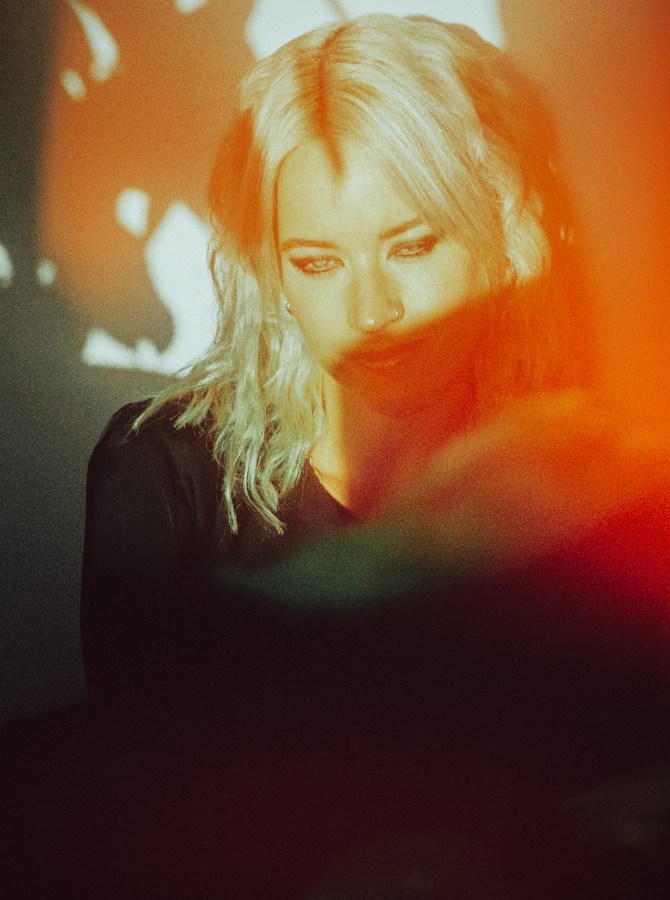 "I love art and craft and making memorabilia and I wanted to include the Zine to give it a hand-written personal touch to tell a bit more of the story and let people into the universe and understand the album more. Music to me is just as visual as it is sonic," she said. 
NFTs
Annie is excited about the exploration of tech with traditional art forms, and said that she's always been interested in the juxtaposition of the Web3 world in contrast with hand-written analogue mediums.
"I've always been interested in tying those together and a lot of my visuals incorporate film photography and videos. I love the push and pull of new innovations with the things we're potentially leaving behind and how they can be tied together," she said, in reference to the key theme of her release that explores the future and the past.
Sustainability is a core component of Annie's multidisciplinary ventures. Her clothing label is made local to reduce emissions, and she repurposes all additional stock to become accessories, including scrunchies, eye pillows and packaging.
The Digital Pressing was a logical decision for her, as Serenade remains carbon-neutral on the Polygon chain.
"I wanted something I can give to fans who are happy to pay for something more special without the carbon footprint. If they don't want to buy it they don't have to — and my main album is available for streaming. I don't want my music to be inaccessible. But the deluxe pressing reduces the impact of pressing vinyls and CDs as well as freight, plastic and packaging," she said.
"NFTs are the first product in history where the original creator earns a cut in resale value in perpetuity. If it gets sold, the original creator is always going to be benefiting from that. I'm curious to see how these new formats can help artists take control of the sales of their art and retain ownership."
Annie Hamilton's album can be found here.