MAFS NFTs: Married at First Sight Australia (also known as MAFS because Australians can't help but shorten everything that consists of more than seven letters) is a reality TV phenomenon. It is one of the most successful reality shows in the country.
If you have been resisting watching it for this long, it is time to give up and join the fold because this show is lit. Give in to the pull of MAFS, you can't fight it any longer.
For those of you that don't watch it, here is a quick catch-up.
MAFS backstory
Married At First Sight Australia follows a group of brave souls who are paired together by practicing psychologists, and the couples only meet for the first time at the altar as they are marrying. This is an arranged marriage in the true sense of the word, the way that has happened for centuries in other countries around the world.
In the first series of the British version, the couples were actually legally married, although this practice has since been stopped. Australian participants were never legally married, legal restrictions in Australia meant that the couples couldn't have a legally-binding marriage as prescribed by the Marriage Act of 1961. Instead, the participants have an unofficial commitment ceremony, however it is set up like the real deal with everyone looking glamorous and families in attendance.
MAFS originally premiered on the Nine Network in May of 2015, and has since captivated viewers in the millions as the first flush of love and excitement ends up in either bliss and babies or cheating and explosive showdowns.
Last night, the first episode of the 2023 season kicked off, and hot damn it was the best of the best. If you didn't see it, you can catch up here on any device, for free, on Channel 9's on-demand service.
What is an NFT?
An Non-Fungible Token (NFT) is a unique digital item that no one else can have a copy of. The details of your ownership of that NFT are kept on the blockchain. The blockchain is like a public notebook that keeps track of who owns what, and everyone can see it, and no one can change or erase what's written on it. This means that the information about who owns the NFT is safe and can't be tampered with. It also means that no one else can claim to own the NFT, because the notebook says you own it. In this way, some NFTs have become extremely valuable, selling for millions of dollars as collectors' items.
So here are the moments we think should be preserved as NFTs forever on the blockchain from MAFS 2023.
SPOLIER ALERT! Stop here if you have not yet seen it!
MAFS NFT #1: Lyndall's Life-Saving Drugs
Two couples were featured last night. Lyndall and Cameron were first up, and Lyndall has a HUGE backstory.
She says, "I definitely thought about my wedding day a lot when I was younger, but how can I ask someone to be with me forever when my forever is a lot shorter than theirs?"
Tragically, Lyndall was diagnosed with cystic fibrosis as a baby. "I found out my life expectancy when I was in high school. I remember doing the worst thing and Googling it. And at that point, my life expectancy was 32. It was a big thing for 14 year old."
However, here is the moment that needs to go on the blockchain. It is the moment when Lyndall talks about when she was approved for a new drug that would prolong her life for decades.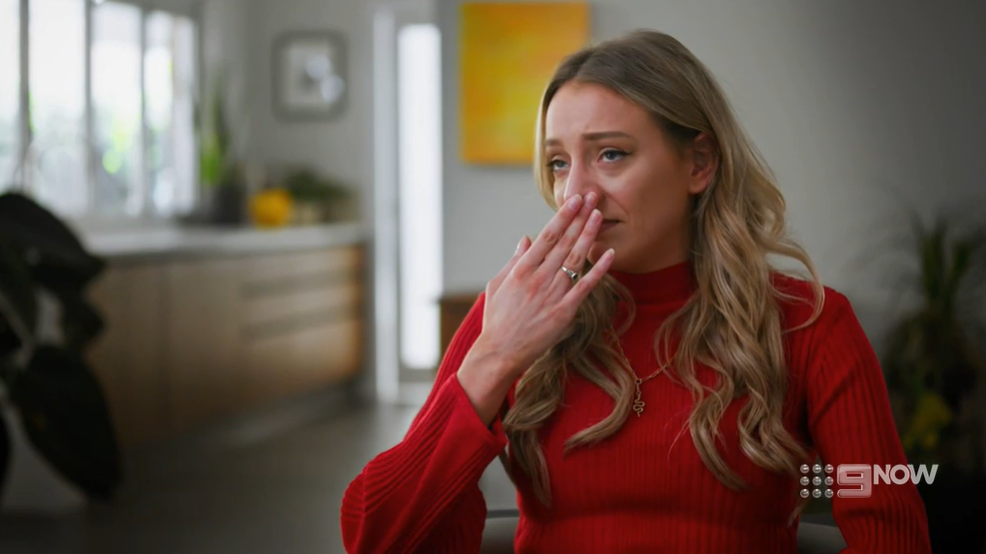 She says, "Statistically, it's been predicted to add another 40 years to my life expectancy. The first thing that came out of my mouth was, 'I'm gonna be able to get married and have kids.'"
That's the cutest and most uplifting thing that has ever been on MAFS Australia. STRAIGHT TO THE BLOCKCHAIN!
MAFS NFT #2: Cameron's blank relationship history
The man-bun-bearing cutie pie Cameron was asked about his previous relationships. And he admitted that he had never had a girlfriend.
"I've never had a serious relationship. I flick through my socials and all the friends I grew up with are all getting married and having kids and they're enjoying life. And I know that's what I want as well. But I don't want to be coming up to 35 with no family. So I'm putting my trust into the experts."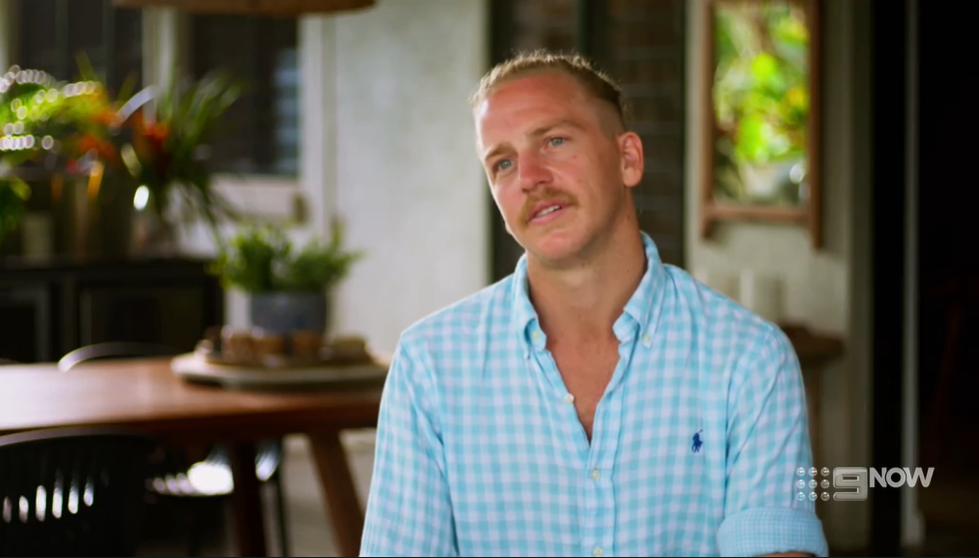 His little face, slightly blushing, saying he'd never had a serious relationship just makes you want to swoop him up and get Lyndsay to put pashes all over his cutie-pie head. STRAIGHT TO THE BLOCKCHAIN.
MAFS NFT #3: Cameron's Swag of Loneliness
Cameron is a chippie who spends a lot of time across remote regions of Australia, fixing schools and hospitals. OMG will our hearts be able to handle the bursting? I think, no.
As there are no Hilton Hotels nearby (thanks, Paris, you need to get on that) Cameron sleeps in a swag between jobs. This may be a clue as to why he doesn't have a girlfriend. Firstly, no one wants to be that dusty, and secondly, there isn't enough room in there for two.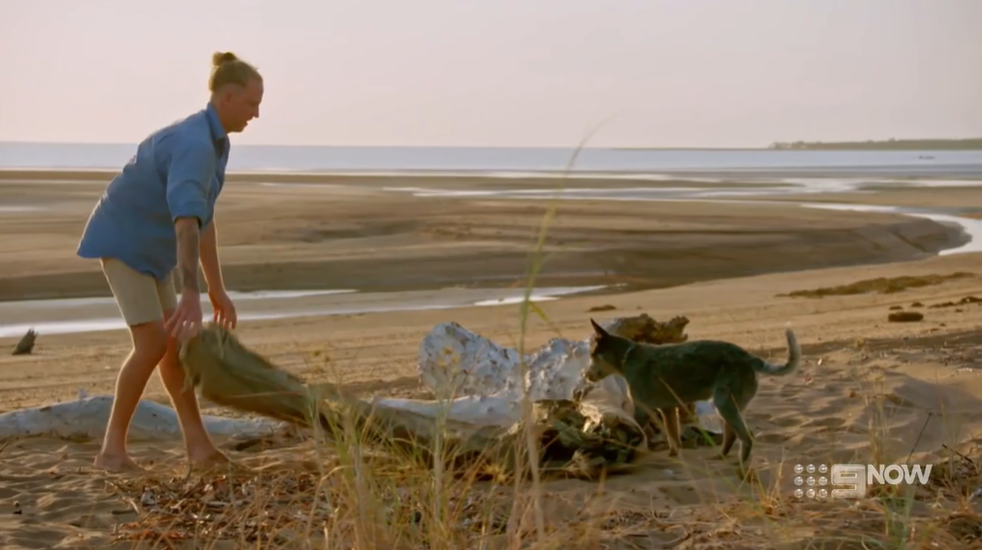 He says, "It's not easy to meet girls when you like 900 kilometres from civilisation. I do get a bit lonely."
The hopeless wish to get a girl into that swag with him needs to be remembered as what not to do when looking for love. STRAIGHT TO THE BLOCKCHAIN.
MAFS NFT #4: The country music moment
While at the wedding table, Lyndsay admits she like country music, much to the horror of her friends. Then Cameron's little face lights up, and he admits that he likes country music too. These two dags no longer need to be secretive about their cringey interests. Lyndsay almost falls off her chair in sheer joy. STRAIGHT TO THE BLOCKCHAIN.
MAFS 2023: Bronte and Harrison
Bronte and Harrison are the next couple to be married on MAFS 2023. And there was drama from the start. Big drama. Huge.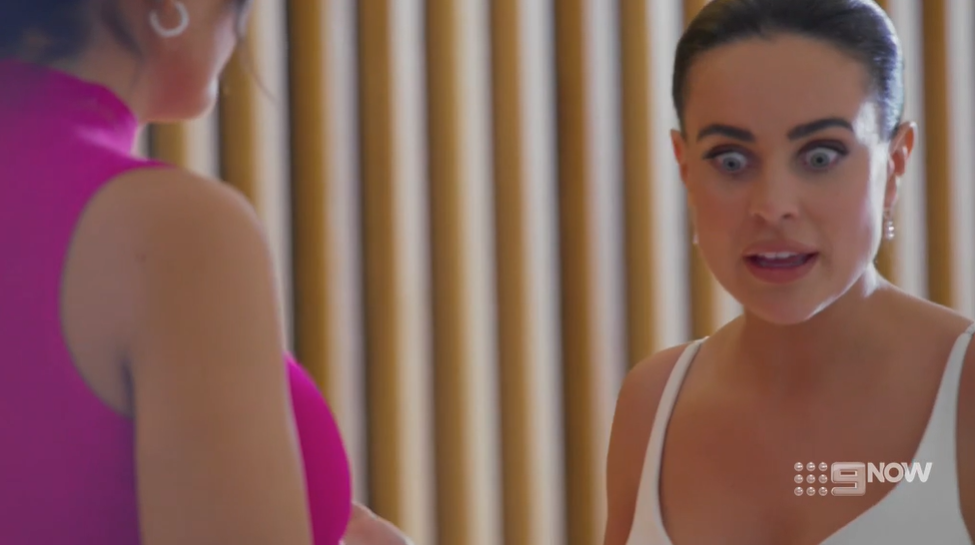 MAFS NFT #5: Bronte's desperation to get married
Bronte is introduced as someone who is plagued by situationships and who can't close the sale and get engaged. She just wants someone to put a ring on it. This makes us feel sympathy for her and hope she doesn't get married to a commitment-phobe. Her holding up her ring finger and telling everyone she's getting a band on that baby goes STRAIGHT TO THE BLOCKCHAIN.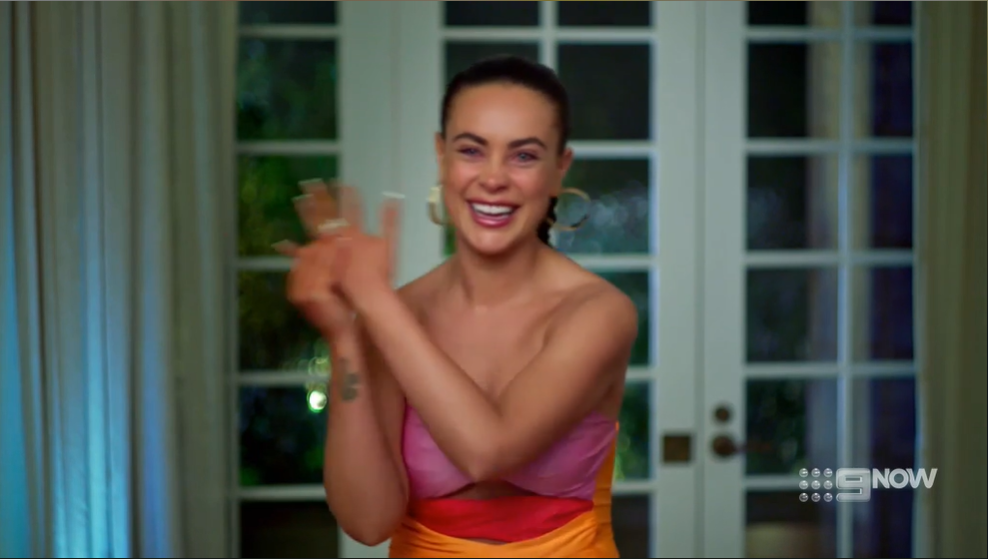 MAFS NFT #6: Harrison annoys the sister-in-law
While waiting at the altar for his beaming bride, Harrison was looking a little nervous. The bride's sister, looking incredibly glam in the front row said, "You are a lucky man."
Harrison, instead of doing what society expects of him, and saying something appeasing like, "I can't wait to meet her," said instead, "she's not doing too badly herself."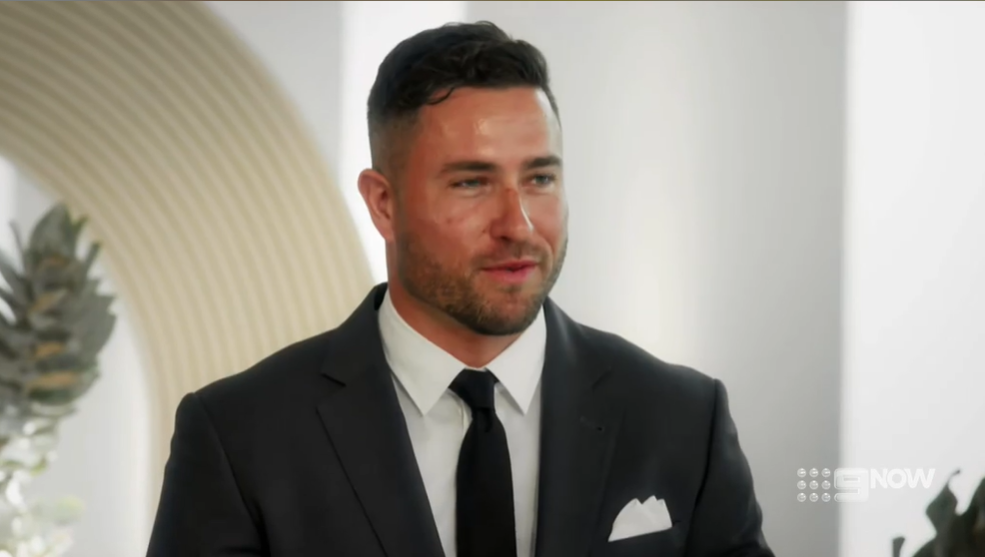 Confidence is good but read the room, Sir.
STRAIGHT TO THE BLOCKCHAIN.
MAFS NFT #7: Bronte's sister-in-law is mega-annoyed
Harrison's response which defied normal societal rules got the new sister-in-law riled up. She decides that he is cocky and will be keeping a beady eye on him. She pleads to the heavens, "Please just be a nice person."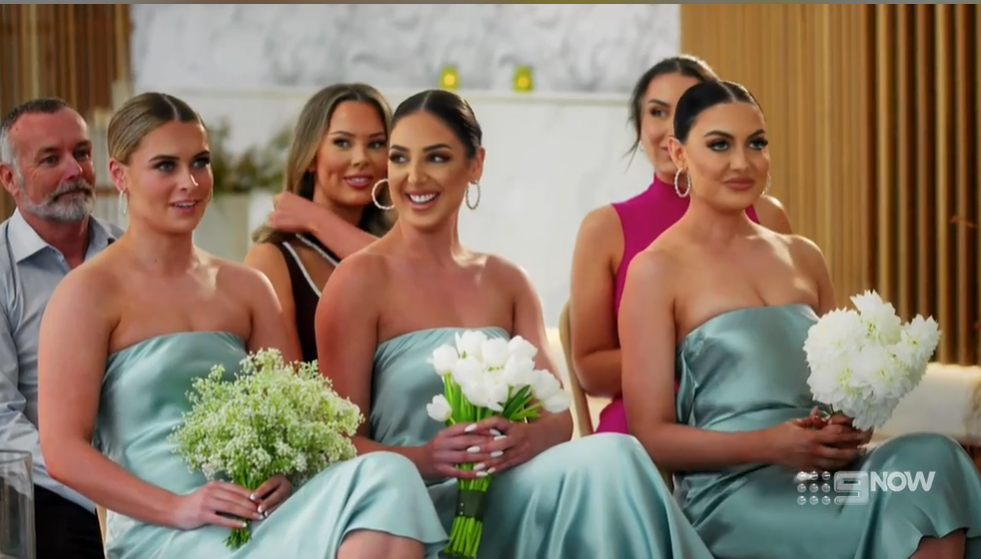 It seems however, that her instincts are good.
STRAIGHT TO THE BLOCKCHAIN.
MAFS NFT #8: Bronte gushes about her husband. Yikes!
A mysterious friend of the bride in a TOTALLY STUNNING pink dress, pulls the bride aside, while the bride gushes about how amazing her new husband is. Alas the news is bad. This ominous moment needs to go, you guessed it, STRAIGHT TO THE BLOCKCHAIN.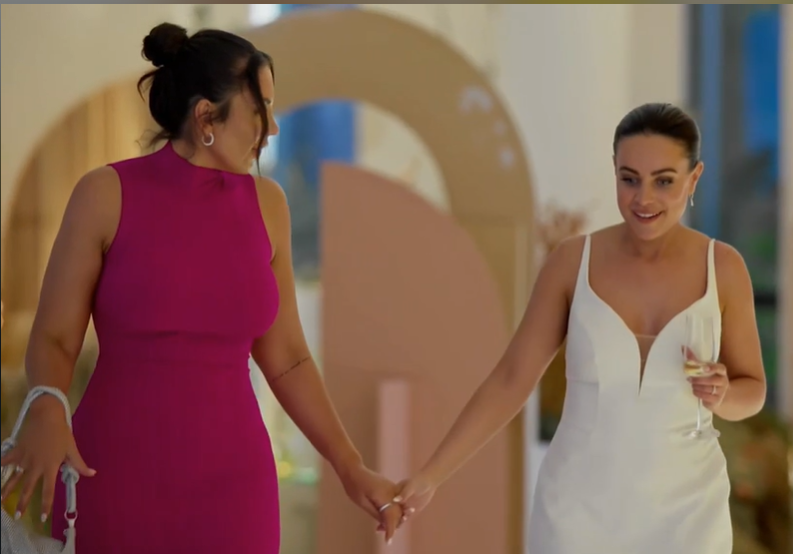 MAFS NFT #9: Bronte hears some bad news
This is the moment that Bronte finds out that Pinky's friend is dating her new husband. In fact, Harrison who is 32, is dating a 20-year-old, and is alleged to have told Miss 20 that he will resume his relationship with her once he finishes finding fame on MAFS. Bronte is devastated.
STRAIGHT TO THE BLOCKCHAIN.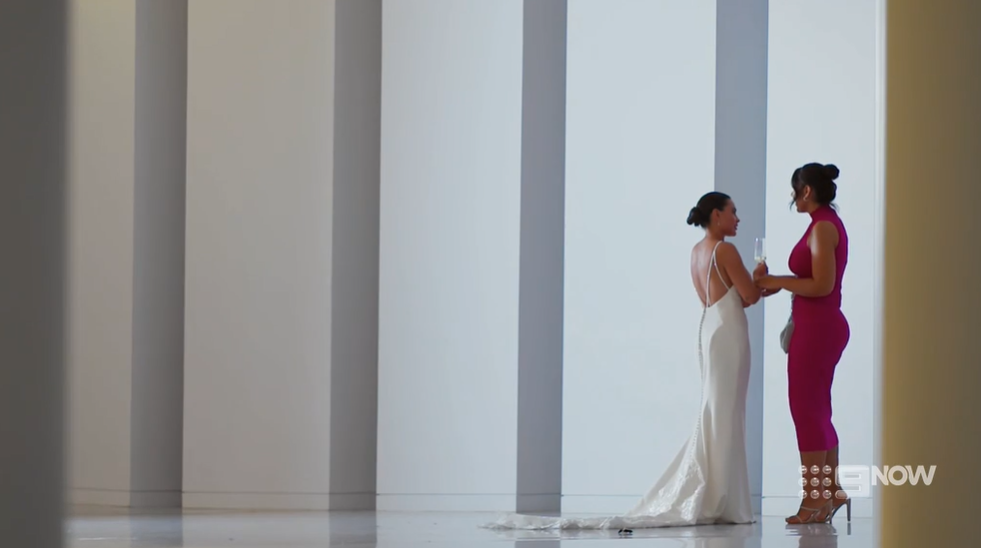 MAFS NFT #10: The Hopeful Sunset
This image, of the perfect wedding, bathed in a sunset overlooking a stunning Australian vista, is why we all watch. We all hope for real love, and even if it happens via a reality show, what's not to love? It is the most hopeful imagery of the whole episode so it goes STRAIGHT TO THE BLOCKCHAIN.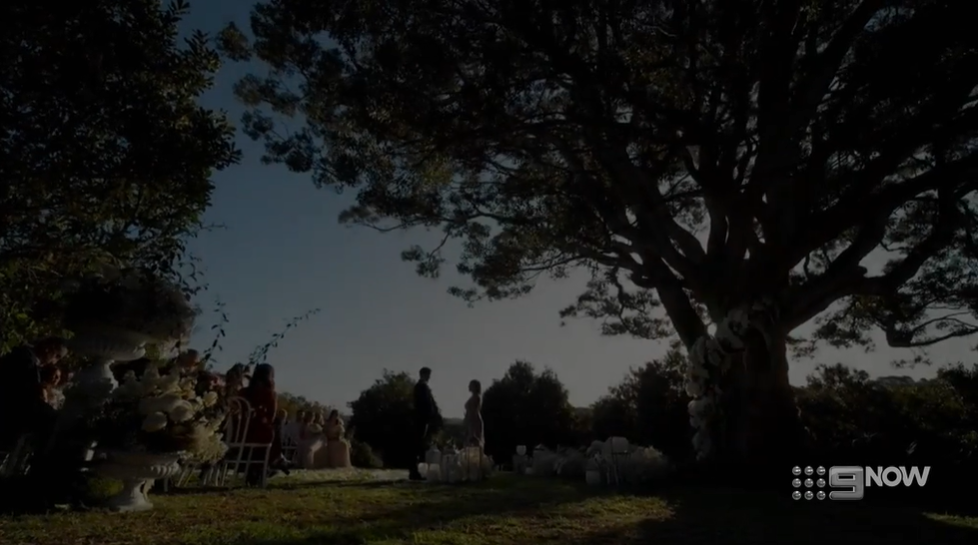 Channel 9, we urge you to mint these NFTs and release them to the public. These moments of Australian culture must be preserved on the blockchain so our descendants can understand what our addictions were. We will be waiting, ready to purchase them.