FANDOM, the "world's largest" platform for fan-generated information about entertainment topics, has come under scrutiny for allegedly providing AI-generated answers to users.
What is FANDOM?
FANDOM, formerly known as Wikicities and Wikia, was founded in 2004 by Wikipedia co-founder Jimmy Wales and Sydney-based entrepreneur Angela Starling.
FANDOM is a wiki hosting service for fandom communities across gaming, TV, and film. Think of the platform as Wikipedia, but specifically dedicated to fans online. It's a one-stop destination for the latest updates and original content about Marvel, Star Wars, Harry Potter, and just about any entertainment or gaming content that you can think of that has a fanbase.
FANDOM has 350 million monthly visitors globally, 250,000 fan communities, and has indexed 40 million pages of content, according to its 'About Us' page.
"They suck"
FANDOM was first accused of using AI-generated answers that "suck" by users on Reddit by user u/SlurryBlender. On a subreddit dedicated to TV series Two Best Friends Play, u/SlurryBlender shared a screenshot of a 'Quick Answers' panel for 2D video game Hollow Knight, which appears to be a new feature.
"FANDOM is now putting AI-generated 'Quick Answers' in the middle of articles. And they suck," u/SlurryBlender wrote.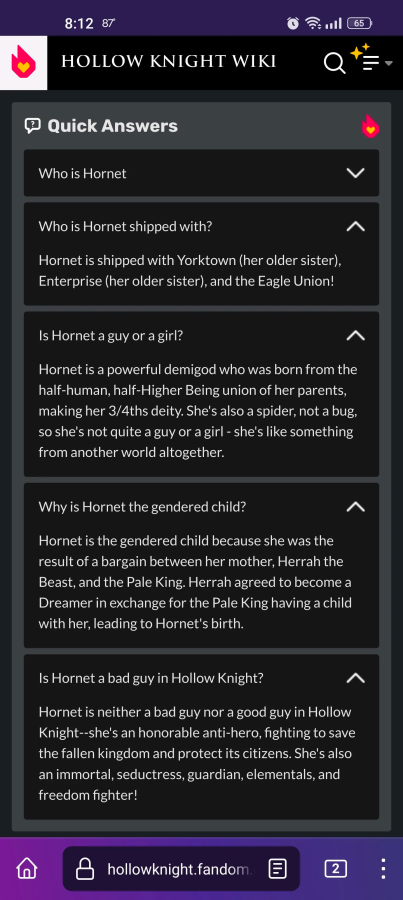 u/SlurryBlender claimed that the information was "generated automatically, with no way for users of any authorisation level to edit, fix, or remove them."

"Not only that, but they actively provide false information in the tell-tale ChatGPT-style vague article language. Most of the information in the screenshot above is either off the mark, vaguely worded, pure conjecture, or contains objectively untrue statements that involve names and situations that aren't in Hollow Knight at all," they explained in a follow-up comment.
Hours after the Reddit post, u/SlurryBlender claimed that FANDOM responded to them, and had removed the 'Quick Answers' section "while we look to improve the questions and answers provided."
The user then claimed this: "Just shows that they didn't even f*cking test this before launch."
Online fandoms are moving
FANDOM's removal of purportedly wrong answers on Hollow Knight appears to be too late, as users and fans of Hollow Knight online began criticising the website for the inaccuracy produced by AI-generated answers.
A top comment on Reddit by a fan of Hollow Knight pointed out that the alleged AI-generated answers mixed up Hollow Knight's character, Hornet, with another character of the same name from a different video game, Azure Lane.
On Twitter/'X', another fan of the video game pointed out that prior to FANDOM's removal of the 'Quick Answers' feature, community mods weren't given the ability to edit the false answers.
Current controversy surrounding FANDOM's alleged AI use has also appeared to revive online discussions of potentially migrating the video game's wiki community off FANDOM.
"Maybe it's time the [Hollow Knight] wiki moves just like the Terraria one did," wrote a fan.
For context, the community behind Terraria, a 2D video game, officially moved the game's wiki page away from FANDOM in May 2022. Terraria's new official wiki is now with Wiki.gg, an alternative to FANDOM that was co-founded by Donovan Duncan, who is the former president of FANDOM.
"I strongly recommend they fork, FANDOM will not be getting any better… our fork will be complete very soon," wrote Twitter/X user Harristic, who is an editor of Minecraft's wiki page.
"If the Holly Knight wiki ever chooses to move off FANDOM, I will 100% support it," said another fan.
The Chainsaw has reached out to FANDOM for comment.