The overall market downturn has had a profound effect on the crypto industry. Axie Infinity's 600 million-dollar hack shocked the public in 2021 and created a lasting impression that the era of NFT games was ending.
But surprisingly, current statistics indicate that the number of investments in blockchain games is still rising. Sizable venture capital firms are heavily funding the development of in-game asset endeavours. The most recent BGA Games report from DappRadar shows that between July and September, venture capital investments in NFT games and metaverse projects totaled US$1.3 billion. Despite a 48% decrease from the second quarter, these numbers are still almost twice as much as what was raised in 2021.
NFT games
If large corporations carefully consider the risks in the current market environment and keep betting on this industry, it stands to reason that NFT games have great potential. As in-game items won by winning tournaments in the virtual space have real-world value, gaming can become a way to generate income via non-fungible tokens.
So where are the areas we're seeing the most investment? In this article, we'll go over a few simple ways that NFTs are shaping the future of the gaming industry and hastening the widespread adoption of the technology.
Opportunity to create one-of-a-kind in-game avatars
Using playable characters and avatars that players can personalise is one of the ways game developers can forge a deeper connection between users and platforms. Through smart contracts, players can personalise NFTs and take actual ownership of their in-game avatars and characters. Avatars can be customised with artwork imported from external apps or ecosystems.
Take ClassicDoge exemplifies an intriguing use case. Through the platform's gateway, gamers can enter the multi-metaverse world with a 3D NFT avatar of their real pet. People can train their pets and monetise their victories after customising them. For the first time in history, a player has more agency in the game when they don't have to use a standard avatar that exists everywhere else in the ecosystem. Having a limited in-game item can also help users feel like they are part of a community and create stronger bonds with the other members – a boost for game developers looking to build a loyal fanbase.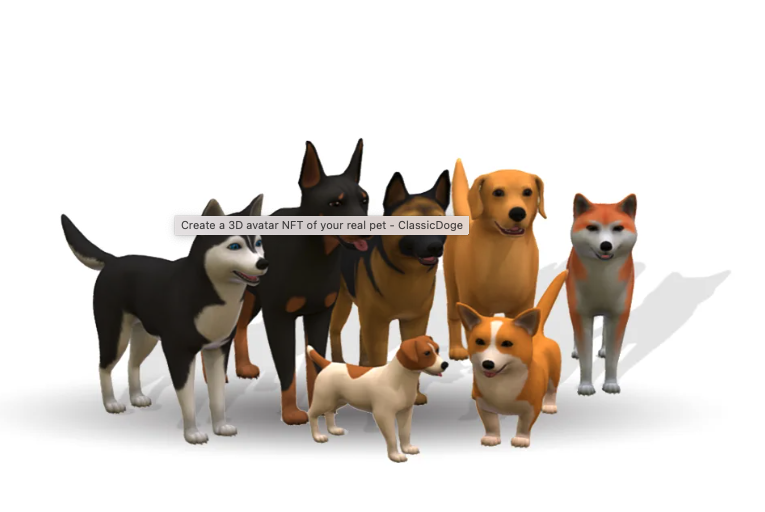 A chance to shape your virtual universe and the game's course
However, interactivity isn't restricted to the creation of avatars. Game developers have found that the more room there is in the game for self-expression, the faster the ecosystem will develop. Some platforms are already taking advantage of this, allowing players to create their worlds and maps in one place. Users can make their own quests and adventures in some games.
Plots of land can also be purchased, exchanged, and built within the game's space. We see this in major platforms like Decentraland, Voxels and The Sandbox. ame makers can gain a lot from their projects and get unusual ideas for how to improve the platform if they provide composable tools that allow players to contribute to the platform's overall growth.
Ability to switch between various NFT games in Metaverse
In the gaming community, the word 'metaverse' is bandied about frequently. The term is shorthand for a network of Web3-ready platforms and includes content that can be combined in various ways to create a virtual environment.
If players' NFTs such as skins and accessories are transferable between games, they gain access to the frontier of an interoperable metaverse. The NFT items a player earns can potentially be used to enter a tournament in a different space. Gamers can improve their experience by using NFTs as entry tickets to a virtual convention in another part of the metaverse. Geenee AR, a WebAR experience builder, recently released NFT All Stars, which can be played with non-fungible avatars from Doodles, The Sandbox, and a few other projects. Users can experiment with their avatars or use the default ones if they do not yet have their own.
Gaming is becoming an essential part of socialisation and our daily lives
Given how volatile the market is and how hard it is to predict charts, NFTs may seem like a passing fad. But as long as gaming platforms keep showing how multifunctional and creative non-fungible tokens can be, not only will the number of users grow, but more people will be able to make a living on Web3. Ultimately, games can bring individuals from various backgrounds together, which leads to a lot of economic activity that is good for both the gaming industry and NFTs on the blockchain.