South By Southwest (SXSW), one of the biggest conferences in the world where technology, music, gaming, and film meet, is leaving Austin, Texas for the first time – and it will touch down in Sydney from October 15–22, 2023.
SXSW international
For SXSW's first international voyage, it has received over 1,400 proposals from individuals and firms to be included in the festival.
Now, SXSW needs your help: from panels, to workshops, to mentor sessions, the public are now able to vote for what they'd like to see at the conference. A total of 81 proposals are presented in the Web3, XR, and Metaverse conference track, covering topics like art, medicine, metaverse law, virtual land collectibles, and even virtual food.
We've rounded up a few session proposals in Web3, XR, and the metaverse that we think are worthy of consideration:
1. Metawizardry Workshop
Digital visual artist Daniel Stricker, artist Angela Tiatia, performer Waangenga Blanco, and Karl Winterstain and Simone Leonelli from NFT Sydney are coming together to help us learn from Web3 and XR experts.
The event proposed is going to be a workshop that will de-mystify the metaverse. Attendees will have a chance to create their own 3D environment in a virtual world, and be taught how to "monetise and create commercial opportunities for your ideas and projects in the metaverse," including using NFTs. 
The company they're teaming up with, DP Immersive, says it's the "first ever learning program in the Pacific over the last three years delivering immersive training" about the metaverse to Australia and Pacific Island nations. So, that's exactly what the crew is aiming to do at SXSW.
2. He/She/They Are Totally Bionic Workshop
You know that device that the late Stephen Hawking used to speak and communicate? Control Bionics Limited, the company that pioneered NeuroNode, a device that lets one "control electronics with their own electrical signals from their brain to a muscle", might be at SXSW. This means you'll have the chance to try out the device yourself.
Peter Ford – who was the first Australian news anchor on CNN – will be leading the workshop.
3. Web3 For Artists And Creators Workshop
Led by Dr. Jessica Priebe from National Art School in Darlinghurst, NSW, and Simone Leonelli from NFT Sydney, the session is one for the Web3-curious, or artists, creators, and brand marketers who want to stay ahead of the curve. It is a workshop that will coach attendees on how to develop some best practices when diving into the world of Web3.
Both experts will walk attendees through the process of how to make, mint, and distribute an NFT collection, as well as impart strategies on how to enhance one's creativity through AI and blockchain technology.
Attendees will be taught how to create their own artwork with AI. Then, a live NFT minting session will take place. This means your art will be immortalised on the spot and live on the blockchain forever.
Cast your SXSW vote now   
How does it work? Browse through what's on display, select the ones you reckon are the most interesting, and cast your vote.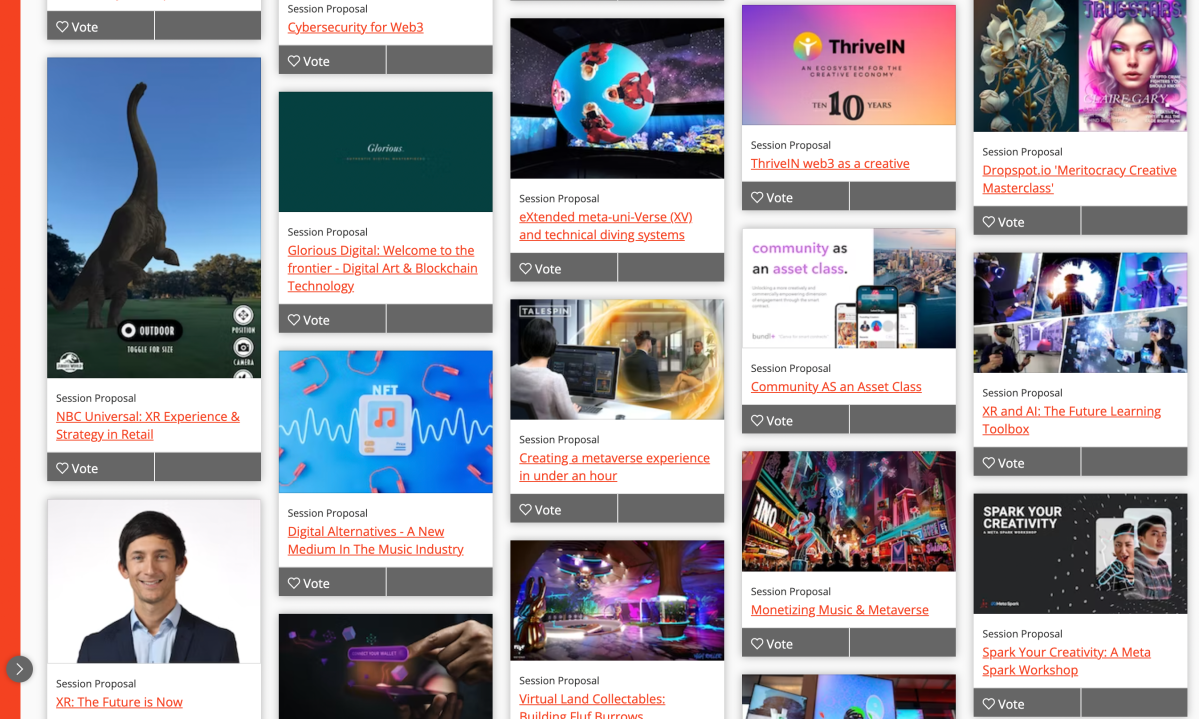 Each user can vote as many times as they like, but only one vote is allowed per proposal. 
Voting closes at 11:59pm, Tuesday, 11th April 2023. Vote now here.