Randall Crater, the founder of 'My Big Coin', a fake cryptocurrency and payment services company from Las Vegas, has just been sentenced to more than eight years in a federal prison by a Boston court for fraud.
Randall Crater's My Big Coin fraud
A middle aged fella named Randall Crater ran what the District of Massachusetts Attorney's Office described as a "brazen fraud scheme that preyed on investors and customers who put their faith in him and his fake business". Everything was an illusion, from the crypto exchange to the yields to the 'My Big Coin' token itself.
Founded in 2013, My Big Coin claimed to offer virtual payment services through a fraudulent crypto which Crater marketed to investors between 2014 and 2017. What made the My Big crypto token special? Nothing in reality, but according to Randall Crater, it was backed by gold and had a partnership with MasterCard. Of course, none of that was true.
One wonders how he marketed the scheme so well, given his complete silence on Twitter since 2016.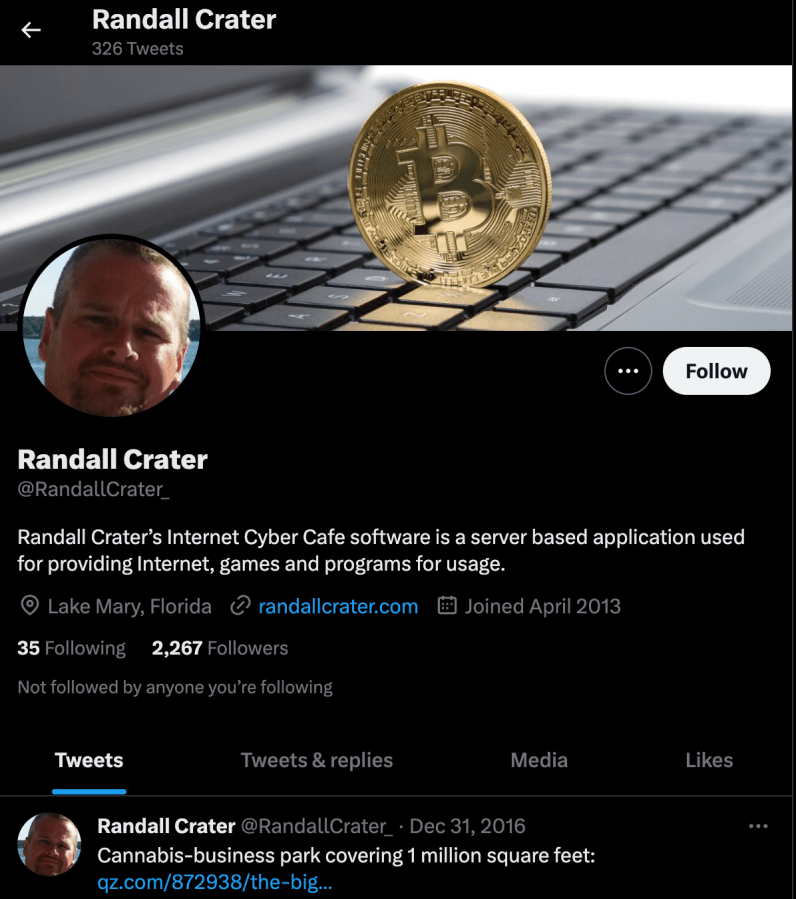 In any event, Crater, now a convicted felon, managed to shatter the hopes of investors by "[creating] the illusion of My Big Coin as a legitimate service from which investors would yield a profit". Instead, the con artist extracted some US$6 million from individual investors that for all intent and purposes, were "used to finance his extravagant lifestyle".
Founder of 'My Big Coin' gets big sentence
In July 2022, Randall Crater was found guilty and convicted by a federal jury of four counts of wire fraud, three counts of unlawful monetary transactions and one count of operating an unlicensed money transmitting business.
Yesterday, US District Court Judge Denise Casper sentenced Randall Crater to 100 months in prison and three years of supervised release. Crater was also ordered to pay forfeiture of US$7,668,317 and further, that an amount in restitution for the victims would be determined at a later date.
Within the press release, Eric Shen of the US Postal Service's criminal investigation unit, highlighted how crypto was often prone to scams, adding however that Crater would be paying the ultimate price:
"The excitement of being part of a new market in cryptocurrency can be very enticing to those who want to be in at the forefront; but in this case they found their investment was nothing more than an investment in Mr. Crater's lavish lifestyle. Postal Inspectors remind consumers to thoroughly investigate all offers and don't rely on what they're told, even if they believe there is protection in their investments and deposits through the name recognition of an alleged renowned partner. In this case it was all lies, and now Mr. Crater will be held accountable for his illegal activities"
How to avoid a fake cryptocurrency and find reputable exchange
Okay, so the first rule of crypto is "not your keys, not your coins".
Basically, it means that if you buy crypto on an exchange and leave it there, you don't own it. Instead, it is an IOU. To truly own it you have to take it into self-custody. There are risks and benefits attached to both approaches, and investors need to decide what is best for them.
But let's assume you don't want to go through the trouble of figuring out what self-custody is all about. You want to buy crypto on an exchange and leave them there. And you don't want to fall prey to a Big Coin type fraud.
There are some things you can do to reduce the prospects of buying a fake cryptocurrency on a fake exchange. These are some of the most important factors to consider in determining the credibility (and by extension, the security) of a crypto exchange.
Factors
The information regarding the exchange's security practices is easy to find, clear and comprehensive.
It has a large number of good reviews on reputable review platforms spanning several years.
The exchange has a valid HTTPS certificate in the URL address bar (a little lock image).
It has a legitimate business address and the company is easy to contact.
It conducts security audits (for example a SOC 2 compliance certificate).
It prompts best practices when setting up an account – a strong password, 2FA, whitelist withdrawal addresses or whitelist IP address (nice to have).
It utilises cold storage for the majority of funds.
It provides a live attestation of reserves.
It has insurance for user funds.
It does not have any of the following:
Questionably high yields for simply depositing;
Promises of wealth or high returns;
Poorly laid out website interface; or
Agents who contact you to sell a trading program or provide investment advice.
And then we move on to rule number two of crypto: DYOR (do your own research). This is probably the most important part of the crypto space and one that you just can't get around.
It's only through spending the necessary time to research that you can determine what is credible and reliable, from what is Ponzi to which is a fake crypto or even a fake exchange.
To reiterate, if you don't want to be on the receiving end of a scam like Big Coin, there are some basic things you can do to reduce the prospects of becoming a victim. And to that extent, if you're looking for guidance on storage and what to look for on an exchange, The Chainsaw has put together a helpful guide.