Love on the blockchain: Where does one find love these days? Gone are the days where most people met their lover IRL. For most lovers, true companionship and partnership is often found via the Apple Store in this weird digital world of the future where your love is found by a tap of the thumb.
But in the last few years, cementing love has taken a new digital form — in the metaverse. As virtual worlds become further cemented as a home for new social relationships, it's only normal that more people declare their loves there.
One of the first stories of love on the blockchain involved US and Filipino couple David and Joyce who chose to sign their commitment on-chain back in 2014 as a way to share their love in a "public and transparent way, and in a way that will be enshrined" for eternity. The blockchain marriage took place at Disney World's Bitcoin Conference in Florida, recording the message, "For better or worse, 'til death do us part, because the blockchain is forever."
The duo submitted their vows by burning 0.1 BTC through a CoinOutlet Bitcoin and sharing the QR code of their transaction with family and friends. The ceremony was broadcasted live over Liberty.me, but with no international legal frameworks for marriage, the union was only a marriage of ideals and vows with no legal-binding contract.
Love on the blockchain
The Covid-19 pandemic was the kick-starter for more digital congregations, made evident with an increasing rise in Zoom weddings across the world, and according to Sandy hammer, founder of Allseated, a digital planner for weddings, the rise in metaverse congregations and wedding parties will open the door to more creative virtual versions of formerly real-world event spaces.
In the early days of the pandemic, another couple staged a ceremony in the popular video game, Animal Crossing, while another couple, Dinesha and Janaganandhini, opted for a Hogwarts-themed reception in Asia's first metaverse wedding in the TardiVerse metaverse, hosting the reception after their family and friends couldn't make it to the real event.
"I had to cap the number of friends and family at 100 for my marriage and reception, so decided to solemnise my marriage in the presence of a small group of people at Sivalingapuram and hold my reception virtually [in the] metaverse," Dinesh shared.
Web3
For Web3 enthusiast of the Aussie crypto world, Rowdy, minted an NFT of himself last year with the goal of sending it to his soulmate when he found them.
His partner, a nurse, was discovered on Tinder, and the duo had a really fun first date over dinner before a few late night cocktails at dive bars in Melbourne. Rowdy recalls neither of them looking for anything serious at the time, but the dates continued because they knew it was something special.
"As they say, "when you know, you know"", he shared. Rowdy's partner was curious about what he gets up to with his weird mostly anon and global community of Web3, so has been upskilling herself in learning the ropes. She bought some Bitcoin in the bull market and flipped it for profit, and since meeting Rowdy, has been increasingly curious in the space listening to Rowdy's podcasts and consuming a smorgasbord of Web3 content.
"I have a vision she will be a degen in no time and we will build something really cool together in the future," he said. "Being single for many years focusing on my passion for Web3 and thus finding my soulmate and putting our relationship on-chain is the future version of carving your initials into trees back in the day," he shared.
Last month, Rowdy minted the official contract of their relationship on-chain as a way to confess his love to her, so minted the relationship into collections, first starting with a Summer Collection of 2023. She loved it, and you can find the official contract here.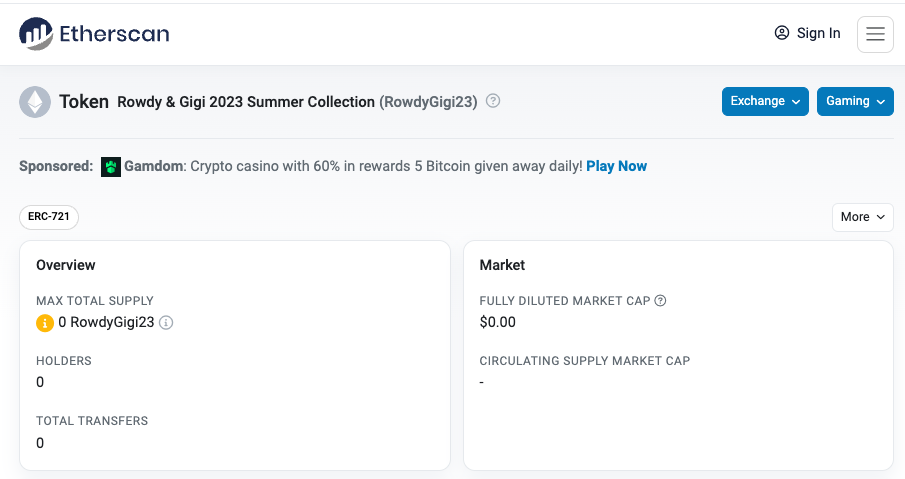 Keep up to date with the latest metaverse news here.