In top news this week, Ethereum's co-founder Vitalik Buterin has decided to ask some vital questions to the crypto community by crafting a poll about himself.
A key question was answered — what do people think about Vitalik? He's received far-reaching and highly divided opinions from the crypto community of millions. Some say he's conservative, others say the exact opposite. To alleviate some of the public uncertainty, Buterin used Twitter to release a poll on… himself.
But what do the people think about Ethereum's glorious leader? Is he great? Is he not?
The State of Vitalik Buterin: Poll Results
On Monday this week, Buterin put forward a poll to his 4.2 million Twitter followers. Comprised of 12 questions, each query received an average of 40,000 responses.
Responding to the question, "Which D&D (Dungeons & Dragons) alignment best describes me?", 33% of people describe Buterin as "good", 29.2% as neutral and 15.5% as evil.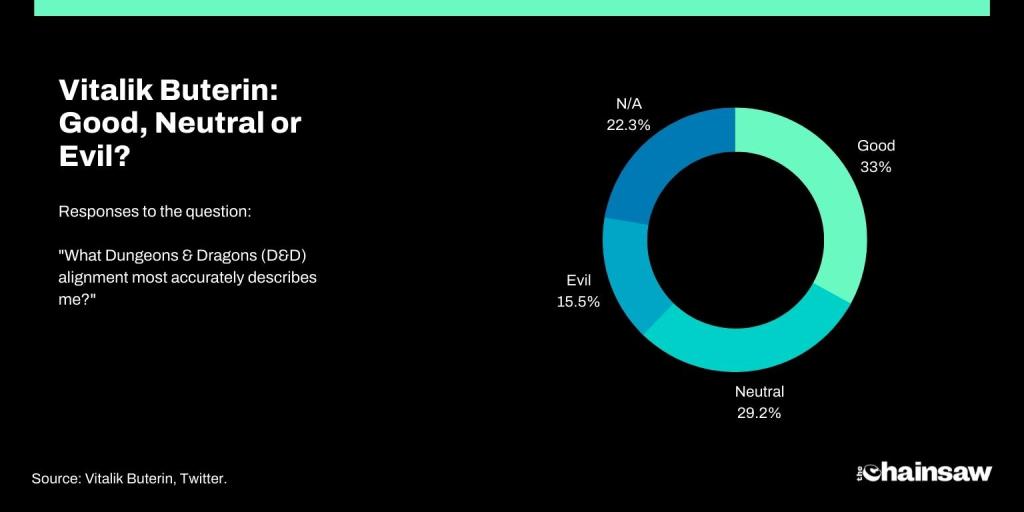 The poll additionally discovered that 35% of respondents find Buterin to be "red-pilled" while 53.3% described him as being politically "left-leaning".
Respondents overwhelmingly — 70.1% — described Buterin as a Libertarian, beating out the 12.2% who contrastingly deemed him an Authoritarian.
When asked what content they would like to see Buterin spend more time writing on his blog, people expressed a slight preference for cryptography which received 30.8% of the total vote. This was closely followed by philosophy at 27% and then by "fun" at 23.5%.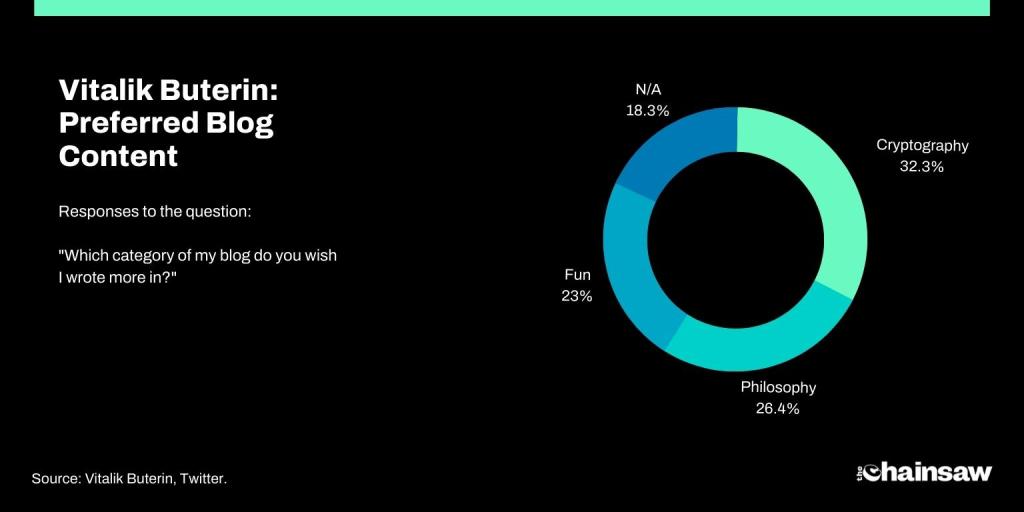 Shedding light on the Ethereum co-founders feelings towards his fellow crypto personalities, 44.6% of people believed that Binance CEO Changpeng (CZ) Zhao was the industry leader Buterin has the most respect for. This was followed in a distant second by FTX CEO, Sam Bankman-Fried (SBF) at 10.1%, and former Bitmex-CEO Arthur Hayes at 9.9%.
In terms of which country he loved the most, a strong 33.6% of people polled the USA. Nearly 20% stated he loves China the most, while nearly 25% put their bets on India.
On the spectrum of 'wokeness', surprisingly the community was completely divided. Nearly 40% said yes, but slightly more (40.8%) said no. Over 20% weren't sure.
Asking the community around 'globalism', an astounding near 60% of pollers stated that "glob is good." Under 15% stated that "glob is bad." Over 7% stated "I'm not glob, glob good", while 18.2% said, "I'm not glob, glob bad."
Overwhelmingly, 46.7% of followers agreed that Buterin belongs to the 'Digital Democrat' category of Glen's Ideology Triangle, an ideology that believes in the capability of digital technology to empower the peaceful coexistence of distributed global communities. More than 15% of people described him as a Synthetic Technocrat, and just 9.5% named him a Corporate Libertarian.
More polls please Vitalik
Overall, most seem to have a fairly good sense of Buterin's goals and intentions for Ethereum. Public opinion seems to be most muddled when it comes to his political leanings themselves, with wide variation in answers to questions concerning his lean towards being conservative or 'woke'. Much of this could owe directly to the interpretability of such brief phrases, without the necessary clarification.
This isn't the first time that Buterin has gleaned public insight into pressing issues. Buterin recently put the question out to the people — "in how many cities have you walked to or from the airport?"
To which 60% of respondents said 0.
Who is Vitalik Buterin?
Aside from the pseudonymous entity known as Satoshi Nakamoto, the most influential 'real' person in crypto is undeniably Buterin. Referred to as 'The Prince of Crypto', he's the reason for the mass global adoption of the new wave of decentralised technologies like NFTs & DAOs, which have now seen the Ethereum network process trillions of dollars in payments since its inception in 2013.
Notoriously shy yet intellectually brilliant, Vitalik founded Ethereum after his prized character's most powerful spell in World of Warcraft was 'nerfed' by Blizzard developers.
"I cried myself to sleep," he wrote on his blog, "on that day I realised what horrors centralised services can bring."
Buterin's sweet reservedness can be witnessed in many forms, including his nifty way of interacting with crowds, which made headlines at ETHDenver's innovation festival earlier this year.
Even Tesla CEO Elon Musk decided to weigh in with a meme of his own, that humorously depicted Vitalik in contrast to leading figures from Web1 and Web2.
The following month, Andrew Chow's front cover story of Buterin shed some further light on the public's opinion. Responses from the global-reaching cover story ranged from hilarious, to kind, to absolutely brutal, but Buterin shared these responses amusingly in good faith.
"Get a new wardrobe!" said one user, while others asked, "anyone else think he looks like if Tom Brady did meth?"
What's most certain in this report is that we hope to see more polls from the great developer of decentralisation.