Owing to the recent market-breaking rally from Ethereum's native token, Ether (ETH), discussions concerning the flippening have been reignited, with Ethereum fans pointing to the network's long-awaited transition to a Proof-of-Stake blockchain (aka The Merge) as the source of their new-found optimism.
Founder of Quantum Economics and Crypto Twitter luminary Mati Greenspan tweeted:

"Even though there's no guarantee this will ever happen, just looking at the numbers, it does seem like this event is getting closer by the day," Greenspan added.
Will it happen?
The flippening has become a near mythical ideal for Ethereum maximalists (the most hardcore fans of ETH), who have unassailable faith that the Ethereum network and its ever-growing role as the baseline infrastructure of Web3 will undoubtedly vanquish Bitcoin for the top spot in the cryptosphere.
Despite pumping more than 50% in the past three weeks, while other tokens only witnessed surges of 10-20%, Ether is still a long way from achieving flip status, with ETH's current market capitalization coming in just shy of the $205 billion mark, less than half the size of Bitcoin's $446 billion, according to data from CoinMarketCap.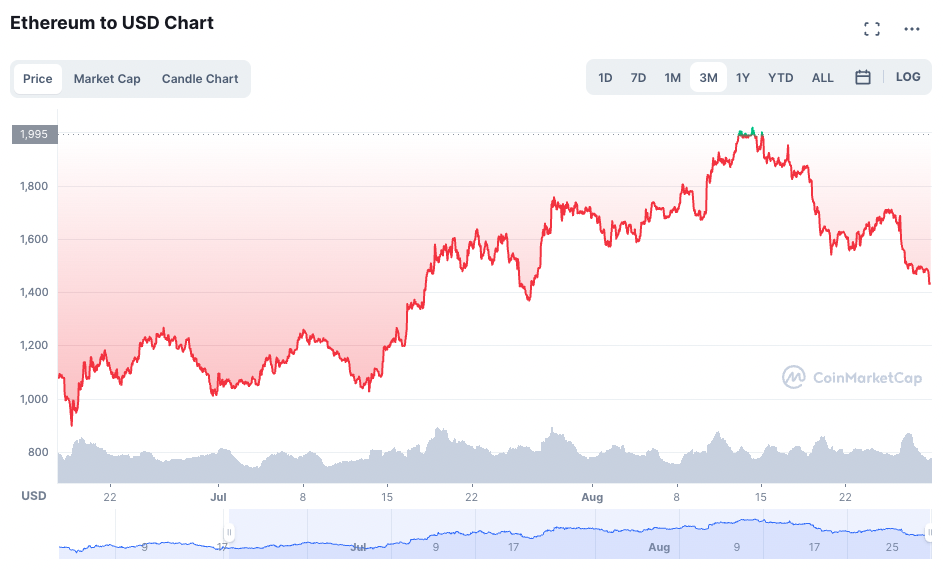 The Merge
The Merge will see the Ethereum network upgraded to 'Ethereum 2.0', an unofficial catch-all term for an upgrade to a faster, more environmentally friendly Proof-of-Stake (PoS) consensus mechanism. While officially scheduled to go ahead on September 15/16 this year, the Merge has a long and tarnished history of suffering delays – an occurrence that users on Crypto Twitter aren't shy about criticising.
Crypto trading firm QCP Capital said its trading desk has transacted "an incredible amount" of Ether call options (bets that price go up) over the past week, adding that major institutions such as hedge funds have been the largest buyers. Funnelling more fuel into the bull thesis, QCP further explained its Ether go up predictions in a message on its Telegram channel, which said, "We expect this demand to continue as we approach the merge in September."
And while the market is undeniably excited by the long-awaited announcement, Mati Greenspan thinks it best that crypto investors err on the side of caution.
"The Merge itself is an extremely risky event and any number of things can go wrong," he said. "As always in the markets, higher risk can equate to higher returns. And they don't call it risk because it's fluffy and safe."
Is a flip really possible?
Bodhi Pinkner, an analyst from crypto investment firm Arca, noted in an interview with Bloomberg that it would be "very possible" for Ethereum to steal Bitcoin's market cap crown, saying that the current pre-Merge excitement could provide the necessary boost for ETH to do so.
"The flippening is very possible," he said. "We have a favourable view of Ethereum. So that changing dynamic bodes theoretically well for Ethereum's price relative to Bitcoin, especially in an environment of tightening."
By contrast, Patrick Tan, CEO of digital asset management firm Novum Alpha, told The Chainsaw that while hyped-up investors right now might see the flippening as a real possibility, they're mostly missing the point.
"I think just looking at market cap and the flippening purely from that perspective misses the point," Tan said.
"Even though the market sees this as the event when ETH becomes larger than BTC, I think that investors looking at it from this perspective fail to see that they are fundamentally different cryptocurrencies representing different value propositions."
"More investors may buy and hold BTC, but crypto-natives use ETH a LOT more," he added.
Don't hold your breath
Tan adds that any event where Ethereum eclipses Bitcoin in terms of market cap is most likely quite some time away, and that looking at pre-Merge excitement for hope isn't the smartest idea.
"Right now the market is probably a little too excited about the Merge. There doesn't even have to be a technical issue for investors to start selling, they may just want to start taking money off the table."
The current data leans in support of Tan, with a cursory glance at the respective market caps of the top two crypto assets showing that ETH would need to literally double from today's total value if it wanted to catch up to Bitcoin, let alone eclipse it.
So, even if ETH does continue on its recent trend of 'up only' there's still a considerable distance for the asset to go before the flippening is upon us.