Daily dose: Here's the crypto news you need to know this morning:
SBF pens his perspective on the FTX implosion and calls out Binance CEO CZ.
Yuga Labs tease new skill-based monkey game Dookey Dash.
Bill Gates reckons "AI is quite revolutionary."
Daily dose: SBF's post-mortem
In the mind of Sam Bankman-Fried, FTX's collapse was the unequivocal result of three factors:
Over the course of 2021, Alameda's balance sheet grew to roughly $100b of Net Asset Value, US$8b of net borrowing (leverage) and US$7b of liquidity on hand.
Alameda failed to sufficiently hedge its market exposure. Over the course of 2022, a series of large broad market crashes came – in stocks and in crypto – leading to a ~80% decrease in the market value of its assets.
In November 2022, an extreme, quick, targeted crash precipitated by the CEO of Binance made Alameda insolvent.
Essentially, what he's saying is that he was playing with gasoline, and CZ lit a match.
This was the account of SBF from the newest medium on his apology tour, digital newsletter platform Substack. In the piece, he shared financial details about FTX's balance sheets at the time of his departure, a two-year timeline of events, as well as derogatory remarks on Binance's CEO CZ.
No mentions of the word 'sorry' or 'apology' were found in the piece, but he did made an adamant declaration that "I didn't steal funds, and I certainly didn't stash billions away." He continued on:
Very substantial recovery remains potentially available. FTX US remains fully solvent and should be able to return all customers' funds. FTX International has many billions of dollars of assets, and I am dedicating nearly all of my personal assets to customers.

SBF via Substack
You'll have to subscribe to his Substack page if you want to read the full account. Don't worry though, it's totally free… well, at least now it is.
When SBF initially published the post, readers were prompted by a pop-up box to 'Pledge your support for SBF's Substack', with subscription prices ranging from US$8 for the month right up to US$150 for a yearly founding tiered package. We'll take no pledge, please!
The bankrupt founder was quickly to redact the function, tweeting: "heh whoops that was unintentional, good catch–think there shouldn't be a paying option anymore…"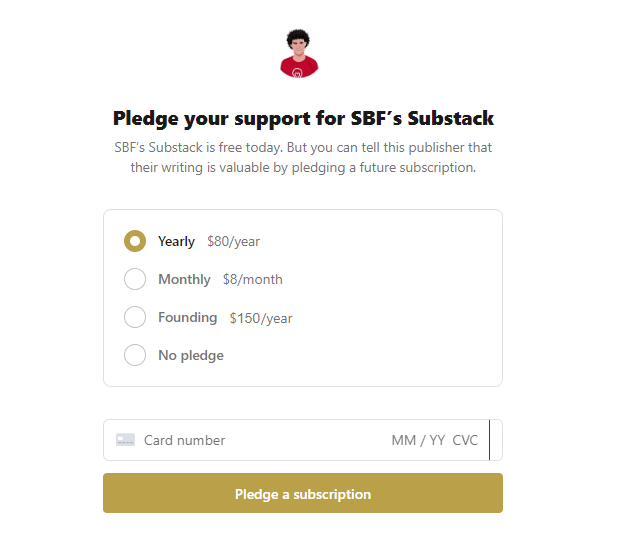 Daily dose: Yuga Labs explore gamified NFTs
"Apes, stretch your eyeballs and warm up your scroll muscles", said Yuga as they teased their upcoming January 18th skill-based NFT game Dookey Dash.
The game is part of the Bored Ape Yacht Club's roadmap section titled Jimmy The Monkey, a teaser trailer for which was released on December 22nd.
Essentially, an ape called Jimmy accidentally swallowed a golden key, tried to deposit it on the throne, but passed out. Other apes, peering through the keyhole of the bathroom, decided to strap on their wellington boots and scuba diving gear, and go fishing for it in the sewers.
Yuga's announcement stated that while Sewer Passes NFTs will be free to claim on January 17th, "only BAYC/MAYC holders can claim Sewer Passes, but anyone with a Sewer Pass can play."
In other words, those who don't hold either Bored or Mutant Apes can purchase Sewer Pass NFTs from the secondary marketplace if they wish to play the game.
You'll get 3 weeks to play as many times as you want. Players will be rewarded based on their performance in the sewer. When the sewer closes, the leaderboard freezes. After scores are validated, eligible sewer passes will prepare for the summoning and the highest score gets the key.

Yuga Labs
On February 8th, the leaderboard will close. For those who engaged, their Sewer Passes will "transform into a mysterious new power source." Yuga were hesitant to reveal details, but stated "Whatever you reveal, keep it close. They're meant to evolve throughout 2023, so keep an eye out."
One ape called Philneeds has been proactive in creating a gaming agency to participate in the game on-behalf of Ape holders. His theory stands that: "gamers provide the time, skill. and grind needed to succeed. They can play the game on behalf of #BAYC holders." He provided a Discord invite link for all interested holders.
Bill Gates bullish on AI and Web3? Meh.
Microsoft founder turned global philanthropist Bill Gates spoke on Reddit during an 'Ask Me Anything' (AMA) session on January 11th.
Gates was asked a bunch of questions on all things from his favourite TV show, to how individuals can support climate initiatives, why he's buying up so much farmland, and his thoughts on AI and the Web3 space.
If you're curious, he liked White Lotus Season 2 and Avatar: The Way of Water, among other stuff. On climate, he said "You are a voter, a consumer, a giver and a worker. In every one of those roles you can help." Also, buy an electric car and stay hopeful. On farmland, he claimed: "I own less than 1/4000 of the farmland in the US" and that giving away his wealth has become a very fulfilling full-time job.
On the subject of new technologies, he stated that his work focused on the areas of pregnant women, malnutrition and anemia, but also commented on the emergence of AI:
AI is the big one. I don't think Web3 was that big or that metaverse stuff alone was revolutionary but AI is quite revolutionary.

Bill Gates
On the growth of OpenAI's ChatGPT, he remarked:

And that's all the crypto news you need to know before you start your day.