CryptoGPT: GPT-4 just dropped, and boy oh boy, some opportunistic people are having a field day using 'GPT' to pump projects.
For the past couple of days, the keyword 'CryptoGPT' has been trending on Twitter. Users have been inundated with notifications from spam accounts asking them to sign up.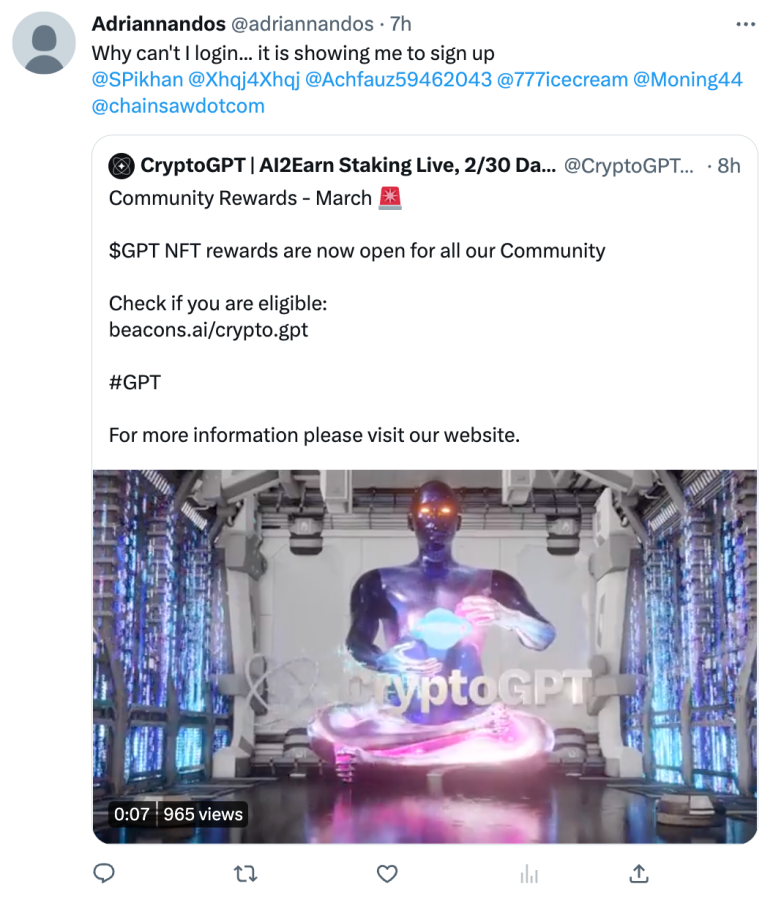 This morning, following OpenAI's release of its powerful GPT-4, 'CryptoGPT' once again surfaced on Twitter.
At the time of writing, the keyword had over 1,400 tweets in the last hour. But what does this token involve? We dug into it and found out.
What is CryptoGPT?
According to its official website, CryptoGPT is a "ZK layer-2 that lets you own the monetisation of your data." The token, the website claims, wants to "turn every task of your daily life into a source of income."
In other words, the project claims to make you money while you "use [their] apps in fitness, dating, games, and education."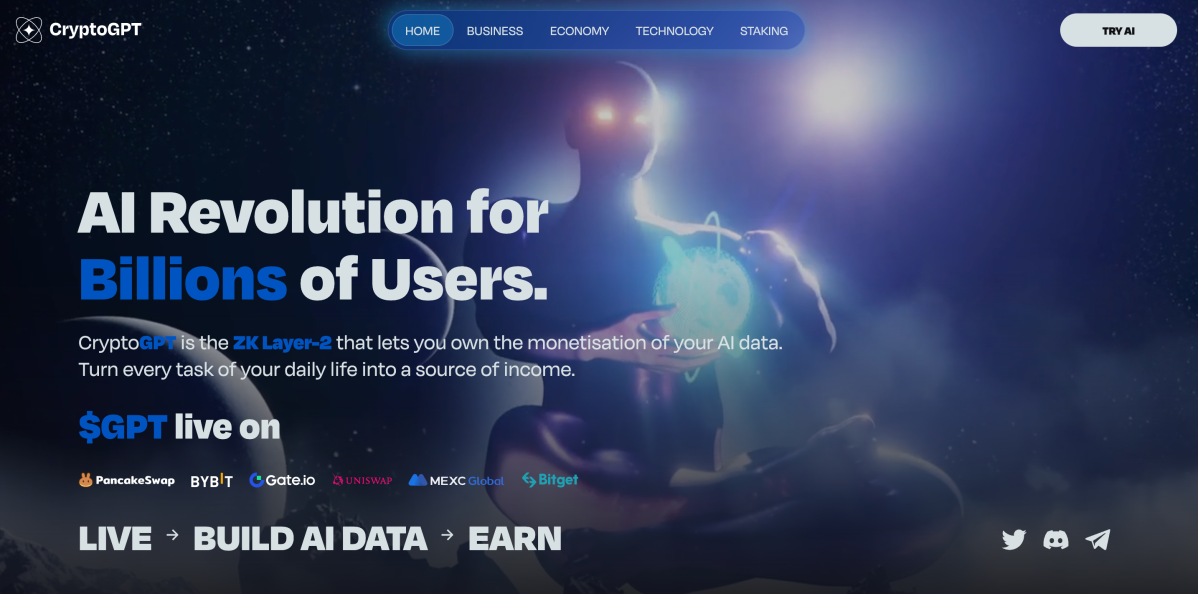 To spice things up and make data collection fun, CryptoGPT has an app that's seemingly designed for users to hand over their personal information. Presumably, users download the app, sign up, and they're able to access products including 'AI Capsule NFTs' that store "activity data."
CryptoGPT's litepaper says it has what they call a 'Data-to-AI Engine' that "collects, processes, encrypts, and packages data for commercial applications."
It also claims that users can immediately begin "data capture of their app usage" once the app is downloaded. It's currently available on the Google Play Store for free, and has so far amassed over 100,000 downloads. Clearly, some people like flinging over their sensitive personal information.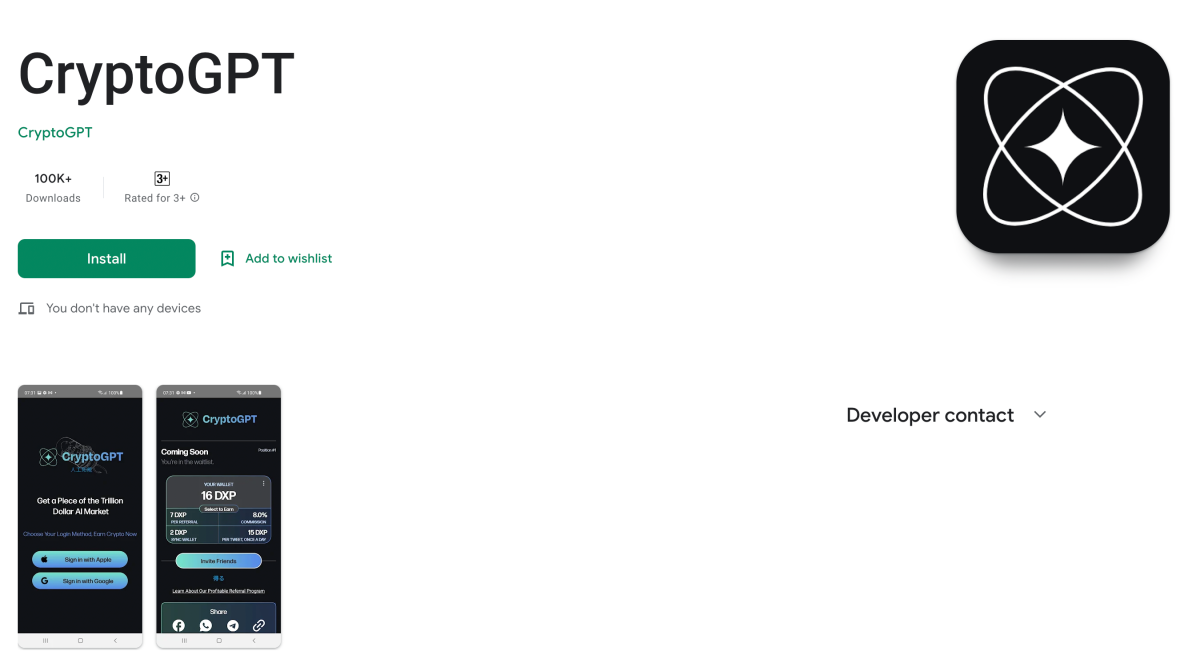 On the project's litepaper, CryptoGPT describes this as 'AI to Earn'.
It's not the first project that's attaching the 'to-Earn' buzzphrase behind what it does, though. In the Web3 space, there's already activities like 'move-to-earn' and 'play-to-earn', because developers know punters are more likely to be motivated to [Kim Kardashian voice] get your ass up and work if money is offered as incentive.
In return for all this, users are being promised $GPT, the project's native token, as a reward. CryptoGPT encourages users to "stake" the token: in simple terms, store it on their platform and earn rewards from multiple streams.
Who is behind CryptoGPT?
Jamila Jelani is the founder of CryptoGPT, according to its Twitter. However, on CryptoGPT's website, she's listed as a team member responsible for marketing.
CryptoGPT says prior to this, Jelani was responsible for leading growth campaigns of China's e-commerce heavyweight Alibaba Group. Although no public information about her affiliation with Alibaba was available direct from the company itself.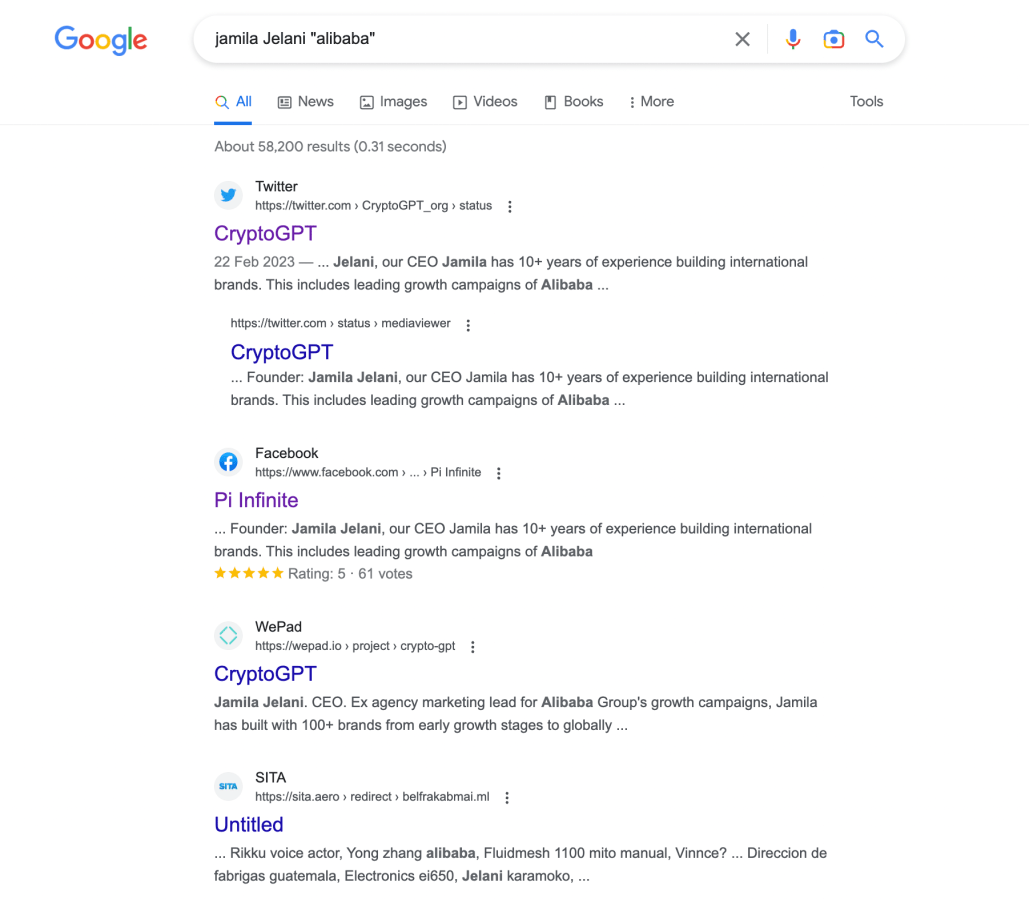 On Twitter, a Web3 community member by the handle of 'RugGPT' on Twitter shared similar findings. This user plugged Jamila's LinkedIn page onto the Wayback Machine, and lo and behold: the profile was seemingly created a week ago.
Beyond that, Dejan Erja, Chief Technology Officer at CryptoGPT claims to be an ex-developer who worked for Ripple. Again, no publicly available information about Erja's affiliation with Ripple was available from Ripple itself.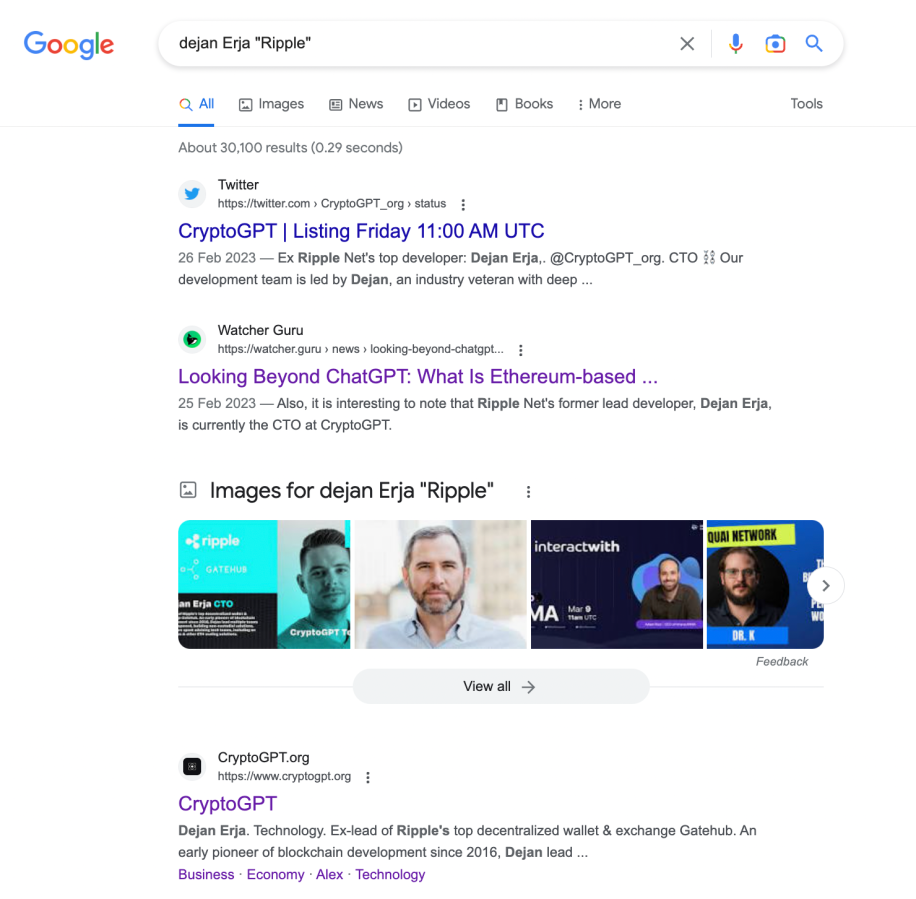 'Alex' the AI chatbot
While you're waiting for your crypto returns, why not talk to 'Alex', an AI chatbot that's "the public library of the internet"?
CryptoGPT's website homepage links to this AI chatbot. It appears to be affiliated with the CryptoGPT team as its URL reads 'alex.cryptogpt.org'.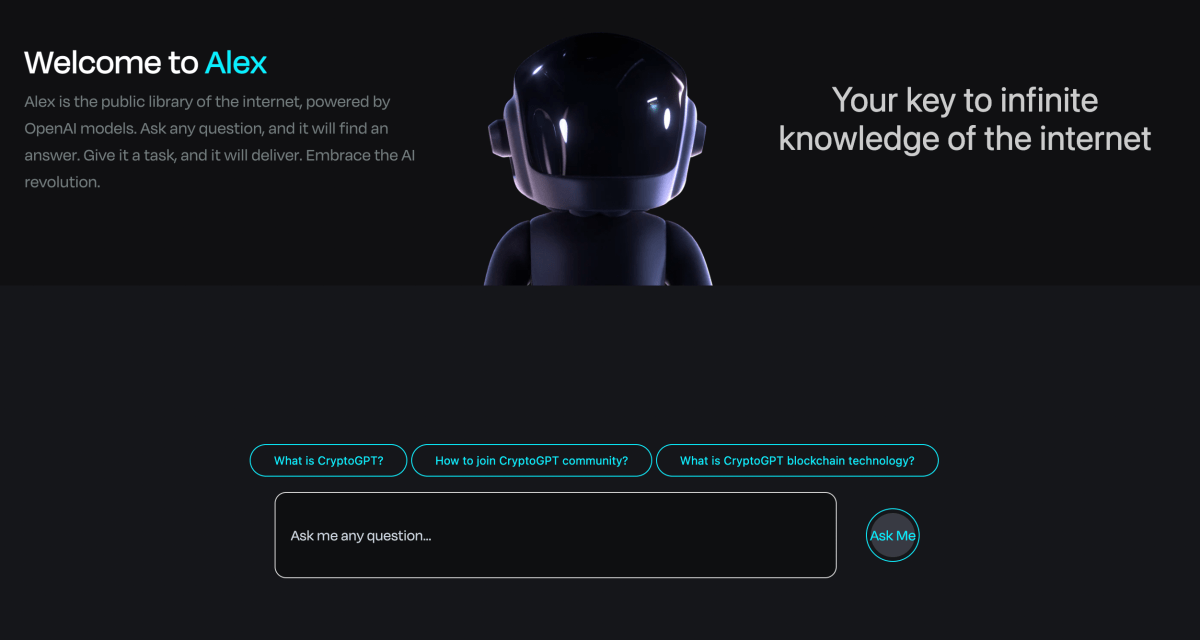 Alex is "powered by OpenAI models," according to the site, but it's not specified which model.
A flood in the market
So, why do so many new-ish crypto projects attach buzzwords like 'AI' or 'ChatGPT'?
Dr. John Hawkins, Senior Lecturer at the University of Canberra, tells The Chainsaw that "many of these new opportunistic coins are essentially 'pump and dump' operations. A new coin is set up with a trendy title, hyped on social media, the price goes up and speculators jump on board for fear of missing out on the new trend, allowing original promoters to sell out."
"Eventually the bubble bursts and the price collapses."
Tommy Honan, Head of Commercial Operations at Swyftx, tells The Chainsaw that: "The idea of cashing in on your personal data isn't new. But we're right at the frontier of its application in crypto. For that reason, I'd advise people to be cautious."
"We're seeing a lot of hype at the moment around artificial intelligence but relatively few crypto projects I've seen are genuinely 'AI'. Crypto users should take care to fully understand the team behind these tokens and their utility." he says.
So far, crypto exchange Bitfinex has listed CryptoGPT's $GPT on its platform. On major DeFi platforms UniSwap and PancakeSwap, $GPT is available for trading.
As of writing, $GPT is currently trading for $0.085 per token, up over 108% when it was launched about four days ago at $0.041.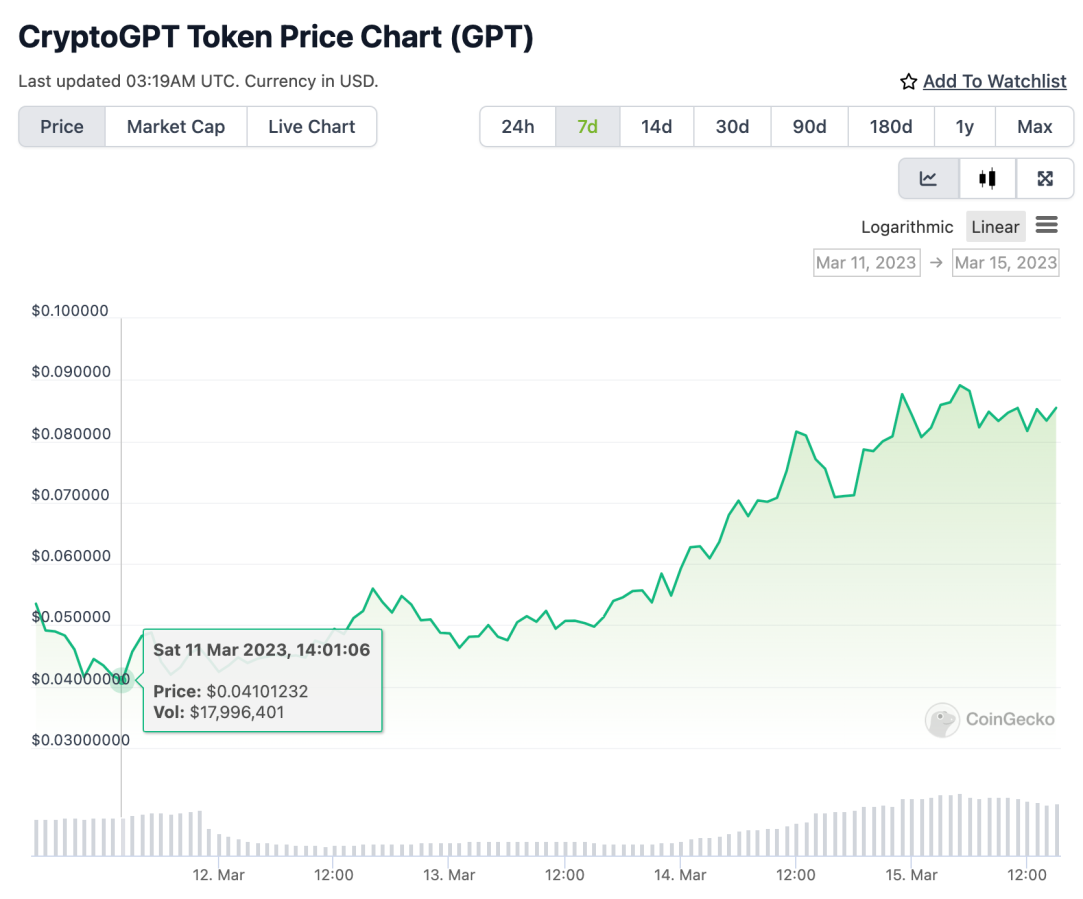 As ChatGPT continues to grab headlines, users can expect to be flooded with similar projects. Always conduct proper and thorough due diligence before buying a token.