Crypto.com: A mass of withdrawals have been processed for wallets associated with the Crypto.com platform, prompting fears of another FTX-style bank run.
In the last few hours, more than 89,000 withdrawals of varying sizes have been processed from the Crypto.com transaction account. A quick look at one of the main wallets of Crypto.com on the Ethereum blockchain explorer Etherscan paints a concerning picture of investor sentiment towards the exchange.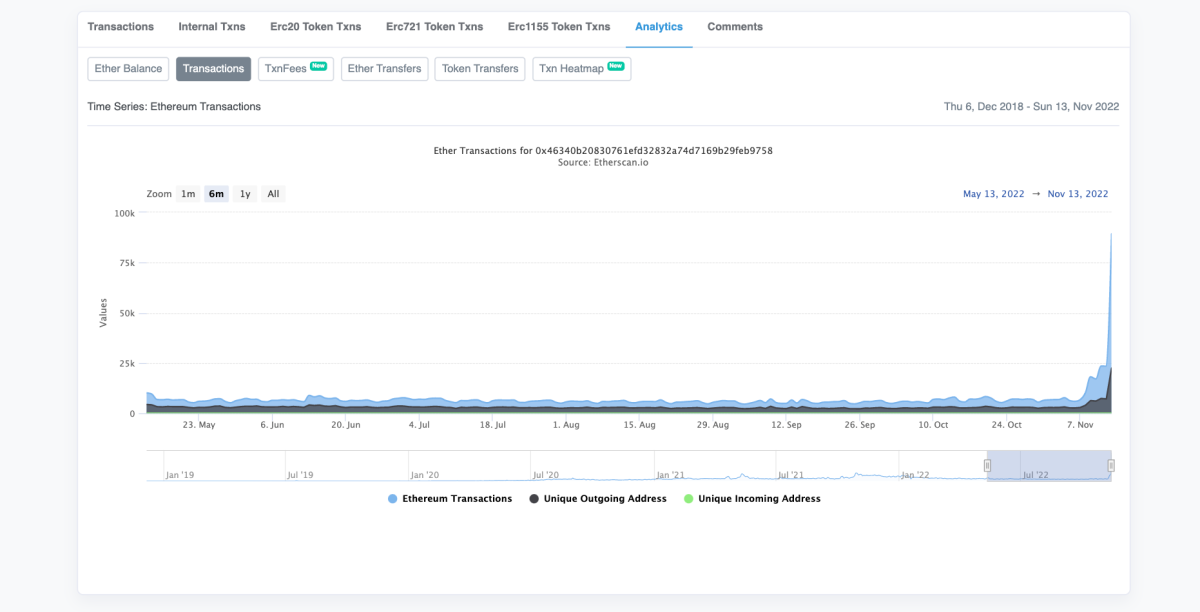 This unusually high transaction data comes hot on the heels of the world's fourth largest cryptocurrency exchange FTX, filing for bankruptcy after "misusing" its customer's funds to the tune of roughly US$8 billion. Now, a good deal of paranoia has washed over the crypto space.
On Saturday, some doubts were raised about the legitimacy of the reserves of Crypto.com, after it was revealed that the Singapore-based crypto exchange "accidentally" sent 320,000 ETH (US$400 million) to rival exchange Gate.io. This has led many critics to accuse Crypto.com and Gate.io of "sharing" funds to post stronger-looking 'Proof of Reserve' statements.
Crypto.com statement
Crypto.com's CEO Kris Marszalek clarified over Twitter that the transaction was as an "accident". Kris went on to say that the funds were intended to be sent to an offline cold storage crypto wallet, but mistakenly went to Gate.io, another crypto exchange.
According to data from the blockchain analysis firm Nansen, Crypto.com currently have around US$2.5 billion in reserve on the platform, with more than 20% of that number being comprised by Shiba Inu token (SHIB).
A recent Twitter thread from popular pseudonymous user '0xfoobar' highlights some further inconsistencies with transfers from the Crypto.com platform over the past few weeks.
There seems to be a high volume of suspicious activity which suggests that Crypto.com may been using customer funds to support its own trading activity, something very similar to now-bankrupt cryptocurrency exchange FTX.
At the time of writing the native token of the Crypto.com platform, CRO has plunged more than 50% over the past 3 days, following increased suspicion of the financial health of the platform.
The situation is still developing.