On Thursday morning, I opened my phone to a flurry of confusing messages from my followers. It turns out that a scammer had created an exact replica of my profile and had been messaging all of my followers one-by-one asking them to enrol in a "crypto trading program".
Aside from getting everyone I knew to report the account, I actually got one of my friends to go along with the scammer's requests to try and figure out where the scam would go and how it all worked.
How the scam worked
The scammer started off with a couple of friendly greetings and polite chit-chat before explaining that they were "running a program for crypto investors". They went on to say that users only need to spend 20 minutes of their time on their trading platform and they would make money.
My friend agreed to go further. This is where the scammer then guided them to a link to the "BitChart Smart Trading Platform". Essentially, this scam works by "guiding" people to a legitimate-looking crypto trading platform that is actually a fake. Once users upload real money to the platform, the scammers then disappear with the funds.
For the sake of investigation, I visited the website (on a secure, encrypted browser) to see what kind of operation they were running. I was overwhelmed by a sea of red flags, making it entirely clear that I was definitely on a completely fake website.
Big red flags to look out for
Faulty links to social media
All of the links that would normally take you to their social media pages on Facebook, Instagram, Twitter and LinkedIn all linked straight back to their own homepage. This is a major red flag. If you can't find verified social media accounts for a major crypto exchange, then it's almost certainly a fraudulent page that's trying to take your money.
Major platforms like Binance, Coinbase and Crypto.com all have a suite of fully functioning links that take you to their respective social media pages that will all be verified with a blue-tick of some kind.
Spelling mistakes
The next tell-tale sign that this was a scam was that the page used strange capitalisation of sentences and the information sections were riddled with grammatical errors. The most obvious mistake was the heading "How it Work" instead of the correct: "How it Works" title of their explainer page.
No legitimate crypto exchange will have spelling mistakes on their homepage. If you ever wander onto a platform with inconsistent grammar or really strange-looking formatting, it's a sign to get out of there.
Promise of guaranteed returns
Aside from the glaringly obvious spelling mistake in the header, the platform also promises returns at the end of their four-step-program, saying that "the earnings will grow and you will profit". While other exchanges and platforms will provide information about "expected returns" and interest rates — no reputable company ever guarantees returns.
Sure fire ways to verify a legitimate crypto platform
All of the information regarding the exchange should be easy to find, clear and comprehensive.
It should have plenty of good reviews on reputable platforms spanning several years.
A real exchange will have a valid 'HTTPS certificate' in the URL address bar (an image of a little lock).
It has a legitimate business address and the company is easy to contact.
Impersonation scams are on the rise
The type of scam I was targeted with is what's known as an impersonation scam. This is where scammers use the authority or notable figure in the crypto space to lure in unsuspecting people and eventually make off with their money. This happens frequently to much larger personalities in the industry. One such example is finance blogger Kyla Scanlon.
She recently uploaded a post on Instagram expressing her frustration with the prevalence of scam accounts impersonating her, no doubt using extremely similar tactics to the one that impersonated me.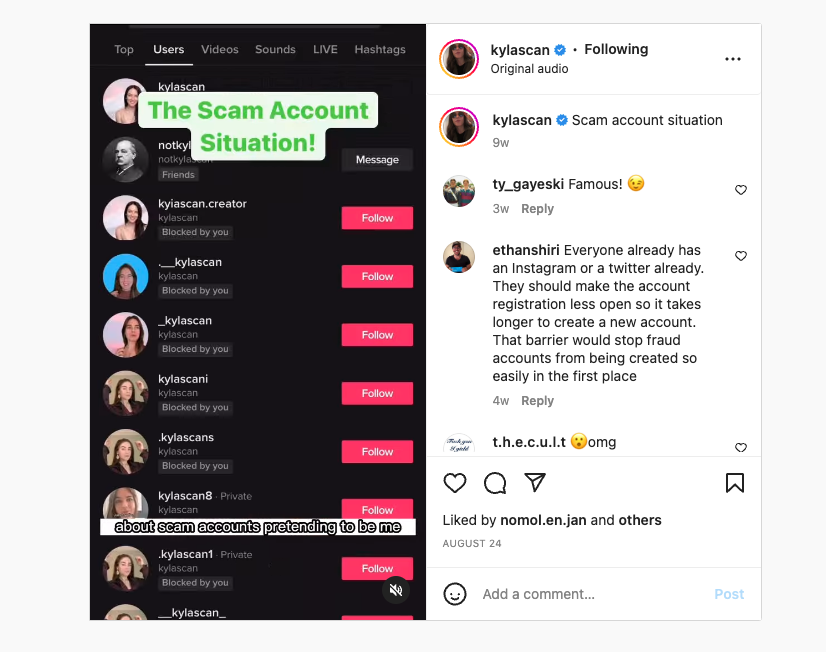 It's worth noting that no one from a major exchange or platform will ever contact you first. If someone is in your DMs selling you on the benefits or advantages of a certain crypto platform it's more or less guaranteed to be a scam of some kind.
Always do your own research – in crypto we call that 'DYOR' – and only use reputable, recognisable companies that have verified social media accounts and legit reviews that can be found with relatively minimal effort.
Crypto scam: It isn't just crypto
Impersonation scams are frequent outside of the crypto space as well, with the Australian Competition and Consumer Commission (ACC) reporting a significant uptick in "Hi Mum"-style scams. The scammers behind these operations send out WhatsApp or text messages to their targets pretending to be a family member in need of financial assistance.
The scammer will typically say that they have lost or damaged their phone and are making contact from a new number. Once the scammer develops enough rapport with their target, the scammer will ask for personal info such as photos or money to help urgently pay a bill or replace their phone.
According to the ACC more than 1,150 Aussies fell victim to the so-called "Hi Mum" scam in the first seven months of 2022, with total losses tallying up to more than AU$2.5 million.