Crypto crime: The Australian Federal Police has formed a dedicated cryptocurrency unit to target money laundering as criminals turn to crypto to help facilitate money laundering.
A spokesperson from the AFP told The Chainsaw that the dedicated cryptocurrency unit was set up due to an increase in the number of offenders using cryptocurrency for illicit activities.
"The AFP has recorded an increase in the number of offenders using cryptocurrencies to facilitate illicit business and attempting to conceal the ownership of assets."
Since February 2020, the AFP has seized $380 million in residential and commercial real estate, $200 million in cash, and $35 million in other items such as cars, boats, planes, luxury goods and cryptocurrency.
As reported by the AFR, national manager of the AFP's criminal asset confiscation command, Stefan Jerga said that while crypto seizures were small compared to "traditional" criminal assets like property and cash, the crypto unit would provide further insight into how blockchains are being used to obscure financial activity.
"You've got to be attacking the wealth and the business models of organised crime, as well as trying to disrupt and arrest," Jerga said.
How much crypto is actually used for criminal activity?
Cryptocurrencies and digital assets have long-held a reputation by the general public as being linked to illegal activity. This most likely stems from Bitcoin's initial association with the infamous darkweb black-market Silk Road.
While the negative association of crypto with criminality still looms large over the digital asset industry, the amount of crypto used for illicit activity actually has never been lower, according to a recent report from CipherTrace.
The report estimated that illicit activity was between 0.62% and 0.65% of overall cryptocurrency activity in 2020 and has since fallen to between 0.10% and 0.15% of overall activity throughout 2021.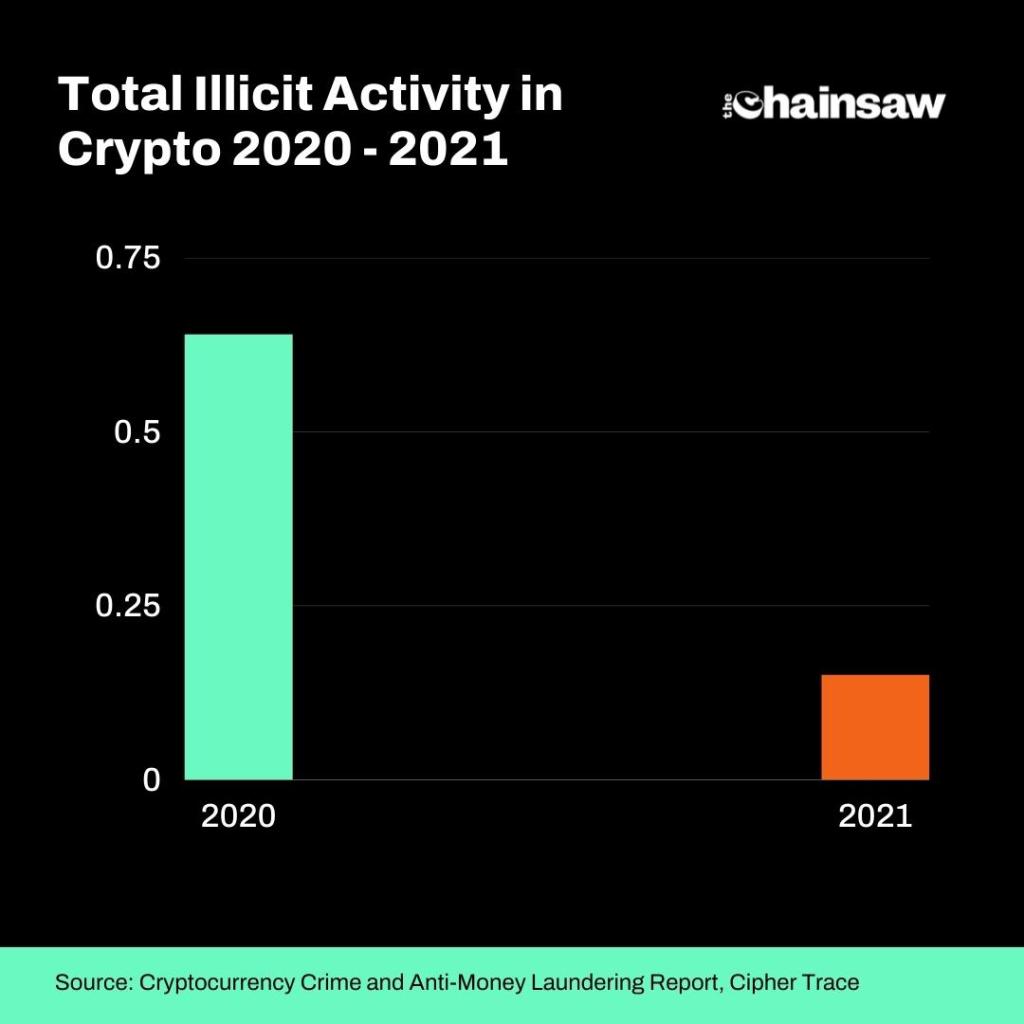 CipherTrace additionally outlined that the top ten DeFi hacks in 2021 and Q1 2022 saw attackers net $2.4 billion.
Nearly half of that number came from just two events, the largest being the $650 million Ronin bridge exploit and the $610 million attack on the Poly Network, which ended with most of the funds being returned.
Incentives
To that point, the public nature of most blockchain transactions, where all financial interactions can be monitored in real time, are beginning to lower incentives for criminals to turn to cryptocurrencies for illicit activities, as law enforcement becomes more skilled in tracking data along blockchains.
Additionally, any criminals caught using crypto for crypto crime are more likely to receive a harsher sentence in Australian courts, which is providing less incentives for crims to use blockchain technology for the obfuscation of finances.
A recent report titled Crime and Cryptocurrency in Australian Courts, published in the Monash University Law Review, found that Aussie courts broadly perceive crypto use as an aggravating factor in criminal proceedings, with the technology being seen as indicating an increased "degree of planning" and sophistication,
The report authors, Aaron Lane and Lisanne Adam said that while blockchains are indicative of "technical sophistication" and "intentional obfuscation", Aussie courts may be "too eager to adopt a relatively simplistic characterization" of crypto use in criminal activity, arguing that not all crypto use denotes the same level of sophistication.
Ultimately, while some criminals may turn to cryptocurrency to obscure their financial misdeeds, the digital asset industry itself is constantly developing new tools and strategies to weed out bad actors in the space.
Tools like Chainalysis provide highly sophisticated on-chain investigation and with the downfall of mixing services like Tornado Cash, crypto's use case for criminals becomes less enticing with each passing day.