Crypto crime is down significantly in 2023, with inflows to criminal addresses down a staggering 65% compared to the same time last year, according to Chainalysis.
In the Chainalysis annual crypto crime report, the blockchain tracker revealed that inflows to illicit crypto wallet addresses dropped a total of US$5.5 billion (AU$8.1 billion) in 2023 compared to that of 2022.
Within that sum, crypto scammers took in US$3.3 billion (AU$4.9 billion) less, and crypto hackers took in US$1.1 billion (AU$1.6 billion) less. Only ransomware-related crypto crime saw a slight increase, with attackers managing to take off with US$175.8 million (AU$258.8 million).
In June 2023 alone, crypto criminals earned 80% less compared to the same month last year. This drop is "particularly notable", says Chainalysis, especially "at a time when crypto asset prices are going up." It's tough out here, guys.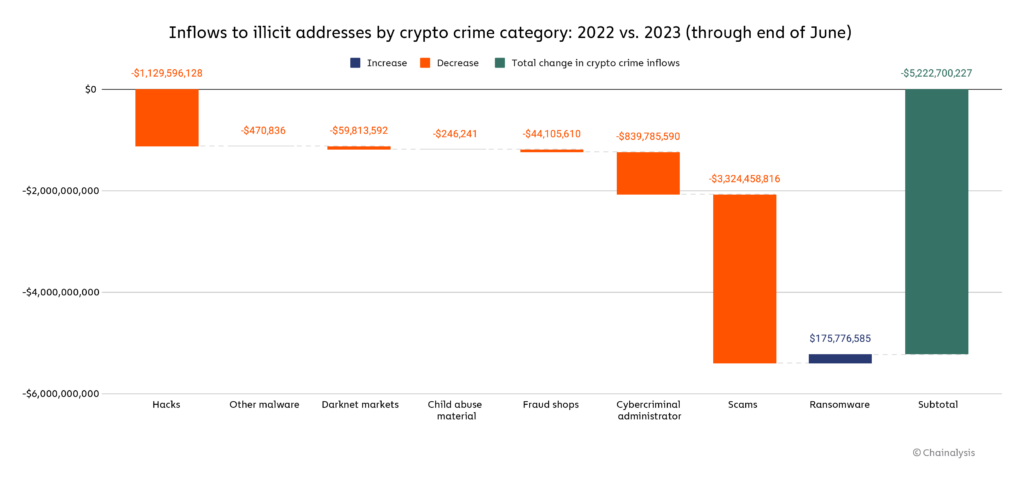 Crypto crime is down: why?
Chainalysis says the reason why crypto scam revenue is plummeting is mainly because two of the largest scam groups in the space have "abruptly" disappeared. They are VidiLook and Chia Tai Tianqing Pharmaceutical Financial Management – quite a mouthful.
First, VidiLook is an alleged ponzi scheme by Australian Sam Lee. The scheme operated by paying its users its native VDL token in exchange for watching ads. On April 23, 2023, internet vigilantes reported that VidiLook disabled over 10,000 investor accounts and ceased operations.
Next, Chia Tai Tianqing Pharmaceutical Financial Management ("Chia Tai") is a company that researches and manufactures pharmaceutical products.
Records of Chia Tai's presence and activities in English-language media are scarce. However, according to Kazakhstani media, the company raised funds from investors "under the pretext of investing in the construction of a pharmaceutical plant, as well as under the guise of investing in the development of dietary supplements and other medicines."
Local Kazakhstani media also reported that over 7 billion tenge (AU$ 23.5 million) was stolen, and over 200 people fell victim to the scheme.
According to Chainalysis, both groups appear to have "exit scammed." This means that they've cashed out the crypto from their wallets, as well as "ceased deposits and withdrawals from users."
In very simple terms, they took the money and ran.
Good for us
As a whole, crypto crime saw "sharp decline" in 2023, says Chainalysis. Besides two of the largest scam groups exiting, Chainalysis also says that efforts by law enforcement has also contributed to lower criminal activity.
For us crypto owners, it's good news, but Chainalysis reminds us to stay vigilant. For the attackers, they might want to consider giving up a life of crime.