Drake, the famous US rapper, recently lost US$400,000 in Bitcoin after losing a bet he placed over a boxing match between Jake Paul and Tommy Fury. According to an Instagram post, the rapper placed his wager on Australian crypto gambling platform Stake.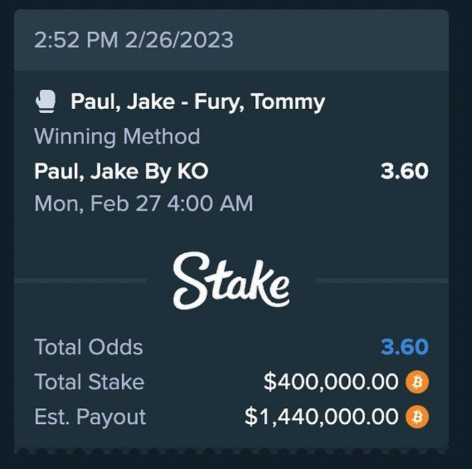 According to Stake, Drake bet that Jake Paul would win the fight and he could've walked away with $1.44 million in Bitcoin.
What is Stake?
Stake is an online crypto gambling platform founded by Australian Ed Craven and US-based Bijan Tehrani. Launched in 2017, industry observers valued the platform at about AU$1 billion in 2021. Craven, now 28, made his debut in the Australian Financial Review's 'Young Rich List' in 2022 and was described as Australia's "youngest self-made billionaire." According to the List, he is currently worth AU$1.1 billion.
Stake, Drake, and the gambling that he partakes
For those who haven't been following, Drake sealed a partnership with Stake in March 2022, announcing on his Instagram that the partnership "was inevitable."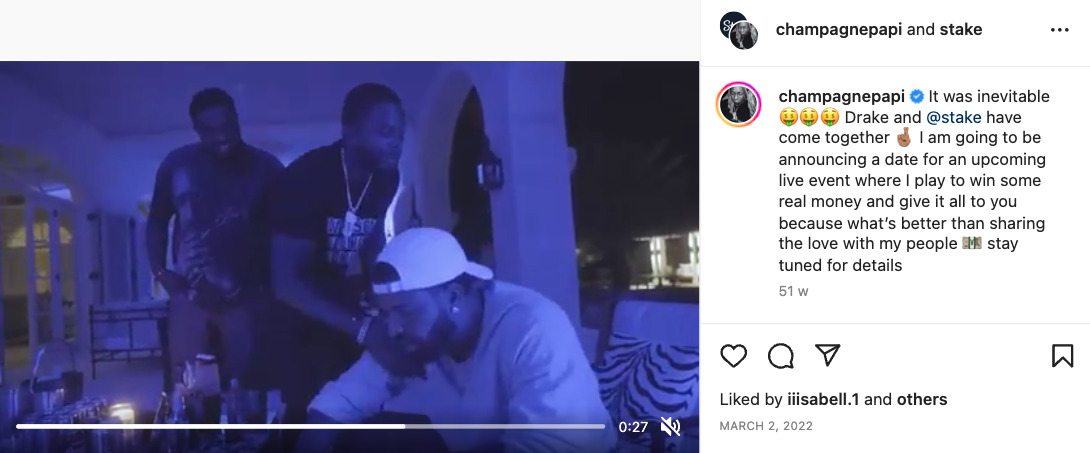 He even filmed a promotional ad for the platform.
Since then, the 'Hotline Bling' singer has been appearing on Stake-hosted livestreams, including on Twitch, broadcasting himself playing games of roulette and BlackJack, sometimes alongside friend and fellow rapper French Montana.
He only loves his bed, his mama, and his bets
It's not the first time Drake, aka Mr. Graham, placed hella money on Stake bets.
In February 2022, he betted US$1.26 million in Bitcoin on the Super Bowl Final between the Cincinnati Bengals and the Los Angeles Rams. "All bets are on the family," he wrote on Instagram. He walked away with $381,000 in Bitcoin profits, reports Vanity Fair.
In May 2022, Drake gave away 35 BTC – worth $1 million at the time – to fellow viewers on a Twitch livestream.
In December 2022, he betted $1 million in Bitcoin on the World Cup Final, placing his bet on the winning team, Argentina.
Most recently, he bet that the Kansas City Chiefs would win the 2023 Super Bowl with a payout of $1.47 million in Bitcoin. He won again.
Don't be in your feelings – they're not all wins
It sounds like he's stacking that moolah, but not really — in one of his first crypto gambling livestreams on Twitch, he lost $20 million live.
In May 2022, he placed a bet on a race at the Spanish Grand Prix, and lost $230,000 in the end. "First F1 bet, let's see how it goes 😎" he reportedly wrote on Instagram Stories.
So does Drake have a gambling problem? We direct you to this video essay by Spencer Cornelia reporting on his $30 million gamble.