May 22, Monday is Bitcoin Pizza Day a.k.a. one of the most significant celebrations in the crypto world. In fact, the date is so widely remembered, that there is a 'Bitcoin Pizza Index' that serves to document future information about the occasion.
So, what is the Bitcoin Pizza Index about? Have a slice of knowledge, on us.
The Bitcoin Pizza Index, Explained
Bitcoin Pizza Day commemorates the day when a man named Laszlo Hanyecz used 10,000 Bitcoin to buy two Papa John's pizzas. It was a milestone in the history of cryptocurrency because it marked the first time that a virtual currency was accepted as a means of acquiring physical goods.
The Bitcoin Pizza Index is derived from Bitcoin Pizza Day and that initial transaction. Essentially, it tracks the value of the 10,000 Bitcoin used by Hanyecz over time, and "illustrates the deflationary properties of Bitcoin." For context, there will only ever be 21 million Bitcoin in existence – this is viewed by Bitcoin's proponents as a digital currency that is deflationary, and would thus only be more valuable over time. 
On the index's website, as Bitcoin is currently worth around US$27,000 (AU$40,500) at the time of writing, the pizza is currently valued at around US$268 million (AU$402 million).
However, it's not just the price of Hanyecz's pizza that is tracked. Fans of the 'Bitcoin Pizza' lore are so deep into it that the pizza – and index – is broken down into price per slice. Oh, you think that's it? Wrong. The index also breaks down the price for each pizza topping: tomato slice, onion ring, olive, green pepper, bacon, you name it.
Right now, the current per slice price of Hanyecz's pizza is US$16.7 million (AU$25.2 million). One teeny strip of green pepper is US$654,000 (AU$984,000). I'd savour every single bite and chew at least a hundred times before swallowing.
The image is updated every day, too. This is to accurately reflect the pizza's price in relation to the current price of Bitcoin. Talk about dedication. Talk about proof-of-work. 😉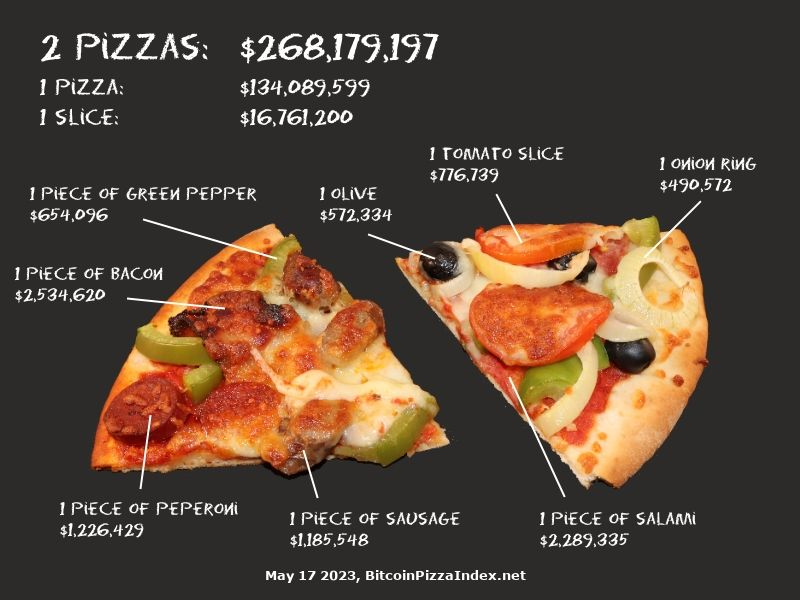 It's a Bitcoin price tracker, too
The Bitcoin Pizza Index also compares the value of 10,000 Bitcoin to other real-world assets: gold, silver, and the Euro. As of writing, 10,000 Bitcoin is equivalent to 135,017 troy ounces of gold, 11,351,741 troy ounces of silver, and about €247.6 million.
If that is not sufficient, there is also a 24-hour chart that tracks the price movement of Bitcoin. It serves as a typical price chart, and breaks down Bitcoin's daily, weekly, and monthly price performance.
If you ask me, the Bitcoin Pizza Index is a pretty comprehensive tracker that documents the important aspects of the world's largest crypto by market cap. Happy Bitcoin Pizza Day in advance to those who celebrate.