Richard Heart: A YouTube influencer has erased social media mentions promoting his self-made crypto coin, amid the US Securities and Exchanges Commission's (SEC) clamping down of the cryptocurrency industry.
Richard Heart, who has a combined 502,000 followers on Twitter, YouTube, Instagram, TikTok and Telegram, changed his Twitter biography to remove mentions of his crypto token HEX and deactivated his Instagram account.
Here's what we know about him so far.
Who is Richard Heart?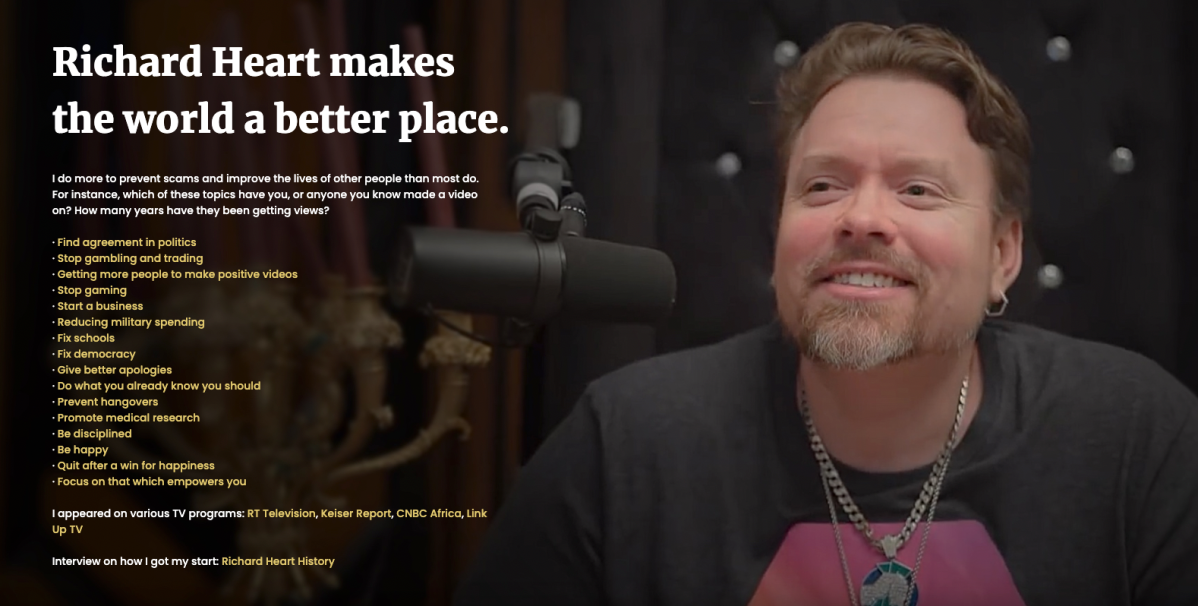 According to Richard's official website, he is a "force for good."
It's not certain where Heart is currently based, but his site claims he was born into a poor neighbourhood and helped his father deliver newspapers and fix air conditioners in Florida, so one would assume he's located in the US.
His Wikitia page – which is a clone site of Wikipedia, by the way – specifies that he's born in Pennsylvania and enrolled in a middle school program for gifted children called MEGSSS (Math Education for Gifted Secondary School Children). If you'd like to learn more about his curriculum, Heart's got you — he even tweeted an image of this from MEGSSS, which taught him "the most powerful programming language in the world."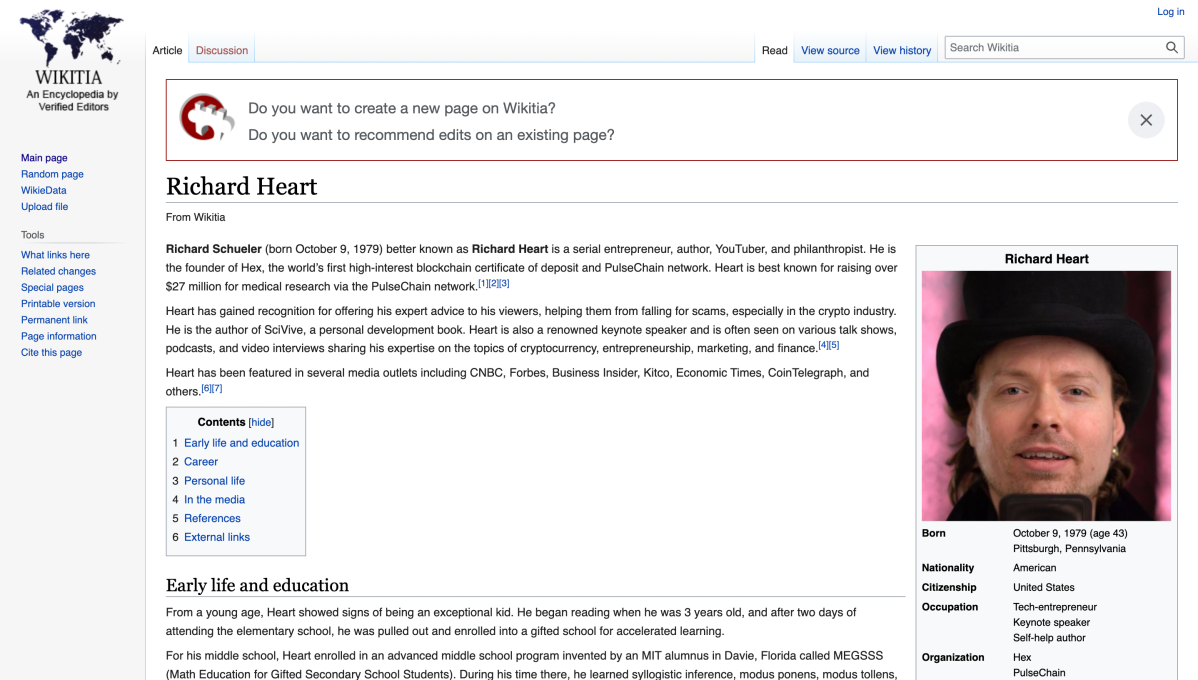 Heart's fans seem to believe that it was his education at MEGSSS that helped him in the creation of HEX.
What is HEX?
HEX, launched in 2019, is an Ethereum-based cryptocurrency that states itself as promising to be an investment with return to users who store their token for a fixed period of time. According to HEX's website at the time of writing, users can get 38% of annual percentage yield (APY) of returns per year through mining the cryptocurrency.
However, a plug of HEX's main page on the wayback machine shows that it altered its description of APY returns to mining from staking around March 2.
For context, in crypto, staking is the act of locking up your crypto for a period of time on a platform to support the development of a blockchain network. Participants of staking are typically rewarded with fees or crypto as incentive. For more information, read our explainer here.
In mid-February, the US SEC said it is cracking down on crypto staking. Until February 24, HEX's main page read: "HEX Stakes average 38% returns a year."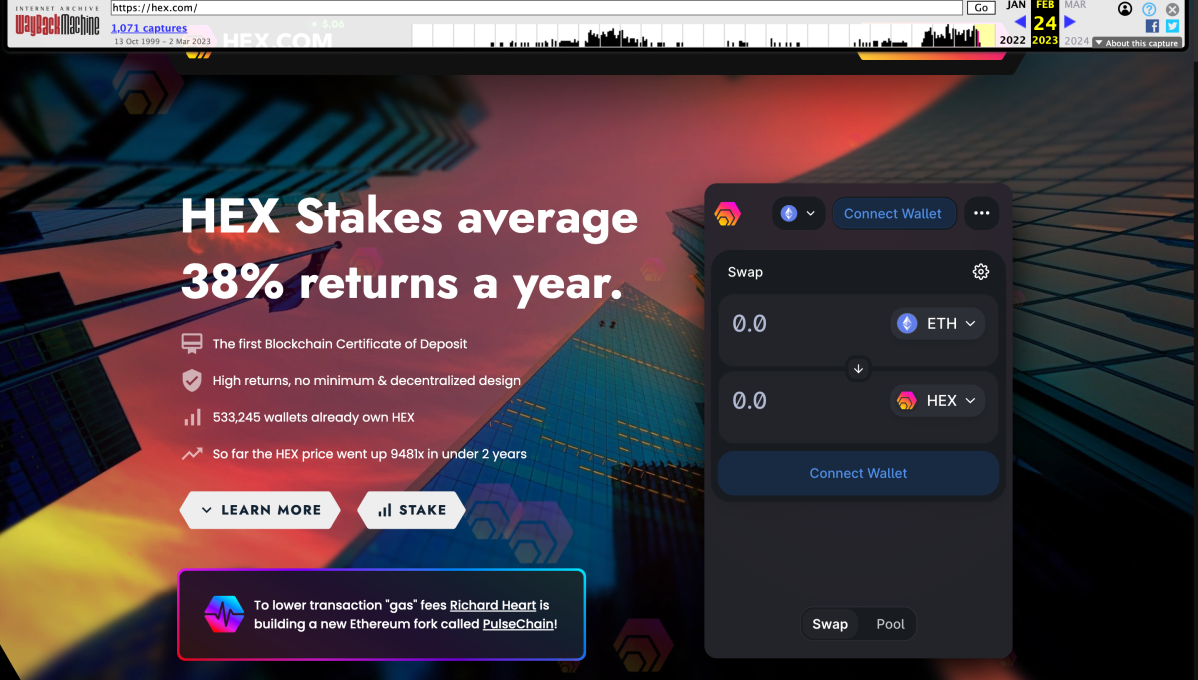 HEX reached a peak price of AU$0.65 in September 2021, according to Coinbase. HEX is currently trading for AU$0.098 per token.  
In fact, HEX has such a loyal following that there's a 'fanbase'. They're supposedly called "Hexacologists."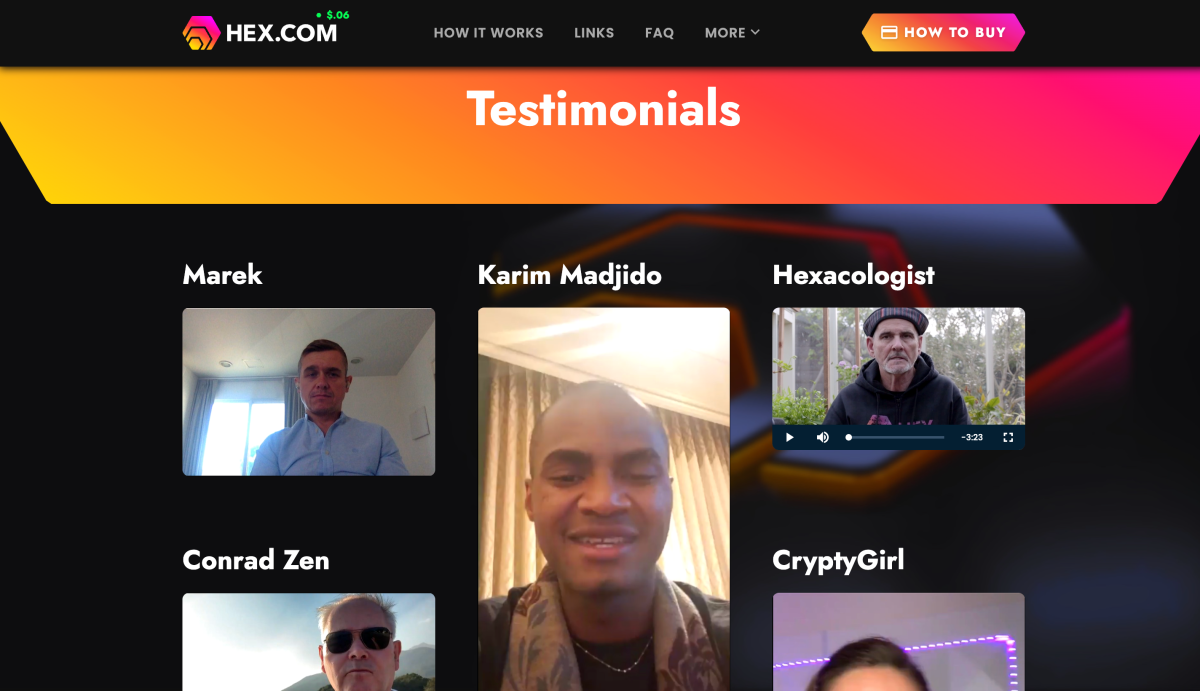 If you're worried that it may be a scam – which, given the nature of the crypto industry, is a fair concern – HEX goes out of its way to assure you that it is not. It has a dedicated page on its website clarifying that it is not a scam. Instead, HEX is apparently "a better Bitcoin" than Bitcoin itself. It even has its own Trustpilot review page with 4.9 stars out of five.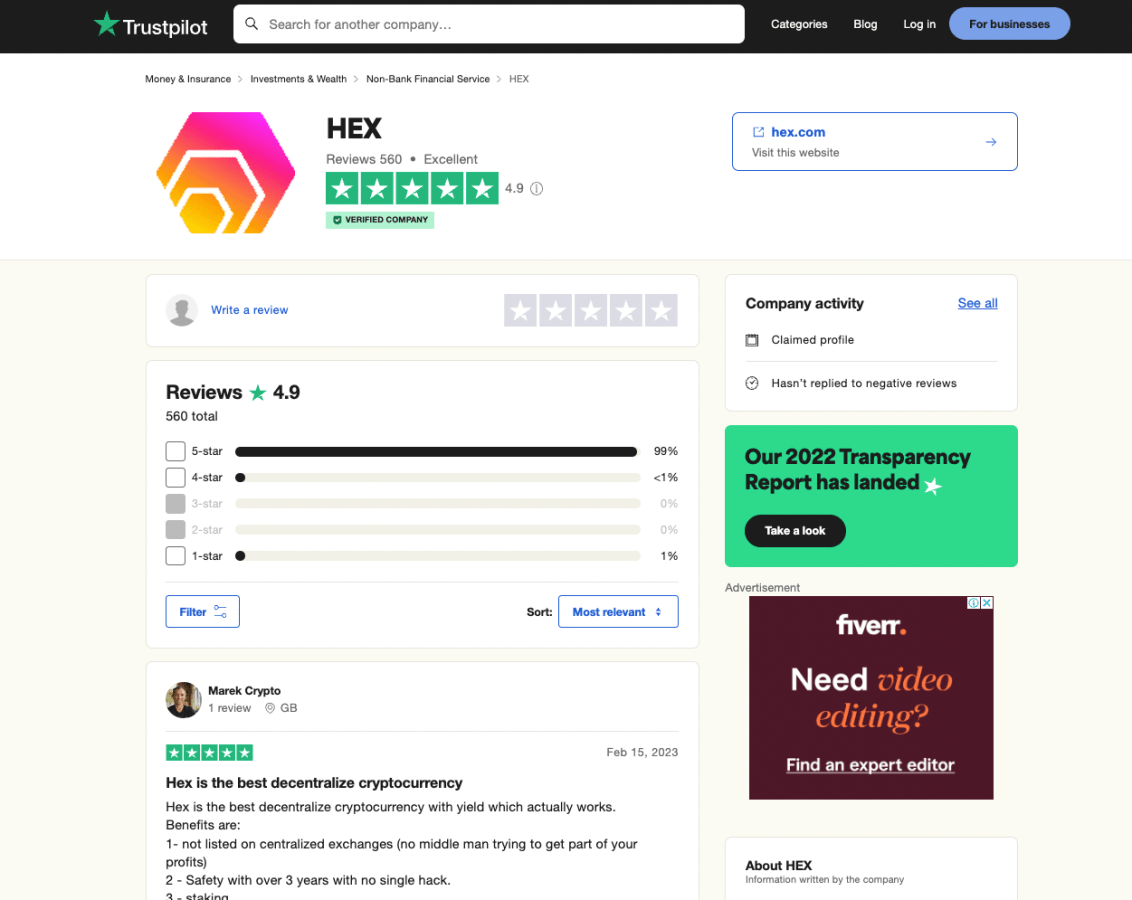 Crypto
In the cryptocurrency industry, it is standard protocol for the developers of a crypto token to issue a white paper to followers and investors. A whitepaper typically contains the goals, features, tokenomics and roadmap of a crypto project. 
HEX does not have a whitepaper – it says that building a good website is more important than that. But it does have a PDF document that goes into the weeds of the technicalities of the token, which HEX describes "is considered HEX's whitepaper."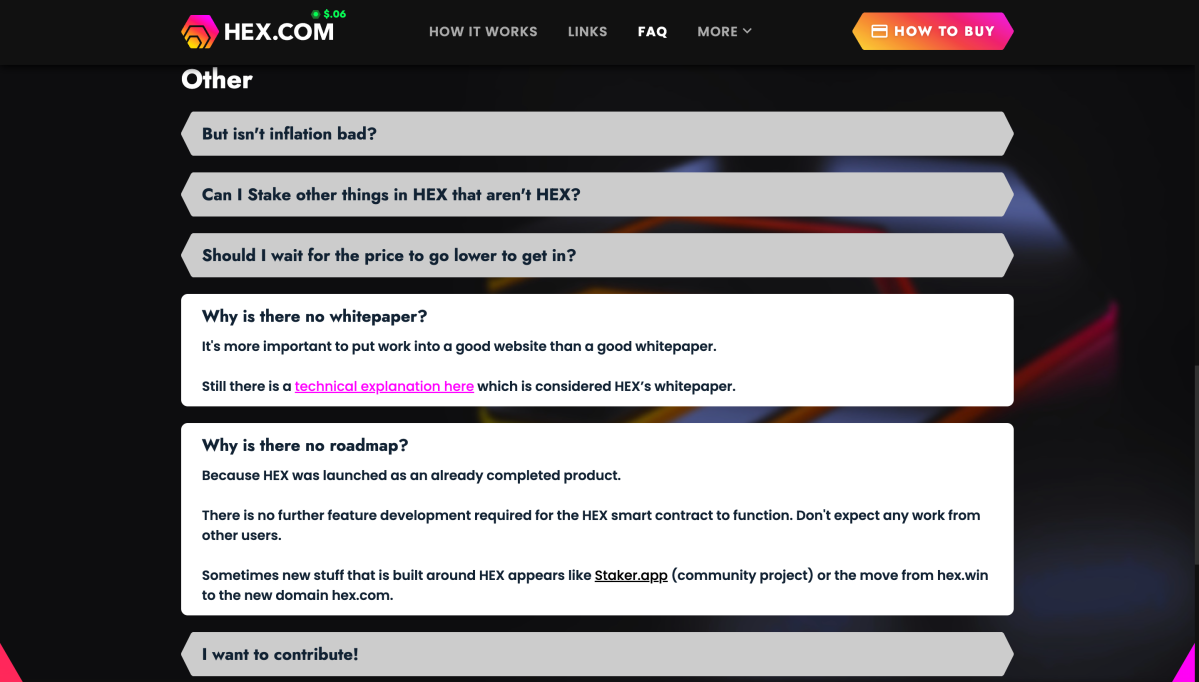 Heart's YouTube
On his YouTube, Heart claims that he owns "the world's largest diamond, quickest Ferrari and most expensive Rolex[es] ever made," and has US$10 million in watches and US$3 million in cars.
His YouTube videos have a combined ten million views and many of them are content related to the benefits of HEX compared to other cryptocurrencies like Bitcoin.
Richard Heart: Twitter and Instagram
On Twitter where he has 300,000 followers, his biography went from being packed with HEX promotions (left) to being absent of any mention of HEX (centre). But most recently, Heart added back a small link to HEX's official website (right):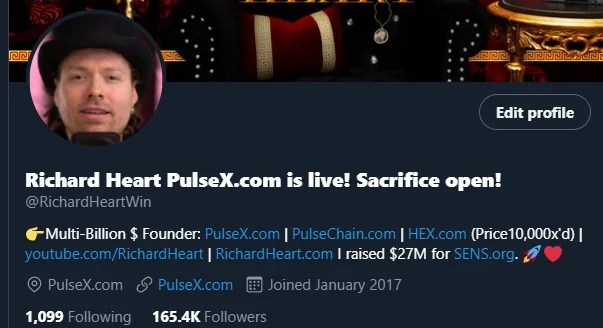 On Instagram, he deactivated his account that has 201,000 followers. Why? To be respectful to us plebs perhaps.
Emmy-Award winning documentary filmmakers
To document his legacy, Richard Heart even got a team of filmmakers on board to film a documentary called The Highest Of Stakes. On its official website, the team states that it is co-directed by Patrick Moreau and Grant Peele. Moreau's iMDB states that he won an Emmy Award in 2012.
The documentary is scheduled for release some time this year, according to the website, and might be distributed on major streaming platforms including Netflix, Amazon, and Hulu. 
Richard Heart: Crypto Twitter is sharp
Some users in crypto Twitter are aware of Heart's erasure of certain information on his social media and have come up with their own theories on why, including that it's to purge his internet footprint amid the SEC's crypto crackdown.
Redditors on r/Cryptocurrency are also discussing the matter. However, Heart's latest posts on Twitter show that he still very much loves HEX.
… and here's his response to the haters.