During the brief Threads hype at the beginning of July, users also realised that they had been, uh, Zuck'd.
How so? As some started having fun 'threading' away, others found out that per Meta's Supplemental Privacy Policy, if users ever want to delete their Threads account, their Instagram account will also be deleted.
Some sharp-eyed users also noticed that on the Threads signup page, there was a tiny disclaimer that reads: "Future versions of Threads will work with the fediverse, a new type of social media network that allows people to follow and interact with each other on different platforms, such as Mastodon."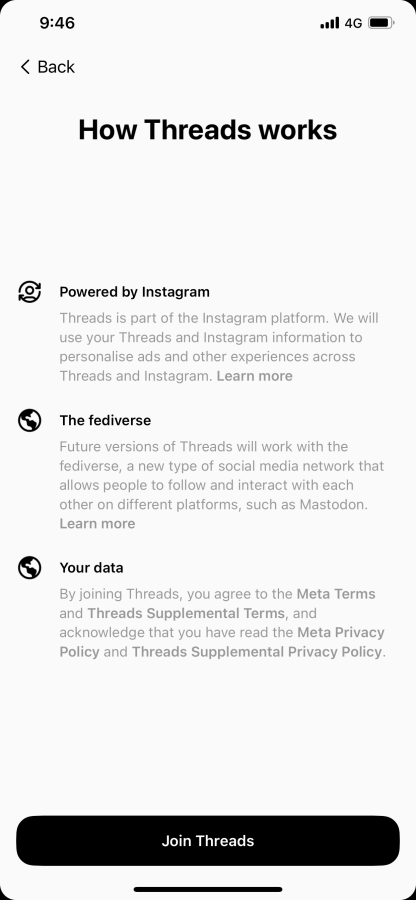 Welcome to the fediverse.
The fediverse, explained
Nope, this is not the metaverse. In fact, it's far from it. According to Fedi Tips, the fediverse (portmanteau of "federated" and "universe") refers to "a collection of thousands of different social media servers that talk to each other seamlessly." 
Think of the fact that an Optus user is able to call a friend who's a Telstra user. Both use different mobile phone service providers, but are able to call and text each other. This is thanks to an agreed-upon protocol that allows customers to communicate with one another – and the fediverse is trying to make this possible, but on the internet.
If one thinks about how major social media sites like Twitter, TikTok, and Facebook are operated, they are 'walled gardens'. In other words, they are competitors that want users to stay on their platform and not go anywhere else. Whatever data owned by that platform also remains on said platform.
Remember when signing up for Threads, how you were able to smoothly import your data from Instagram onto Threads? You were able to keep the same profile picture and username. That was a glimpse of the fediverse in action.
How does the fediverse work?
In 2018, a group of very important technology geeks (the World Wide Web Consortium, to be exact) came together and decided that a protocol called ActivityPub was now the accepted standard for decentralised social networks.
One defining feature of the fediverse is that it is decentralised. In other words, it is not owned or governed by any central person of authority or company. ActivityPub is not owned by a single person or company. Very Web3, if you ask us.
Instagram chief Adam Mosseri explained that for now, Threads is not built on ActivityPub, but is "committed to building support" for the protocol so it can interact with other platforms that are completely unaffiliated with Meta.

"We weren't able to finish it for launch given a number of complications that come along with a decentralised network, but it's coming," he wrote on Threads.
By building a social network where ecosystems can 'interact', users would be able to share content across platforms. Just imagine being able to leave a comment on someone's LinkedIn post while you're on the TikTok app. Sublime!
Other 'fed' platforms
Meta certainly did not invent the fediverse with Threads. Prior to the app, social networking platforms such as Mastodon popularised the idea of the fediverse. With Twitter's slow demise, other fediverse sites have also entered the mainstream.
1. Mastodon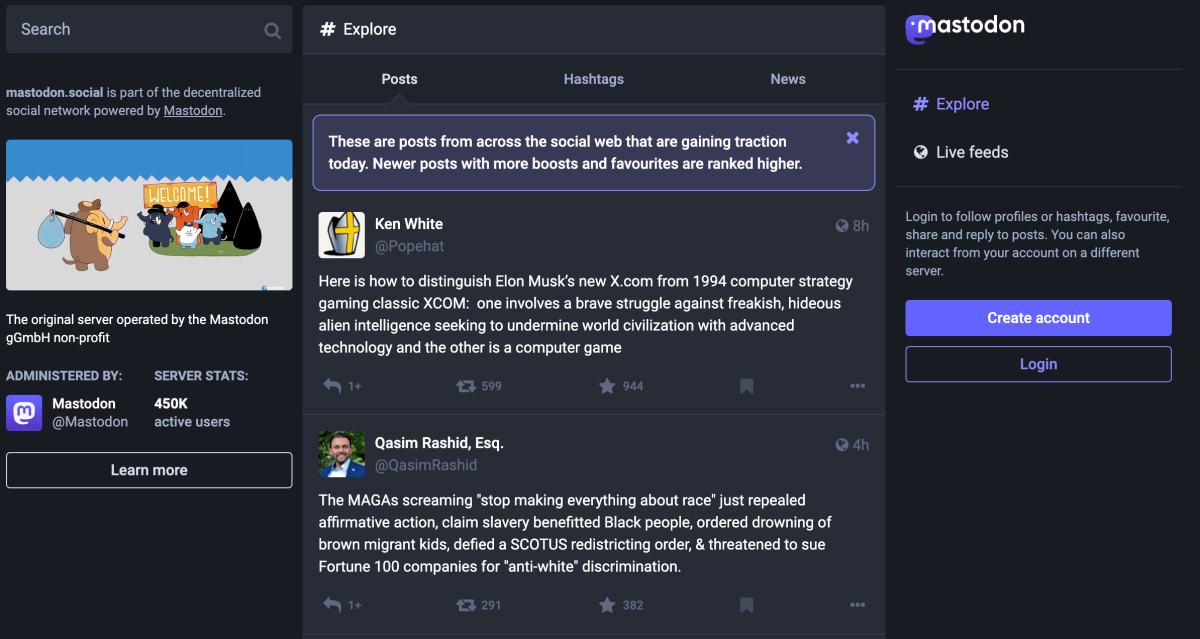 The decentralised social media network was founded in October 2016 by German software developer Eugen Rochko. However, it only entered the mainstream right after Elon Musk entered Twitter's San Francisco headquarters carrying a sink in November 2022.
Mastodon is built off the back of ActivityPub. On the platform, users are able to pick a server that they want to join or create their own. Their username also functions as a domain. This explains why on the site, many usernames end with different domains.

For example, people who are on Mastodon's own server will have @mastodon.social in their usernames. There are then a dozen other funky domains like @federate.social, @sauropods.win, and @wetdry.world – which could be confusing to ordinary internet users who aren't familiar with the concept of fediverses.
2. T2
Besides Mastodon, journalists and notable technology industry leaders temporarily made T2 home this year. The platform was founded by former Twitter and Google employees Gabor Cselle and Sarah Oh in November 2022.
According to T2, content on the platform is "curated by people, not algorithms." It says content on its site is facilitated by "simple voting schemes and an engagement-based reputation system to replace profit-driven algorithms." The idea is to nurture a sense of community and ownership around what users produce.
3. Bluesky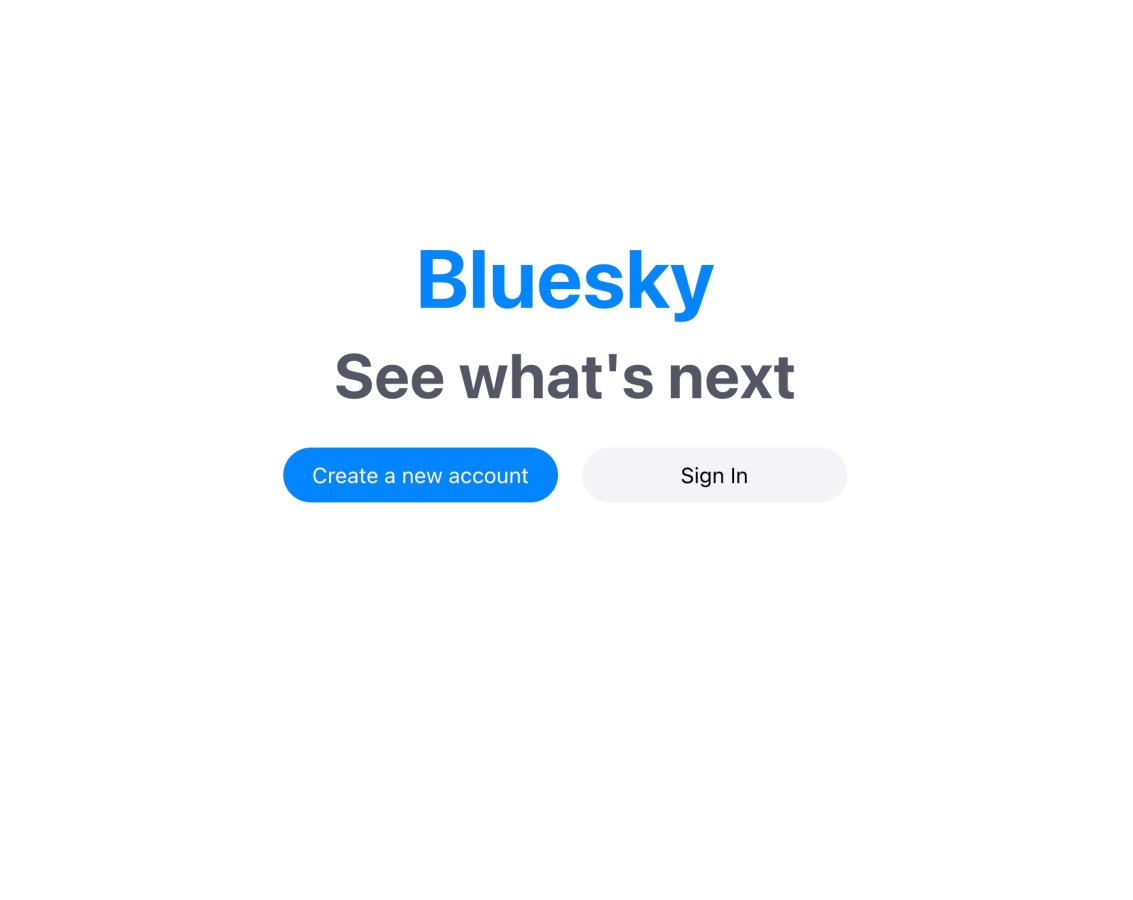 Run by Twitter co-founder Jack Dorsey, Bluesky had its brief moment of mainstream popularity in May when selected users were invited to test the platform. Bluesky was once billed as the 'Twitter killer', and posts on the app were called 'skeets' or 're-skeets'. At the time of writing, Bluesky has over 310,000 users.
Fediverse enthusiasts who believe that this is how the future of the internet should be, have created a 'fediverse map' so users can explore different fediverse services on offer. You can access it here. 
As noted by other publications, Mark Zuckerberg definitely loves a good 'verse. In early 2023 when AI began to take over mainstream media, Meta assured investors that it is still as invested in the metaverse. Would the fediverse eventually take over Zuck's interest in the metaverse? Only time will tell.