AI is now embedded in our lives. But are we getting too intense with AI apps? It's a good time to ask that question, because TextsFromMyEx.com — a new AI website powered by ChatGPT — is telling us what we did wrong before a breakup and why we were dumped. This is where the question of AI and its place in our lives gets a bit sticky. Sometimes AI helps us, and sometimes it's not such a good thing.
TextsFromMyEx.com skirts that line. Is it good? Is it bad? Do we really want the truth from an AI that has no emotions? Are we ready for some brutal takes? 
We know you are going to try this right away because — of course you will. We are DYING for the TextsFromMyEx.com website (and soon-to-be app) to analyse our entire texting history with our exes and tell us how badly we fecked up.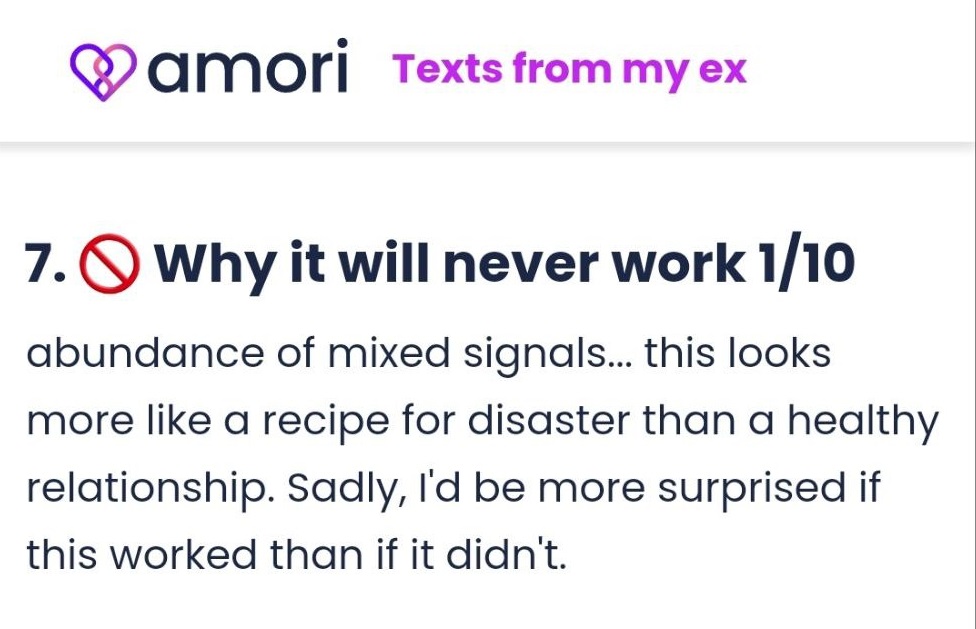 For now, the website is free, so you can torture yourself without money leaving your account. Soon, though, it might cost you to learn brutal truths about your attachment style. But free painful truths are surely better than pay-for-pain? Jump on now, in case it becomes a subscription service. 
TextsFromMyEx and How it works
The owner of the website, which is also confusingly called Amori, says it is "a Stanford-founded AI dating app with the mission to foster meaningful connections through voice. By learning about you from your conversations, Amori helps you navigate your relationships and connect with others on a deeper level". 
I would take the Stanford University connection with a grain of salt, and carry on.
Here's how you start. Upload any conversation from WhatsApp or iMessage. The website tells you how to do this and it is really easy and quick. Simply choose to export a conversation, eliminate all media other than words, and then save it to your downloads folder. Then upload the file from your downloads folder to the website.
Enter your phone number (use a burner phone if you're worried). After a few minutes, the website texts you a link to a report that tells you about your attachment style (and, in some cases, how completely awful your attachment style is). This all happens in a few minutes. 
Worried about giving your phone number? It has been 24 hours since I tried the website, and I still haven't gotten any junk texts or been contacted by North Korean scammers called Lazarus, so I am hoping the app won't sell out my details, and so far, things look good.
The report
Let's just get this out there first. The report that users are given will never be a substitute for counselling or real human advice. And users need to understand that language models like ChatGPT, which powers the report on this website, can quite often be wrong. Taking all that into consideration, and working on the understanding that this is just a bit of fun, then you might be as fascinated with the report as I was.
Learn from your conversations
The algorithm analyses your chats and spits out a shareable report that tells you your attachment style, how you communicate and how sexy your conversation is. It also shows you highlights of when you did a good job in terms of connection.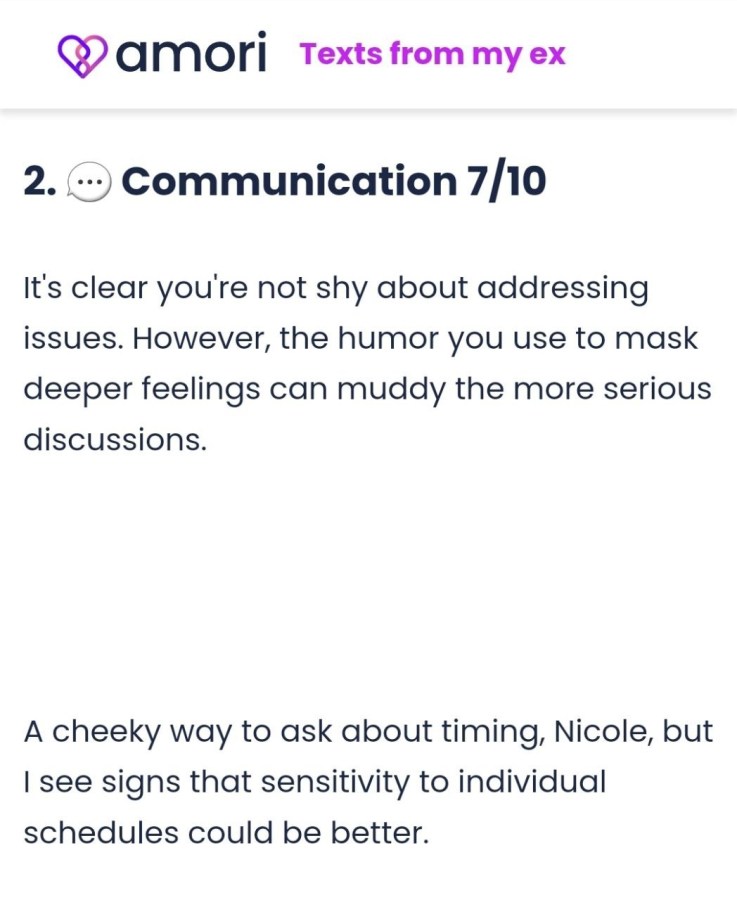 It will also tell you the ways in which you were awful and a total failure, what challenges you faced and the fundamental issues making or breaking the relationship.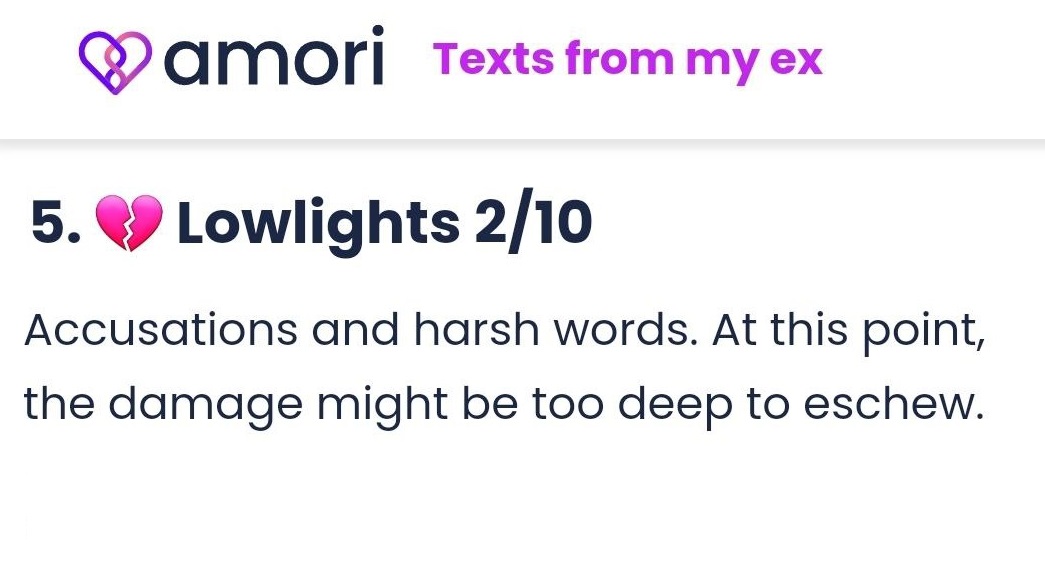 Even if you don't take this report as gospel (please don't), it can still be a useful resource in terms of approaching future relationships.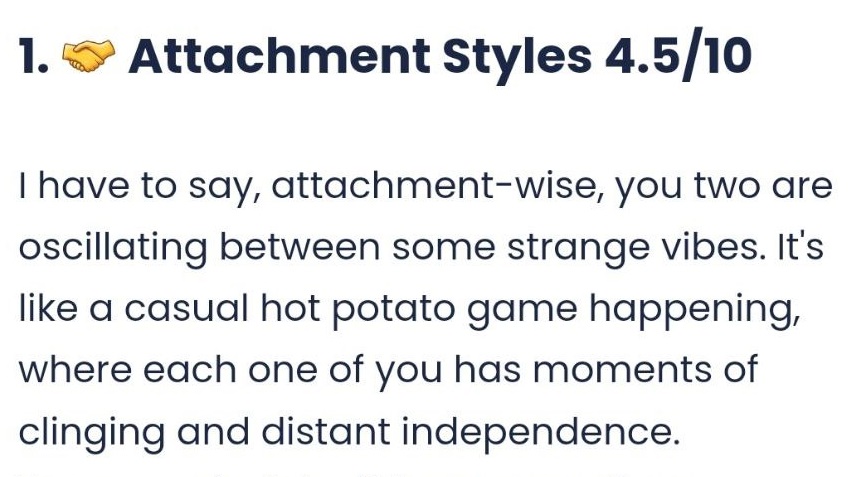 You could also ignore the report altogether and continue to believe that it was all your ex's fault, and that they were a total douchebag. Excuse me, I'm fabulous, I'm going with the latter.