Taylor Swift broke the internet last week. And this time, it wasn't about her new hottie boyfriend Travis Kelce, or even her music. It was about her being snapped eating a chicken tender. But … this wasn't about chicken, it was all about the sauce — she had a pot of tomato sauce, and a pot of white sauce that was "seemingly ranch".
A Swifty tweeted about it and the internet caught on fire.
Taylor's condiment of choice has been trending all over social media for a week, and people are having a lot of fun with it.

Some TikTokkers even used it as an opportunity for education.
And the Empire State Building was even in on it.
But then, the corporate world got heavily involved.
McDonald's got on board.
Heinz was even posting pictures of "seemingly ranch".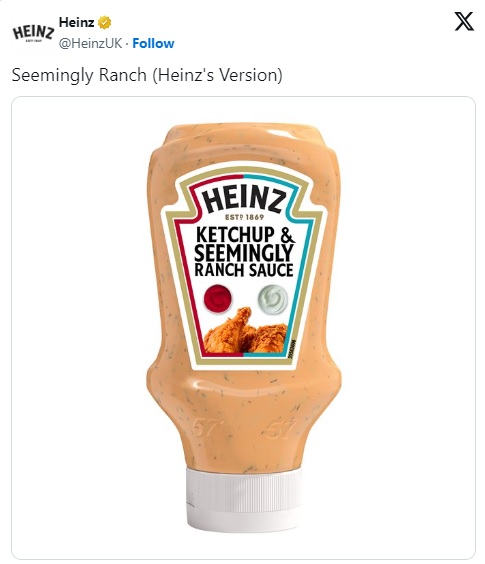 Sometimes, these moves by corporates are not well received.
Arby's posted on Twitter advertising its new wings with ketchup and "seemingly ranch".
Lay's chips got on board. They seemed to have used an AI to generate an image of a new flavour called "seemingly ranch".
Of course, there was some pushback.
Seemingly ranch: Was it a corporate rodeo?
The Banana Rat is an X account that explains complex topics. They said that corporate brands got on the trend way too quickly. 
"What followed was a corporate rodeo. The meme, birthed from an innocent observation, was now a corporate cash cow, mooing all the way to the bank. Amidst this ranch ruckus, the fan account that started it all was left in the dust, overwhelmed, and not a dime richer from the ranch riches being reaped. Nor has Taylor Swift reaped any direct benefits (to date anyway, that could change quite quickly). Alas, this is the way of the meme." 
Banana Rat argues that it was a corporate hijack of an organic internet moment. "The genuine spark of the original tweet quickly found itself engulfed in a storm of corporate marketing antics. This scene unveils a larger narrative where real, spontaneous internet sparks are often snatched by brand behemoths, twisting organic interplays into commercial playgrounds."  
What the experts think
Mathew McDonough is the Managing Director of Boost Social, based on the Gold Coast, which specialises in social media marketing. He said that if a trend was happening online and his client was aligned with the subject, he would advise getting on the trend.
"We would advise corporates to get involved, where relevant and where appropriate. It is individualised according to what business it is and what the trend is. If relevant, I would say yes, let's get on top of it as quickly as possible.
"If you go in and try to get involved, you've got to be prepared for both good and bad outcomes. Because you don't know what will happen. Something could be hot one day and then the next day you wake up and everyone's hating it! It could flop overnight!"
Aimee Hull is the Senior Social Media Specialist at Boost Social. She said, "If you jump on a trend, have a clear strategy in place for it. If the trend is relevant and valuable for your brand, craft a way to jump on board. But make sure, though, that the trend is relevant. You should not just jump on everything."
Joining in the fun
If you do peg your brand onto a trend like "seemingly ranch" and do it right, your followers (and potential followers) will see it as just joining in on the fun. And, the greatest thing about the "seemingly ranch" trend is that it is wholesome. 
There is no politics, there is no moral dilemma, it's just about a choice of condiment, reminiscent of "Should pineapple be on pizza?". 
How could it go wrong? And you will always get critics, no matter what you put out on social media.
Marketers? This may be a case of ''ignore the haters" and ''get in the game".