NFTs enjoyed a meteoric rise in 2021, beating out 'cheugy' (aka not trendy) to become the Collins Dictionary Word of the Year. It seems a wise choice to me since I didn't hear cheugy uttered all year.
We saw NFT sales volume hit a high of US$40 billion last year — a significant increase from the year before of just US$250 million. This momentum continued at the start of 2022, with total sales eclipsing US$37 billion in May before the crypto winter led to a significant slowdown in trading activity to just US$1 billion in June. Slowdown or not, in my view, this is just the beginning for NFTs.
For example, conglomerate Instagram recently started rolling out an integration of NFTs into their platform that will likely further accelerate mass adoption. There has also been no braking of big Web2 brands entering the space, with companies such as Tiffany & Co, M&Ms, Etihad, and Prada executing sellout drops. Companies are even filing trademarks to protect their brands in the metaverse, including Hermès.
NFTs Ain't No Fad
Before you write off NFTs and the metaverse as a fad, as someone who has been living and breathing digital for the best part of a decade (something my screen time stats will attest to), trust me when I say, there is no doubt Web3 will change the way we work, live and play.
As we are at the beginning of this new era, there is no roadmap or playbook for success, but we just have to look at the rise of social media to show that those who jump into new technology early will reap the rewards.
When Facebook and Instagram first took off, we saw brands not only grow their audiences exponentially across the world, but we saw the birth of digitally native brands (e.g. Frank Body and Daniel Wellington Watches) that grew huge social followings. Organic reach has declined dramatically over the past few years on both of these platforms and at present, it's much harder for brands to grow an audience. Companies that jumped onto social late missed out on an opportunity to grow without having to pay for reach.   
Brand use
Web3 is offering brands a chance to utilise new technology such as NFTs, the metaverse and blockchain to connect with their community in a way never before possible. Consumers can now buy into brands through NFTs, giving companies an instantly engaged audience.
The metaverse has opened up a brand's potential audience to the world and the blockchain forms the economic layer underpinning the internet – this is because it allows for immediate, trustless transactions all around the world. It's also a great way to stand out in the market. It's hard to innovate in Web2 and do something new, whereas if you activate in Web3 at the dawn of this new era, you have the chance to lead.
Metaverse isn't a thing a company builds. It's the next chapter of the internet overall.

Mark Zuckerberg, Meta
There are already some key changes and opportunities brands can take advantage of to increase their chance of successfully transitioning into Web3.
The Changing Nature of Communications
As we transition to this new era of the internet, we've already seen a shift in the way brands are using social media. There is a significantly higher focus on engaging with your community as the space is new, so early brands not only have to communicate what is happening with their projects, but they need to be educating their audience about this new space and helping them transition safely into this new and exciting world.
In Web2, we have seen brands share content on their social platforms and not engage with their community. Unless you are consistently engaging with your audience on social media, it's just media. Brands rarely reply to comments from their community and the current major platforms don't allow for ease of communication between members of a brand's community.
In Web3 this doesn't fly. If you aren't talking to your community everyday, they think you're dead. We saw this when the Doodles NFT community, one of the largest in the world, freaked out when no one heard from the team in two months.
NFTS and Web3
Success in Web3 revolves around high-touch communication. I think of content in Web3 not as the photo or video you post like in Web2, but rather the conversation between the brand and their community, and between members of the community itself. This is where we've seen Twitter and Discord become the social media platforms of choice for Web3 projects. 
Twitter is being used by brands to keep their audience up-to-date with company announcements and establish brands as thought leaders in the space. The platform has already started integrating Web3 functionality including the ability to verify your NFT as a profile picture. The crypto audience has become the most engaged segment on the platform, which is not surprising given how hyper-engaged brands have to be with their audience.
Consumers are now using Twitter to stay on top of NFT drops, the latest Web3 news and follow thought leaders in the space. Twitter is also being used as the funnel for a brand's audience into their Discord.
Discord
Discord has traditionally been used for gaming and to be honest, its UX/UI is probably the hardest to use out of any of the major platforms. Nevertheless, it has become a go-to for brands looking to build hyper-engaged audiences as it allows for the community to chat with each other. Plus, the brand can create channels in their Discord server to segment their audience into different sections, allowing them to tailor content and conversation strategies.
Discord is also serving as a customer support portal – a place where people can go before, during and after NFT drops. While the shift to 'higher touch' with one's community might seem overwhelming for brands, the good news is that we are seeing projects assign "moderator" roles to manage super engaged fans. These moderators can help shoulder the responsibility of customer support.
While this new way of social requires a much higher level of investment from brands, the payoff is that you have a hyper-engaged audience, one that is heavily invested in your brand, even ones that haven't been around for that long. 
NFTS and audiences
In Web3, there is also expectation that you build in front of your audience. In Web2, brands tend to share new products and services when they are ready to sell. And in Web3, if you aren't showing your community what you are building, they think you are sitting around all day doing nothing.
Don't be afraid to take your community along for the journey as in the end, they not only will be more invested in the final product, but you also get the chance to get valuable feedback along the way from potential customers.
Creating a hyper-engaged audience is especially important in Web3 as companies are still so new, so to see success early, they need to build super fans quickly. We've seen this happen with the likes of the Bored Ape Yacht Club (BAYC) NFT project which in the space of 18 months, went from zero, to being valued at US$5 billion. Not bad for a company many still see as jpegs of apes.
Shifts in the sharing of commercial rights will accelerate growth
While many might attribute the success of projects like BAYC to luck – right place, right time – if you delve a little deeper, you realise that the bestowing of commercial rights to NFT holders will be a game-changer in marketing.
Commercialising work
While the project owners still own the ultimate brand IP, holders are able to commercialise the artwork on their NFT. This allows a brand to exponentially grow their brand equity. This is dramatically different from Web2. Think of it this way, if Nike releases an NFT, the holders can't suddenly have creative freedom to commercialise the iconic swoosh. 
However, if you hold a BAYC NFT, you can create your own restaurant, fashion collaboration, release a chocolate line with M&M's (all things BAYC holders have done), using the artwork on your NFT. This means instead of one entity driving IP growth, you could have 2,000, 5,000, 10,000 plus people developing IP for your brand. The people who invested their own money effectively become ambassadors for the brand.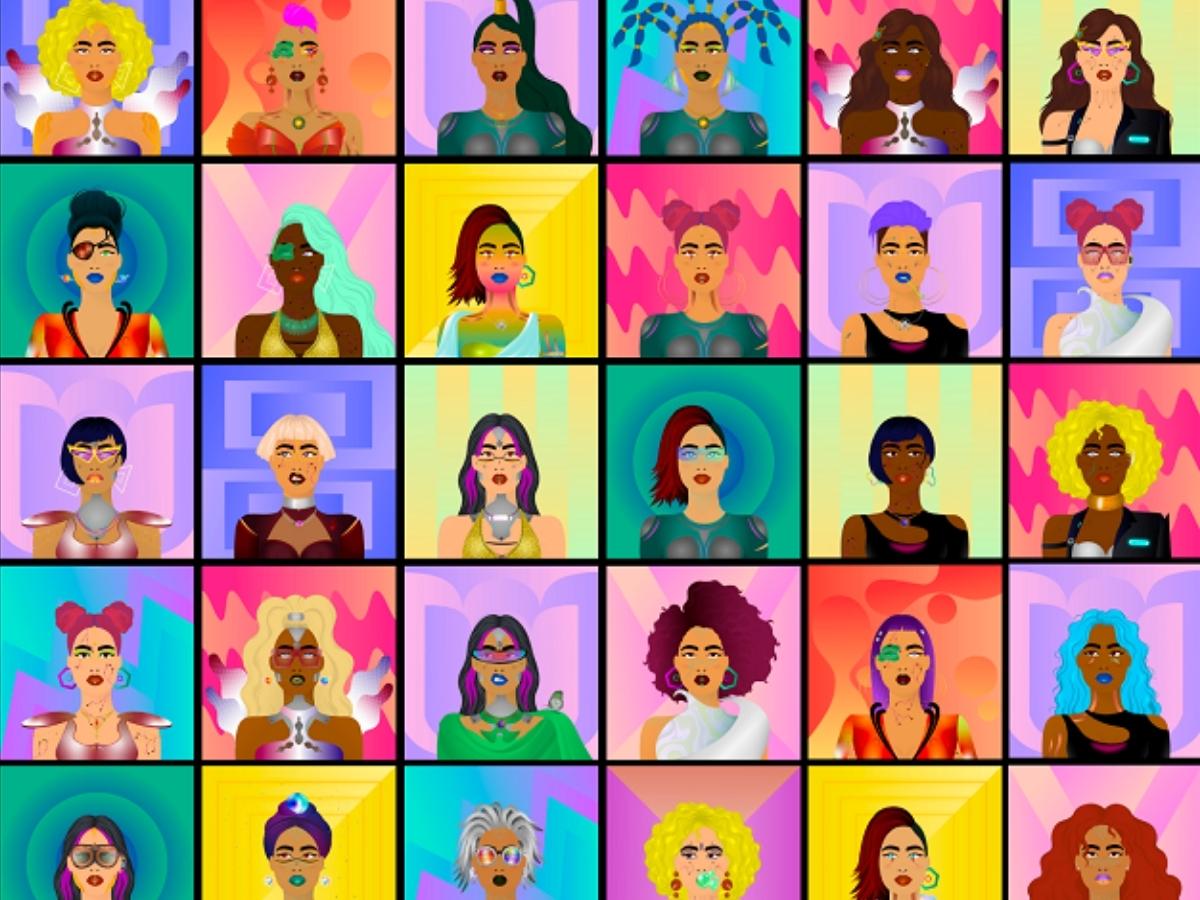 Giving commercial rights to holders can also bring additional, unexpected benefits to brands.
When Tiffany & Co announced they would be releasing their first NFT collection, a series of 250 "NFTiffs" for 30 ETH each (approximately $US50,000), people weren't sure they would sell out given the high price point. Each NFTiff gave the holder the ability to redeem their NFT for a custom-designed blinged out CryptoPunks pendant and matching NFT digital rendering. CryptoPunks is one of the blue-chip NFT projects in the space and you could only buy an NFTiff if you owned a CryptoPunk.
The NFTiffs sold out in 20 minutes netting the brand US$12.5 million.
Activations
What made this NFT activation particularly interesting was that this was not an official collaboration with CryptoPunks. As the CryptoPunk NFT holders own the commercial rights of their NFT, they can create what they want with the IP. Tiffany & Co could therefore avoid expensive, drawn out legal negotiations with Yuga Labs, the owners of the CryptoPunk brand.
This meant that Tiffany & Co was able to successfully work with the hyper-engaged community of a native Web3 brand, making their foray into the space more considered and genuine. They were also able to potentially get their brand in front of a new audience – one that has skin in the game of the NFT project they are invested in.
Acceleration of brand equity as IP rights extend to NFTs
This new take on IP and commercial rights will not only benefit those looking to leverage NFT communities like Tiffany & Co, but it will benefit the brand and holders themselves.
It has become increasingly common for NFT projects to give their holders the rights to commercialise their NFT via the creation of derivative works. This right is generally exclusive, royalty-free, and sub-licensable.
This means you not only have one entity driving the development of your brand, but you have thousands who have commercial rights. These sub-brands will quickly broaden the reach and creativity of new brands allowing them to grow exponentially.
So while we are still early days with the evolution of this new phase of the internet, now is the time to explore the space. As the old saying goes, fortune favours the brave. If you are willing to leap first, you have the opportunity to be not only execute activations and technology first in your country or your industry, but also the world.
Now is your time to lead, not follow.