As of 2022, the creator economy market size surpassed USD$100 billion, more than double its value since 2019. It's no secret that the creator economy is incredibly profitable and will continue to grow. Despite the growing popularity and opportunities offered to creators, there are also significant challenges facing creators today.
Some of the challenges include creators being held hostage by centralised platforms, with their content locked into these platforms and reliant on algorithms to determine their reach. Many creators struggle to earn a decent income, with 98% of artists on Spotify only making US$36 per quarter. Shopify has even gone far enough to argue that top earning creators paint an unrealistic picture of earnings and the majority of creators fall into the "middle class" of the creator economy.
To solve for these challenges, creators are eager to move their audiences to less volatile environments – environments they own. One potential solution has been Web3 technologies such as non-fungible tokens (NFTs). NFTs allow creators to own and monetise their digital content independent of traditional platforms. This new method of monetisation has the potential to revolutionise the Web3 creator economy and empower creators to take control of their content and communities.
I believe that this year, we're going to see transformative movements in the creator economy, enabled by emerging technologies such as NFTs, DAOs and artificial intelligence. In this article, I'm going to put forward three predictions for how I think Web3 will transform what it means to be a creator. For the purpose of this article, we are defining a creator as an individual who uses digital platforms to share and monetise their work (including entrepreneurs, influencers, artists or experts in a specific field).
Web3 Creator Economy Prediction 1: The rise of the decentralised creator
There will be a new class of creators that work with legacy brands and leverage decentralised IP to create and distribute unique content, while getting rewarded through royalties.
In 2022, we saw web3-native brands adopt the Creative Commons Zero licence (CC0s). A CC0 NFT is a type of NFT with a form of copyright where the owner allows the NFT to be used by anyone for commercial purposes.
Why do CC0s matter?
One of the most compelling value propositions of NFT-powered brands is the ability for token holders to commercialise the intellectual property (IP) of their NFTs. They can use this IP to create, sell and earn from derivative work. Opening creative works to the public domain also opened the door to new possibilities for use.
Examples of this can be seen in the Nouns DAO project, which built a $34M brand and allowed Bud Light to use the Nouns NFT IP for commercials during the Super Bowl. The open-source creation with decentralised IP, built on the idea that community-made derivative content has only increased the popularity and value of the original NFTs.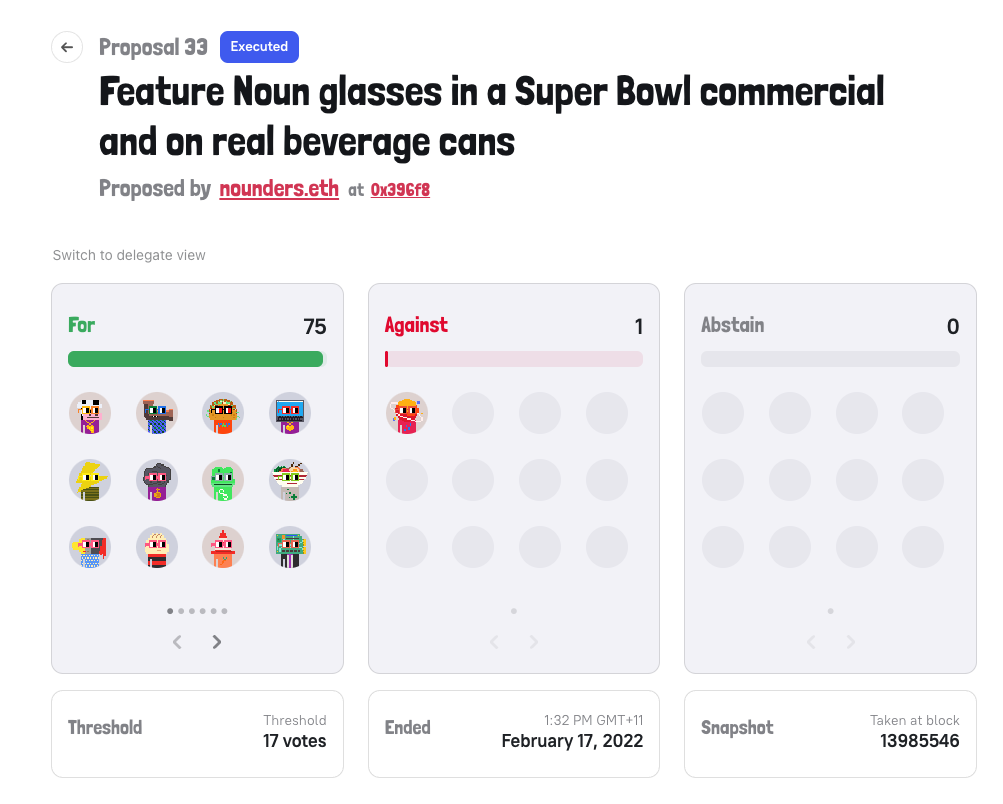 In 2023, we will see the concept of decentralised IP shift the way that legacy brands engage with creators. Instead of working with creators on a project-by-project basis, brands will establish pools of creators who will focus on leveraging the brand's IP to create content, products and experiences.
These creators will act as extensions of the brand, creating experiences that align with the brand's ethos. They will be incentivised through tokens or royalties, which will allow them to earn a share of the revenue generated from the content they create. This new model of working with creators will provide a win-win situation for both brands and creators. Brands will have access to a steady stream of content, and creators can earn a stable income from their content, without needing to rely on centralised platforms.
Signals that I believe point to this:
The rise of user generated content and its impact on brand affinity:
User-generated content (UGC) is a popular marketing strategy whereby content is created by users of a product or platform, rather than the brand itself. UGC can help to build credibility, increase engagement and drive conversions. 60% of consumers believe UGC is the most authentic marketing content (Hubspot, 2020), meaning that its inclusion in the overall customer strategy is critical. However, today the majority of user generated content is created for free.
Legacy brands are already experimenting with decentralised IP:
In recent months, we have seen legacy brands starting to decentralise their IP and allow creators to commercialise it, in return for royalties. A prime example of this is Nike, who in late 2022 introduced the Nike Swoosh Marketplace. .Swoosh has been described as a home for all of Nike's virtual creations, a platform for creators and community members to build, share, and sell blockchain-based virtual goods around the Nike brand.
This new model will provide creators with the unique opportunity to participate in and benefit from the brand's growth, while the brand can tap into new sources of innovation. This influences brand loyalty and affinity in a big way, because people thrive off being part of something greater than themselves, and creating UGC allows them to be part of a brand's community.
Just this week, Nike announced the community can become creators and get rewarded for their creations.
We're going to see legacy brands across industries follow suit and in turn, it will draw in a diverse group of creators, who will be incentivised to participate in this new business model.
Web3 Creator Economy Prediction 2: Legacy brands will adopt hybrid-DAOs, bringing customers into the role of co-creators.
2022 saw an explosion in the number of decentralised autonomous organisations (DAOs) and significant advancements in software that made it easier for anyone to start one. DAOs like Friends with Benefits gained popularity as it offered creators a way to own a stake in the community and earn tokens for providing value to the community.
In 2023, we're going to see legacy brands leverage the principles of decentralisation to create "hybrid DAOs" that empower their customers to play a role in co-creating future products and policies, by owning a token that gives them voting rights. Hybrid DAOs enable brands to benefit from transparent group-voting mechanisms while retaining traditional practices of governance (Moralis Academy, 2022).
Signals that I believe point to this:
The rise of brand communities and its impact on customer activation:
Shopify has said with the death of third-party cookies, brand communities become key to building brand equity, decreasing customer costs and improving retention. Research tells us that 80% of Gen Z consumers want to effect change through the brands they engage with and value online communities because it allows people of different economic circumstances to mobilise around interests. With that in mind, what brand communities offer are low-risk hubs for testing and iterating new products, and great sources of customer data and real-time feedback. Hybrid-DAOs leverage the concept of brand communities and add ownership through tokens.
Legacy brands are already experimenting with DAOs:
Last year, one of L'Oreal's brands – NYX – launched GORJS – the world's first DAO for 3D creators, increasing aptitude in digital make-up and promoting innovation. GORJS empowers the community through a tokenisation mechanism that allows fans and established artists to influence the organisation's mission.
By experimenting with DAOs, L'Oreal can begin to understand customer behaviours and conversations to support future commerce models and product development within their business. It's evident that the brand is making a push for early commercial advantage from Web3 by moving into decentralised communities via NYX.
We will see brands continue to experiment with a hybrid DAO model, where smaller initiatives might establish a community-owned token to bring customers into the role of co-owners and co-creators. By involving its members in topics they are passionate about, brands can harness collective creativity and gain a comprehensive understanding of customer needs. This insight into the community will assist the brand in evoking a positive emotional response. As positive emotions become deeply rooted, consumers develop permanent favourable associations with the brand.
Once brands start to implement DAO principles within their community engagement efforts, I suspect this would introduce a cohort of creators who contribute across different brand DAOs and build a career off it.
Web3 Creator Economy Prediction 3: Networked Products will shape the future of influencer marketing
An influencer is an individual who has the power to sway the buying choices of others due to their expertise, reputation or connection with their audience. They frequently use social media and have a sizable following of individuals who look to them for guidance.
Influencer marketing is important to brands because it helps to build credibility with consumers. 92% of consumers trust an influencer more than an advertisement or traditional celebrity endorsement. Additionally, influencer marketing has an 11x higher ROI than traditional forms of digital marketing.
In 2023, we're going to see the emergence of the Networked Product Influencer.
Let's break down what this means:
Last year, cryptocurrency influencer Gmoney released 9dcc, an experimental NFT project and collection of 'networked products', a term trademarked by 9dcc to represent clothing items connected to NFTs. In the project's first release, customers minted an NFT and received a physical shirt. All shirts were outfitted with NFC (near-field communication) technology that allowed the user to scan a chip, to verify ownership and be instantly connected to the 9dcc community. Each chip came with its own Proof Of Attendance Protocol (POAP) so each owner could effectively build out their own micro-community within the 9dcc network. A POAP refers to an NFT that is a badge of verification for having been present at or having participated in an event.
Customers can use the NFC chips in their 9dcc shirts to establish verifiable social connections. What this means: Individuals wearing a 9dcc shirt can let anyone they meet, tap their phone on the shirt's embedded NFC chip to receive a free POAP. These POAPs represent proof of having met someone in person who is wearing a 9dcc shirt. As the shirt-wearer gives out more POAPs, they are building a digital network of connections with individuals they have met in the real world, all recorded on the blockchain.
The tweet below captures 9dcc's networked products in action, at the Art Basel Miami event in 2022.
Networked products are empowering brands and creators alike.
Tokenised connections will fundamentally change the definition of being an influencer. With this new model, one does not need a large social media following to be considered an influencer. Instead, owning the actual product and distributing its reach is enough to be considered a "connected product" influencer.
The benefits of networked products for the brand include:
Network effects: Brands can leverage the connections created by each product as an extension of their brand's network. They can tap into this network to distribute content, targeted ads or exclusive benefits.
Verification of influence: Brands can verify the distinct reach and value of each influencer. Every product owner who shares a single POAP could be recognised for the reach they provide, and if that reach leads to a purchase, it can be verified on the blockchain and they can be rewarded for the value they bring.
Richer data: As POAPs are shared on mobile GPS data, brands can pinpoint where people were when they made a tokenised connection. This becomes data that can be used to create personalised experiences at scale.
In 2023, we will see legacy brands introduce networked products. This will lead to the emergence of a new cohort of influencers called "networked product influencers." These influencers will own connected products and build micro-networks around them.
Signals that I believe point to this:
Legacy brands are already experimenting with NFC and NFT technology:
Brands like Nike and RTFKT are already using NFC and NFT technology to link physical clothing, such as hoodies, with NFTs, and allowing customers to validate product authenticity. Per RTFKT, customers can track the hoodie's augmented reality experience and scanning the QR code will track the 3D movement of the garment. Being able to track the physical location of the hoodies, and the users wearing them can enable brands to build more comprehensive customer profiles to drive highly personalised targeting.
The prevalence of influencer fraud and its impact on ROI:
It has been reported that an average of 55% of influencers were involved in some form of social media fraud, and influencer fraud cost brands $1.3 billion in 2019.
Networked products allow a simple solution to this issue. In the case of networked products, influencers build communities through in-person interactions and not just social media follows. This becomes an active form of engagement with the brand, resulting in greater brand recognition and loyalty. Additionally, every connection made is recorded and verifiable on the blockchain, making it possible to accurately quantify influencer impact and unique reach.
Some of the implications of these predictions:
Brands will need to establish governance around CC0 and decentralised IP
When managing a CC0 brand, there are various factors that need to be taken into consideration. For example, individual token holders may have varying interpretations of a brand, resulting in the diverse use of IP. A brand might consider setting up comprehensive guidelines to control the brand narrative and identity.
On-chain reputation building will become critical to the creator economy
Web3 is based on the premise that each internet user will have a unique internet identifier, like an email address, that is stored on a blockchain. This unique identifier is called a "decentralised identity" and it records a person's online activity in a public and searchable way.
On-chain reputation building will become critical to the creator economy as it becomes more decentralised.
As creators work across brands, they will need to establish a public track record of their value. We're also starting to see Web3 versions of social media applications, like Instagram, where the posts don't belong to the platform but to the creator. Platforms like Lens Protocol are building decentralised social networks and pioneering in this space. What this means is that in the future, creators will be able to take their online content with them to any online space and obtain any value tied to those assets.
Creators will require next gen e-commerce infrastructure as they increasingly own the full customer experience
With the interest to own their audiences, creators are becoming founders and onboarding their top fans off of social networks and on to their own token-gated communities. To facilitate this shift, the infrastructure for the creator economy will need to be redesigned to encompass every step of the process to ensure a seamless and engaging experience. Creators will need access to tools that make it easy to handle and earn money from their digital assets, as well as connect with their audiences.
DAOs and the legal implications for brands
Creating a DAO can present a number of legal challenges for a brand. Some of the key considerations include:
Determining the appropriate domestic entity structure for the DAO.
Determining who is responsible for certain decisions.
Protection of intellectual property.
DAOs are a relatively nascent concept and the legal framework for them is still evolving. The legal implications for traditional brands can be complex and need to be carefully managed.
Creator Economy: Conclusion
Despite the web3 landscape still largely unfolding, it's an exciting time for the creator economy as we move towards a future where creators are in the driver's seat, able to shape the narrative and reap the benefits of their hard work.
Web3: Disclaimers

This article is for general information purposes only and isn't intended to be financial or legal advice. You should always obtain your own independent advice before making any decisions.
This article mentions the work of brands such as Nike, L'Oreal and 9dcc, but it's important to note that I have no inside information about their plans. I am offering my interpretation of the potential use cases that I think brands can benefit from, based on the types of activities and technologies that these brands are exploring.
Follow Ashi's insights on emerging technologies and their impact on brand marketing through her newsletter here.