LinkedIn has launched a new AI-powered tool as it celebrated reaching 1 billion members, but it would only be available for premium members.
A Premium subscription to the platform would cost you a whopping $55 per month.
The social media platform said the new AI-powered tool would bring a "higher level of personalisation" to interactions and would be a tailored experience for the users.
LinkedIn said it would give users more profound insights into topics and provide personalised career action suggestions.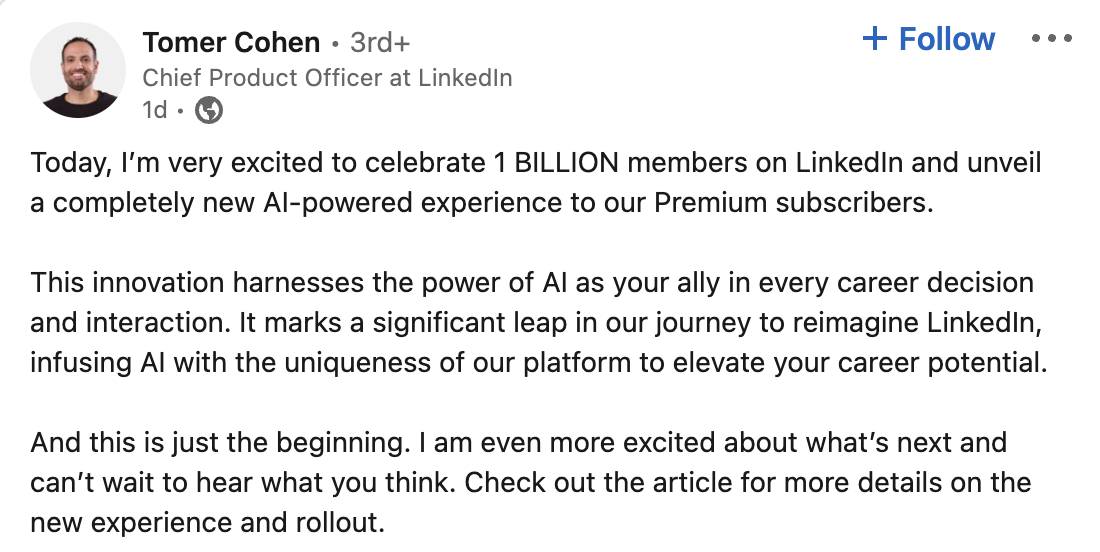 So how exactly would it work?
Premium LinkedIn subscribers were told the AI-powered experience would analyse their feed's posts and reveal the "key salient opportunities" for them.
"It will take on the hard work of parsing through long articles, videos and posts and give you ideas on how the information can be helpful to you. Then you'll get to spend your valuable time taking action on it," LinkedIn said.
In addition to the AI-powered tool, the platform also teamed up with Microsoft Bing so users would be provided with information on what's happening in the world. It would also allow users to ask questions on trending topics and get a response from both LinkedIn posts and across the internet.
"Our innovative AI-powered experience has been crafted to meticulously analyse the content within your feed and across job postings, bringing to light pivotal opportunities," LinkedIn said.
"To engineer this type of experience, we built new infrastructures and tools to support rapid GAI-related innovation, and leveraged our existing technology in different ways to deliver more value to Premium subscribers in a unique, LinkedIn way."
How can I access to LinkedIn's new AI-powered tool?
A select group of Premium subscribers will be the first to test the new AI-powered tool as LinkedIn begins the rollout.
But not all Premium members were happy that the new tech would only be made available to some.
"Sounds exciting but why only a select group of Premium members and what's the criteria of belonging to that group? Think LI has a unique opportunity to revolutionize job search but still find that most of the opportunities I am offered are mismatched, which is a pity!" one member said in response.
LinkedIn Chief Product Officer Tomer Cohen said the features would eventually be available to all Premium members after testing.
"This innovation harnesses the power of AI as your ally in every career decision and interaction," Cohen said in a LinkedIn post announcing the move. 
"It marks a significant leap in our journey to reimagine LinkedIn, infusing AI with the uniqueness of our platform to elevate your career potential."