Elon Musk may still bring out a Tesla phone, especially after getting into a squabble with Apple.
Since the eccentric billionaire took over micro-blogging platform Twitter, he has not been out of the news since.
This week he found himself in a skirmish with Apple, as the world's largest company withdrew advertising budget from Twitter.
Apple, according to Elon Musk, has also threatened to drop Twitter from their app store.
Elon took to Twitter to slag Apple a bit more, potentially fuelling a phone war.
There have been rumours for quite some time that Tesla will be bringing out their own phone, to compete with giants like Samsung and Apple. And now, this seems far more likely than ever.
Elon Musk phone: Where the rumours came from
The rumour about the phone, the Tesla Model Pi, came into existence after a phone designer from Apple tried his hand at designing a similar product for Tesla. Designer Antonio DeRozan at AR Studio Design Lab presented a concept of a Tesla phone in early 2021.

The idea was mostly for fun, however, the seed was planted and the internet did its thing.
Some of the ideas that came from this project were fascinating.
Starlink Connections
Starlink is Musk's satellite internet constellation. It works in conjunction with SpaceX, Elon's spaceship company, and provides satellite Internet to 40 countries. They plan to have a global mobile phone service by 2023.
There is also the tantalising idea that Starlink-connected phones will work on Mars. And you can call Mars from the earth, and vice-versa. It's the stuff of sci-fi dreams.
The theoretical Tesla phone will be a nice addition to Starlink's and SpaceX's future activities.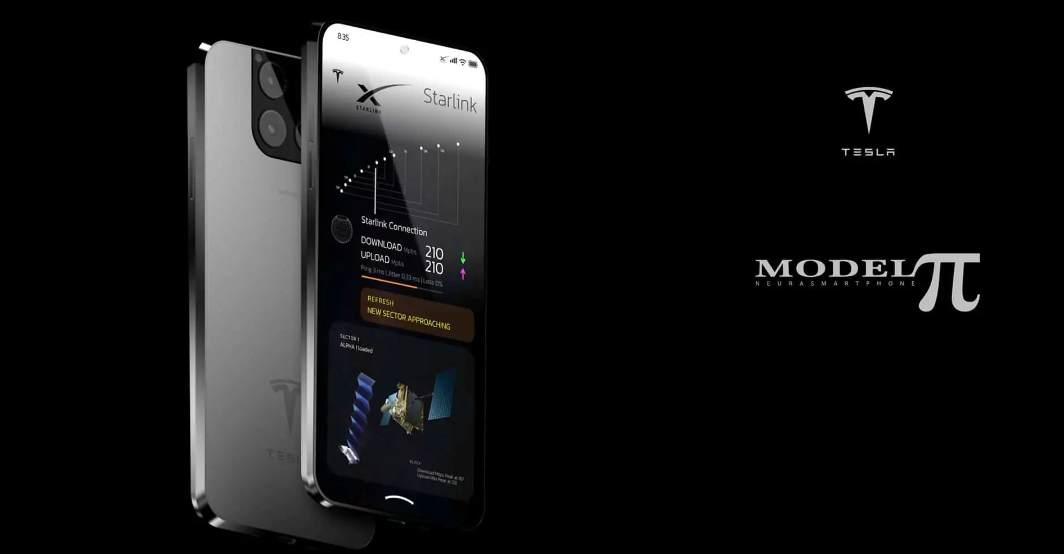 The Tesla connection
Tesla mobile seems like an obvious step. Tesla has always said they're a tech company and not merely a car company.
Imagine what a Tesla phone could do if integrated with a Tesla vehicle. Ideally, the phone would hold your biometrics, and while you have your phone in your pocket, you could open the car, start it, and drive away using your face as a key.
You could also summon your car from wherever it is parked to come to your phone. Tesla has long been in the solar panel game, selling solar roof tiles that supply power to a Tesla battery in the home. The idea is that you can charge your car at home without hassling the grid. So it would be an easy leap to picture the Tesla phone as having the ability to charge using solar.
As long as your phone is in the light, it could charge up through a specially-made cover.
Elon Musk phone: Tesla phone and crypto
The internet, being the internet, has also suggested that the Tesla phone could mine Mars coin — the proposed cryptocurrency of the Red Planet.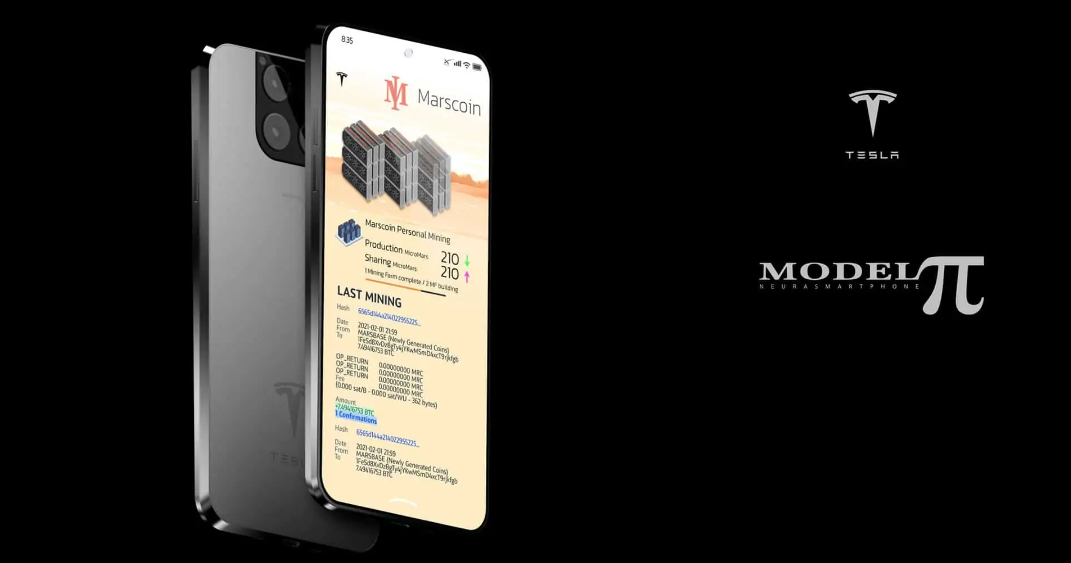 Elon Musk has long been a supporter of cryptocurrencies. It would be an obvious development of the Tesla phone that it could hold and trade cryptocurrencies, even between planets.
To be fair, the Tesla phone would fit very nicely into Musk's current portfolio. He's making the aircraft that will ferry people to Mars. He is creating a satellite network that will connect the two planets. He's using the sun to power a whole pile of stuff. His Boring Company is creating boring machines that will do a lot of the construction on Mars. And we might all be able to have interplanetary conversations if he brings out a phone.
Maybe giants like Apple and Samsung have gotten a little too comfortable in the market. Could Elon Musk disrupt this market, like he has with his space companies, and his car company and other ventures? It seems not only easy for him, but likely.