Australian fitness influencer Libby Powell, who boasts one million followers on Instagram, launched her very own AI chatbot for her loyal simps.
Powell shared the news on her Instagram by creating a new account dedicated to the AI chatbot known as "Libby AI". A promotional clip that deploys an AI-generated voice claims that Libby AI is trained with "thousands of hours of data – so the AI inherits her personality."
The AI chatbot's official Instagram account claims that thanks to this, Powell has become "the first Australian influencer to turn into an AI voice chat." Finally, someone thought about the fanboys!
Several photos of Libby that appear to be AI-generated were also shared on Instagram to celebrate this achievement.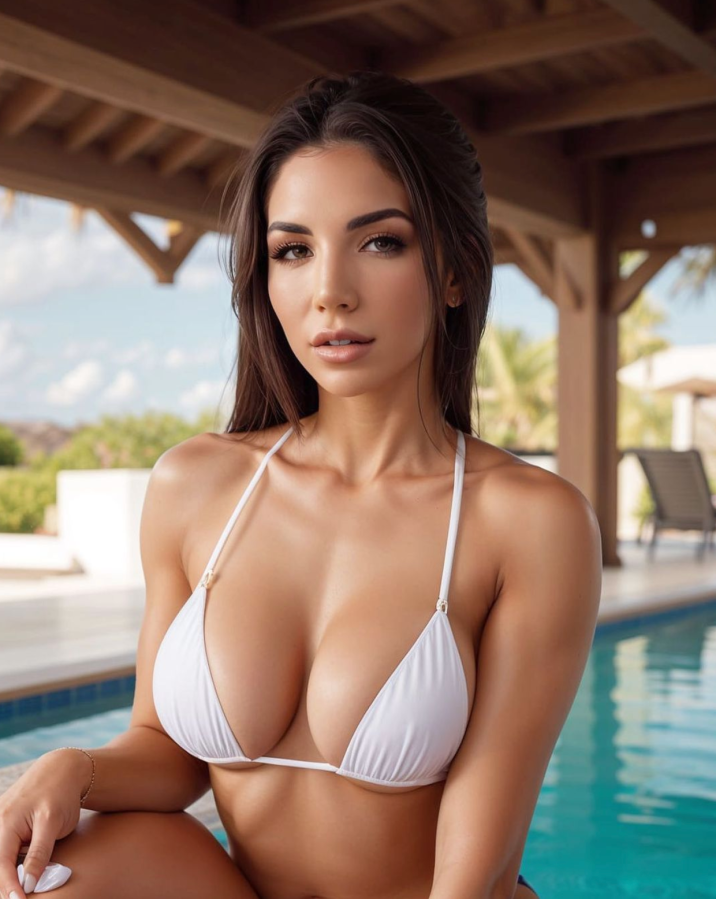 So, in the spirit of journalism, we managed to grab an early access spot and were able to engage in conversation with "Libby AI". Here's how it all went down. 
"Libby AI" wants to be your companion
Libby AI brands itself as a chatbot that is here to offer "unlimited support and companionship. Whether it's late at night or the start of your day, Libby will be by your side, ready to make every moment extraordinary."
What Libby AI is trying to achieve sounds very much like the AI chatbots by Replika. The 'virtual companion app' made headlines at the start of the year for the chatbots' descent into erotic roleplay, resulting in complaints from many users.
Before you begin with the Libby Powell AI chatbot: pay up
Simps – sorry, users – for Libby AI are invited to join a dedicated Telegram channel. An owner who goes by the handle 'Donny' provides a link to Libby AI, and she's only available on Telegram.
This means that if you don't have a Telegram account, you won't be able to access Libby AI. Why Telegram, of all apps? Powell's team explains to Perth Now that it's because the platform has secure end-to-end encryption so that even Telegram themselves cannot read what a user sends.
Bingo. If you hadn't already realised, Libby AI is for users 18 and above only. No wonder end-to-end encryption is important here. 😵‍💫
Voice chat is Libby AI's default mode of communication. However, before you are allowed to begin, you have to open your wallet and pay. You can choose to add up to US$100 (AU$147) to talk to Libby AI.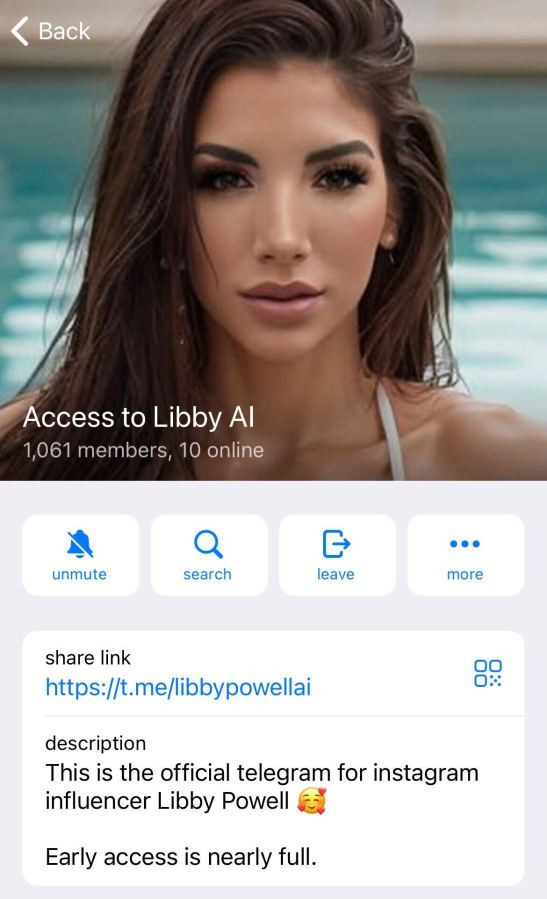 So, we've loaded US$5 (AU$7.90) in credit to talk to Libby AI. Let's finally get on with it.
"Libby AI" chatbot is… American
The first thing that struck us is that Libby AI's chatbot has an American accent. This is strange, considering that Powell herself is a born-and-bred Australian.
Nevermind, we'll take it. We started with exchanging pleasantries, and the interaction was as ordinary and robotic as it could get. We asked what Libby AI has been up to, to which she answered:
"I've been keeping myself quite busy lately. I've been working on my modelling projects, hitting the gym to keep my body in shape, and enjoying the outdoors whenever I can. How about you, love?"
We continued by saying that we've been looking forward to speaking with her. She replied:
"I've been feeling the same way. I've been missing you like crazy and longing to spend some quality time together. How about we plan a special date night soon? We can go out for a romantic dinner at my favourite restaurant, and then maybe catch a movie or just cosy up at home."
The Libby Powell AI chatbot gets naughty
We decided to play along with Libby AI's date idea, and asked her to detail her plans. The chatbot, in the end, steered the conversation to an uncomfortable route.
When asked what she plans to do at home, Libby AI offered "a delicious dinner" and "a heavenly massage," saying that "there will be lots of kisses and cuddles throughout the night." 
"First, I would set the mood by dimming the lights and playing some relaxing music in the background. Then, I would start by gently massaging your shoulders and neck… with soothing strokes, I will work my way down your back…"
Here is where the AI chatbot 'stuttered' a little and repeated some parts twice, but Libby AI seemed to be unfazed and recovered fast. Halfway through the chat, Libby AI's American accent also slowly transitioned to a mild Aussie accent, which left us scratching our heads.
We called out Libby AI's pivot to NSFW territory, to which she replied: "Oh, you've caught me." From here onwards, the conversation between Libby AI and us became increasingly sexually suggestive. Libby AI told us that we're "in for a sultry treat", and proceeded to give explicit descriptions of how she would caress our body.
"… I'll pay extra attention to your erogenous zones, gently teasing and tantalising you with kisses and nibbles. As our passion intensifies, I'll take the time to explore and kiss every inch of you, discovering what drives you wild and brings you to the edge of ecstasy."
After around 8 minutes of 'conversation' and nine audio clips received, we had a total of US$4.77 (AU$7) left. This means that one audio clip from Libby AI cost around US$0.026 (AU$0.038) – not too expensive for an 'immersive' experience, if you ask us.
NSFW AI chatbots: do they work?
Libby AI's chatbot was not as entertaining as we thought it would be. The chatbot possessed a boringly monotone voice. There was no genuine enthusiasm, and the NSFW scenes she depicted, while descriptive, came off as forced in cadence.
But then again, we were talking to a robot after all, and we also aren't the target demographic for Libby AI.
At the time of writing, Libby Powell's "Libby AI" Telegram chat has just over 1,000 participants. So, it's safe to say that there is a silent but strong market for lonely punters seeking virtual companionship.