Apple's Vision Pro augmented reality (AR) headset was unveiled early this morning (AU time) and has already caused a commotion amongst tech fans. The Vision Pro, as Apple states, is a headset that users wear over their face, and is operated by using eye motions, voice, and hand gestures. But what effect will it have on we delicate humans in general?
Here is the spiel that Apple are peddling.
The release of the headset has been anticipated for years but it finally made the cut at Apple's World Wide Developers Conference last night. But folks keen to get their hands on the device will need a hefty wad of cash floating about – the Vision Pro will carry the eye-watering price tag of US$3,499 (AU$5,300) upon release. And that's just the US price point.
Apple CEO Tim Cook led the hype with a typically perky speech, delighting over a product that the vast majority of people in a cost-of-living crisis can't even dream of buying. In the launch speech, Cook stated that "Vision Pro is the first Apple product you look out of and not at."
But does that justify the price? The crowd didn't seem too impressed.
Release date
The good news is that the Vision Pro headset won't be released until next year, so we have time to breathe before we are forced to see all of the annoying posts of people wearing the goggles. You know, where they are on first class flights to Dubai working on their crypto whitepaper, or they're alone in a shoe closet watching Succession because anywhere can be a movie theatre.
And forget that TV set. That is passé, now you can put the goggles on and stare at a wall.
"With Vision Pro, you're no longer limited by a display,' Cook spouted excitedly.
While that is all high tech and impressive, it also isn't. Do we really want to be watching movies by ourselves, in a small room facing a door? Are movies and other media going to stop being a shared experience? Netflix and Chill is going to be Goggles and Nil.
Social commentators have already weighed in. TikTok personality Professor Scott Galloway thinks it will be a giant fail.
The headset is powered by what Apple calls VisionOS, "the world's first spatial operating system." They call it spatial computing because it mixes AR content into the immediate area of the real world that you occupy.
While the launch was impressive, not everyone is a believer.
Apple's Vision Pro effect on society
Apple have factored in that there will be loads of people sitting in awkward places in the house with their goggles on, staring into the void. So, the corporation has allowed rogue people to intrude into your experience. But it's okay, you don't have to take off the headset, they can see your eyes vaguely through the goggles.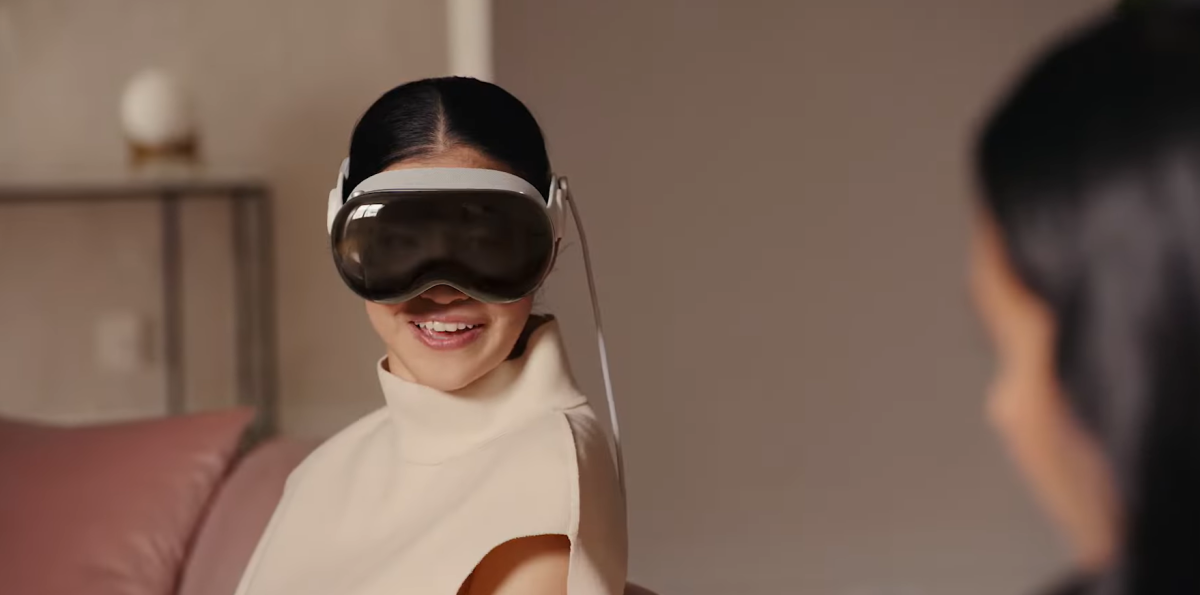 Apple's human interface chief Alan Dye says, "You're never isolated from people around you. You can see them, and they can see you."
God forbid you would take the goggles off to look at someone directly. Your eyes might burn out of your head, like staring at a thousand suns.
And they also encourage you to use the googles as a camera, so you can enjoy your kids way afterward instead of when you are actually with them.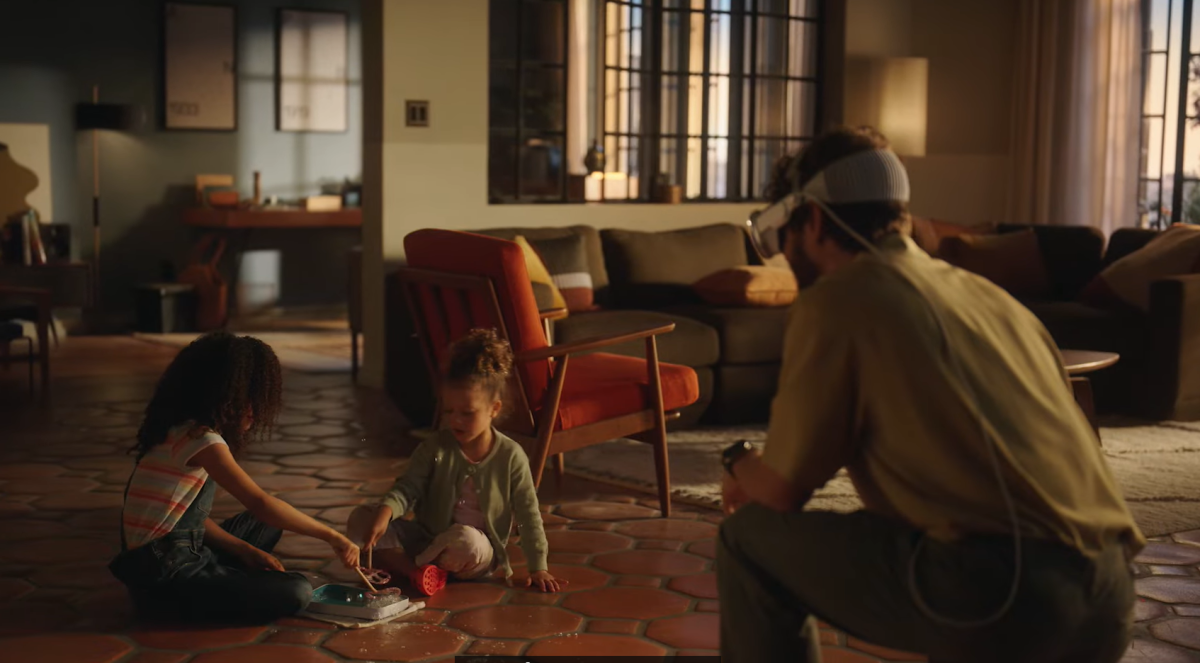 Security
Apple say they have an Optic ID Authentication system, which analyses a user's iris. So if someone puts on someone else's headset, unless their irises match, then you aren't going to be able to unlock it.
The Vision Pro has just two hours of use with a small battery, which Apple say they chose so the weight of the headset wasn't too much. Which does sound a little like that battery is going to be super annoying over time.
Meanwhile Mark Zuckerberg is trying to catch up and is doing some stereotypically awkward social media stuff which makes us want to go have a shower in acid.
We know these goggles will be a thing, but we also know that the vast majority of people won't pay for them at this price point. Most people will be looking for when there is greater adoption and the price comes down. Until then, we will be doing olden-day core with Netflix and Chill on an actual Screen.