If you're a user on Twitter or TikTok, chances are you have heard of Pinkydoll.
The creator's NPC (non-playable character) livestreams on TikTok exploded on social media last week. In those broadcasts, she uses a flat iron to pop popcorn kernels. While doing so, she repeatedly utters random phrases like "ice cream so good", "gang gang", and "yes yes yes" – imitating the behaviour of non-playable characters in video games.
Pinkydoll – whose real name is Fedha Sinon – earns up to US$3,000 (AU$4,400) per stream. She livestreams seven days a week for up to five hours, non-stop. Now, dozens of other creators on TikTok are trying to emulate her success by acting as NPCs.
NPCs refer to characters in a video game that a player is unable to control. Think of characters that a game's protagonist talks to when they want to buy items in a shop. They are programmed to further the plot of a video game, so NPCs often say repetitive lines.
Prior to getting into "NPC" livestreaming, Montreal-based Pinkydoll was a creator on OnlyFans. She tells The New York Times that a friend once said to her that she looked like a video game NPC, which was what led her to trying out NPC livestreams on TikTok.
Pinkydoll has been doing NPC livestreams for a while, and she is certainly not the first. Japanese TikTok creator Natuecoco, also known as 'Ohio Queen', is a 'veteran' in the niche livestreaming genre. She boasts 1.5 million followers on TikTok, and even won an award at the TikTok Awards in Japan last year.
However, social media punters view her as one of the first Black women in a niche space that is dominated by East Asian or white creators, which has contributed to her meteoric rise to online fame.
Aside from TikTok, where she has now amassed over half a million followers, Pinkydoll also has social media profiles on Twitch, Twitter, and Instagram.
How old is Pinkydoll, exactly?
Now, as she comes under intense online scrutiny, users on social media are quickly piling on Pinkydoll for allegedly lying about her age on social media.

Pinkydoll's Instagram profile biography currently states that she is 19 years old. A screenshot of a now-deleted tweet circulating on social media allegedly shows the creator claiming to be 15 in June 2023.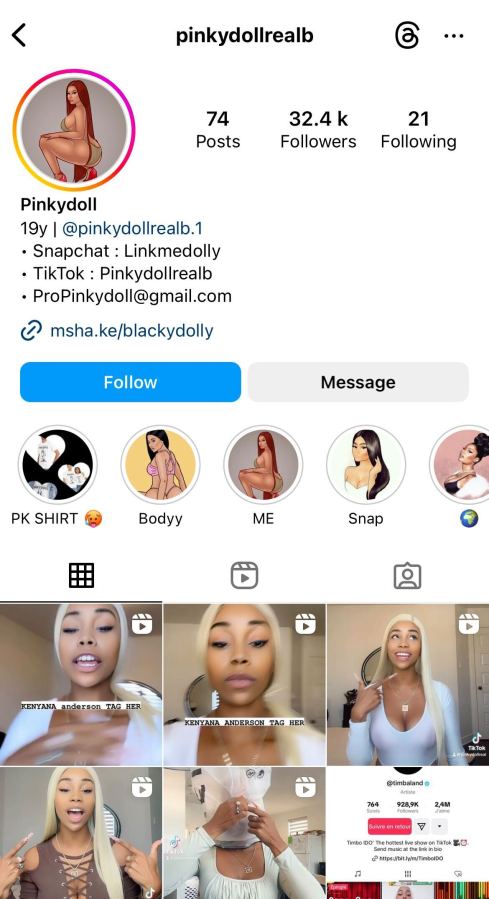 But in a TikTok video she tells her followers that she was born on April 22, 1996, making her 27 years old. A latest profile feature of her by The New York Times also says that she is 27.
Why is controversy surrounding Pinkydoll's age significant? Part of the appeal behind creator "NPC" livestreams is their perceived youthfulness and innocence. Creators receive gifts and tokens from viewers, and perform what's demanded by their viewers in return. There is an element of control here that satisfies or even gives a sense of power to those who send gifts.
So explosive is her online popularity that it has even attracted adoration from celebrities. Case in point is old school rapper Timbaland, who tuned in to Pinkydoll's "NPC" livestreams so much that he's been revealed as her top viewer.
On Twitter, reactions to the controversy about Pinkydoll's age are largely negative. Users are calling out the creator for allegedly marketing herself as younger than she is.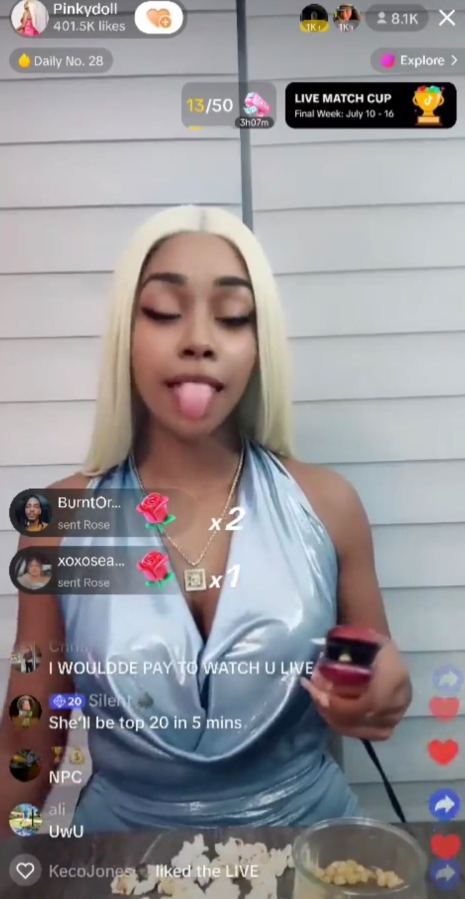 A brand strategist and creator explains: "If she says she's 27 then she could lose money from her fans. A lot of people that pay also pay because of her age… Women in this kind of business make more money when they're perceived younger."
In some livestreams, she's shown breaking character to yell at a child in the background, leading audiences to speculate that the child could be her son (The New York Times' profile feature of Pinkydoll confirms that she, indeed, has a son).
At the time of writing, Pinkydoll has yet to respond to the allegations.