Ever loved your local fast food chain so much that you want to get married there? You may not be able to do that in Australia (physically), but in the metaverse? You can. Thanks to a recent contest run by the world's finest crunchwrap purveyors Taco Bell, one lucky couple was able to do just that – conduct their nuptials inside a Taco Bell that itself was inside the metaverse. Living más to its fullest.
The lucky couple, Sheel and Amruta, tied the knot this past the weekend in/on popular metaverse platform Decentraland, after submitting a winning video entry that you can peep below.
Decentraland has previously hosted music festivals, as well as virtual parties for Paris Hilton and Jason Derulo. Although a Taco Bell wedding is seemingly a first for the platform, the company currently has a market cap of approximately $1.4 billion.
Taco Bell Weddings
For those unaware, IRL Taco Bell weddings are very much a thing. For any non-Americans reading, here's what it entails: couples can visit the fast food chain's flagship restaurant in Las Vegas and purchase a wedding package at the venue – the ceremony can even be conducted on the same day.
According to Taco Bell's website, the wedding package not only allows you to swear forever love with the smell of cheesy gordita crunch hanging in the air, it also comes with custom merchandise, access to a 'Flora Pop' chapel within the restaurant, a reception area for your guests, and a bouquet of flowers for the bride, consisting entirely of sauce packets.
How much does it cost? At present, US$777 (AU$1,154) for one wedding. Only in America!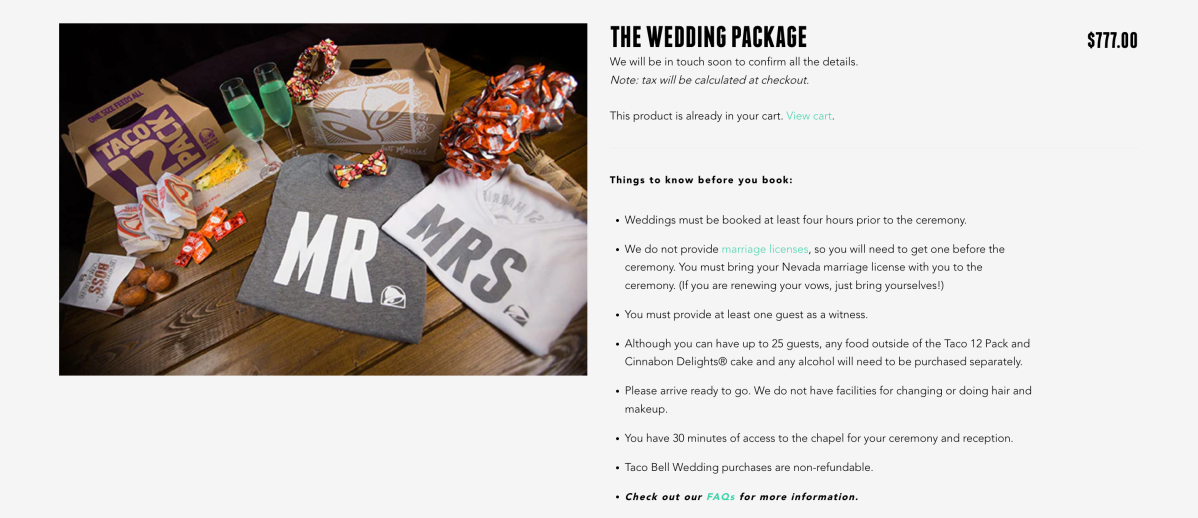 Wait a minute…
If you think that this sounds totally orchestrated and may well be a publicity stunt, there's solid reason for you to believe that. It turns out Sheel is actually a co-founder of a venture capital firm, while partner Amruta is a lawyer working for Instagram.
One Twitter user who attended the wedding highlighted that all speeches from attendees had shoutouts to Taco Bell.
Whatever you may think of it, it happened. And replays of it have been available for all to see. So, here are the five wildest moments from the 90-minute celebration:
The wedding was emceed by Harold & Kumar star Kal Penn
This is the weirdest timeline, isn't it? Kal Penn, best known for his role in the Harold & Kumar film series, was the emcee for the wedding.
"This can't be real," one user said.
"Believe it." replied the groom.
"There weren't Indian actors in movies/TV in America when I was growing up; no one was talking about the Indian-American experience… been a HUGE fan of Kal Penn since then," the groom tweeted.
A Twitch streamer livestreamed the event
Jordan Payton, a popular US Twitch streamer and Taco Bell partner better known as LEGIQN, streamed the occasion live for those who were unable to attend. Very thoughtful of him.
He was dressed to the nines for the wedding, and his livestream ended up attracting over 3,000 views.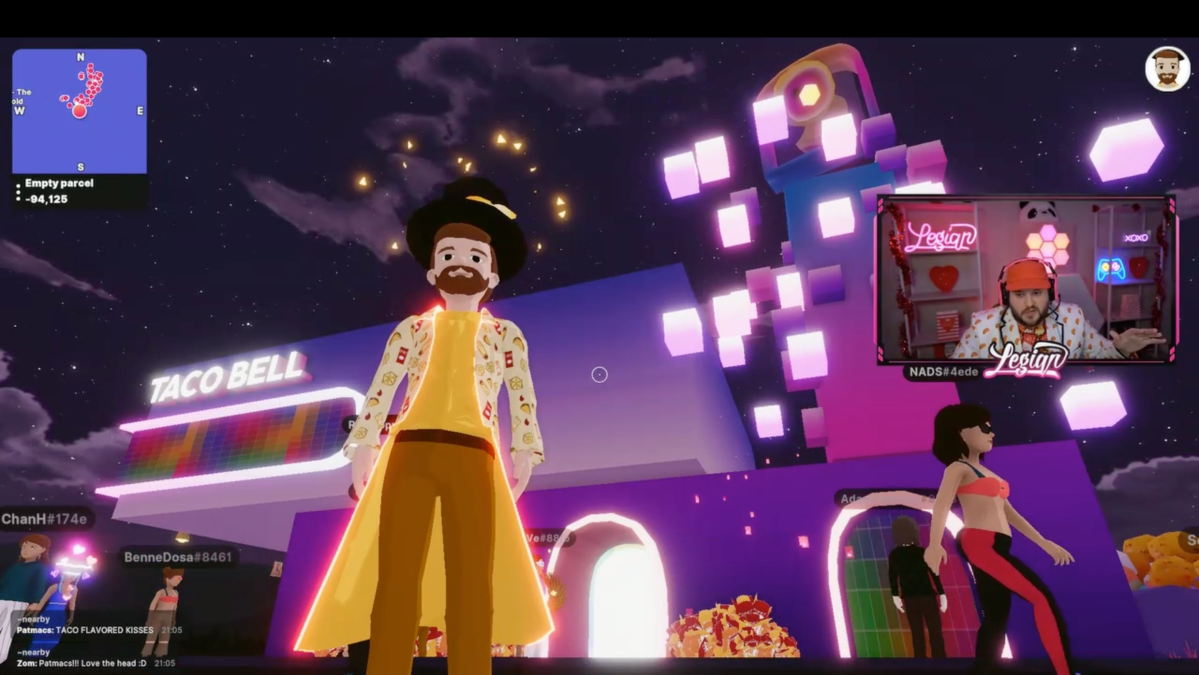 3. The groom rode in on a 'metaverse elephant'
To honour the couple's Indian heritage, the groom, Sheel, rode a virtual elephant into the scene.
Presumably, no virtual animals were harmed in the making of this wedding.
4. The cake was a virtual 3D model
How about the cake? How did they cut the cake?! Don't worry, Taco Bell apparently supplied the "largest virtual Cinnabon Delights cake that the brand has ever created" – it wasn't a main focus at the wedding, but it was definitely visible as it was placed near the dance floor.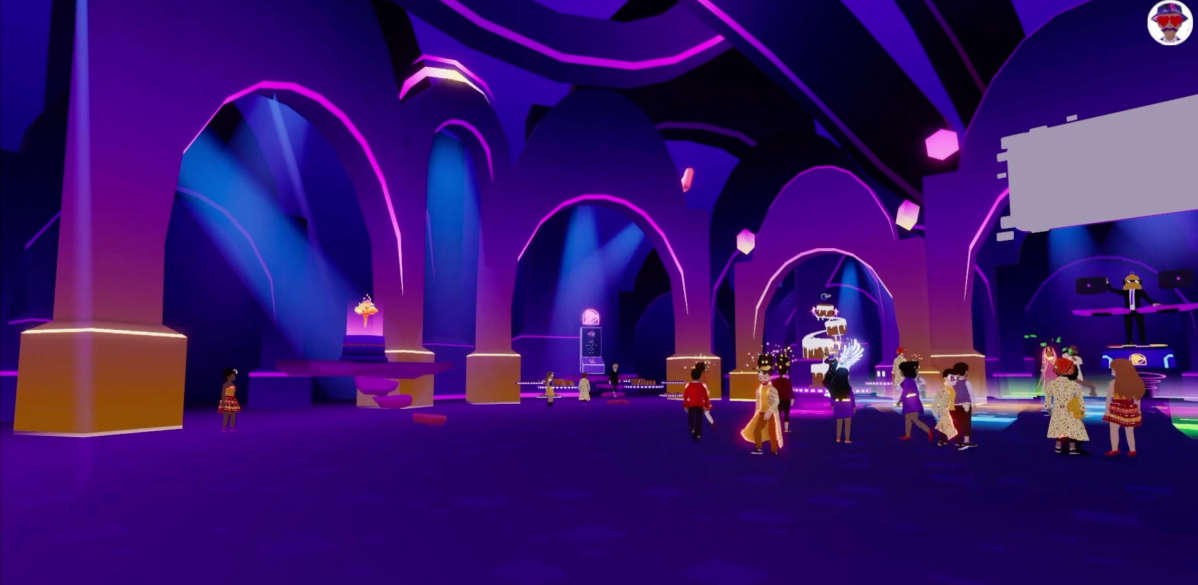 5. There was a discount code for more Taco Bell
The newlyweds are self-proclaimed Taco Bell fans, and the entire event was sponsored by
Taco Bell so it's probably not surprising that the fast food chain wanted to give out… más fast food.
A little billboard at the wedding displayed a discount code for a free pizza and a wrap. Don't worry, this time, it's for real food you can consume IRL.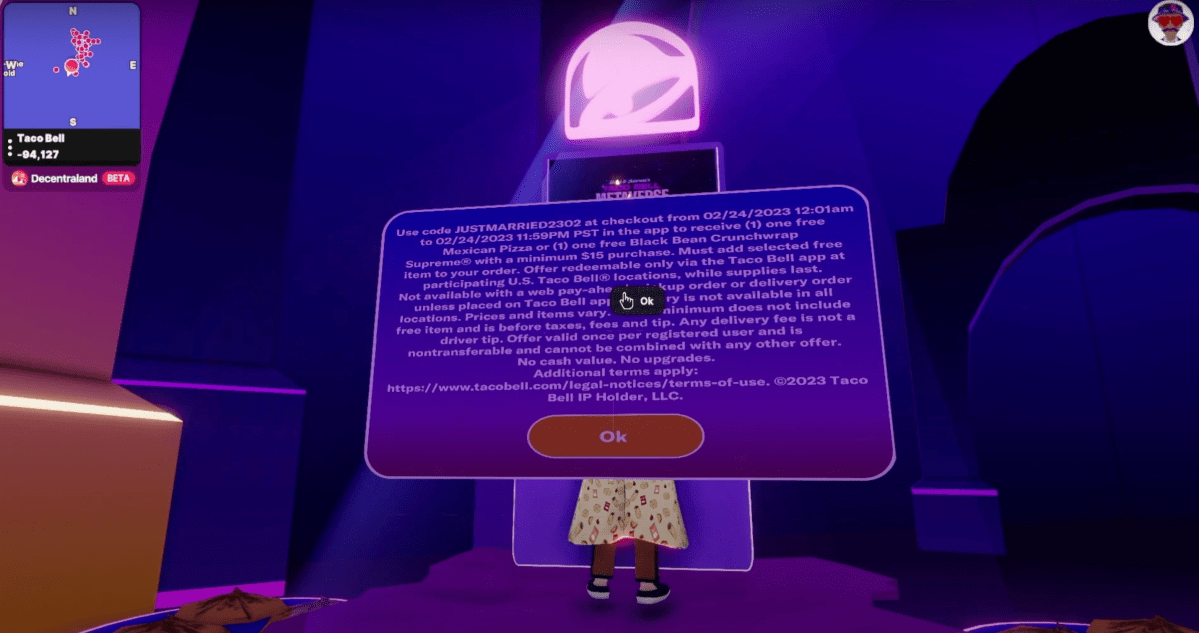 Metaverse Weddings: A New Possibility?
Taco Bell and Decentraland didn't disclose how many people attended the event in total. But from what we gathered from attendees on Twitter, overall feedback was mixed. A viral thread pointed out the flaws and Decentraland's incompetencies:
But some Decentraland fans were just happy to be there to celebrate love – the wedding was open to everyone who has an internet connection, not just family and friends.
"I still look forward to love," one user tweeted.
So are metaverse weddings a new alternative for a new digital age?
Yup, looks like it: an entry from the US Patents and Trademarks Office shows that way back in August 2022, Taco Bell has already filed a trademark registration for "providing an event venue in the metaverse for others; providing an online virtual event venue for wedding ceremonies" – suggesting that the fast food chain may offer this as a permanent service in the future.