If you've ever wanted to own a slice of crypto history, then oh boy, has Crypto Twitter stumbled across the home for you. Listed for the paltry sum of just US$1.2 million, degenerates and crypto enthusiasts can finally own what's being declared "the most soulless" take on crypto-themed design to date.
The property made waves on Twitter this weekend, after Sara Dadafshar, a Senior Producer at Fortnite Games, posted pictures of the property with a string of 'red flag' emojis attached.
Crypto House
Creatively dubbed "The Crypto House", the establishment really does live up to its namesake. Complete with a gaudy neon sign letting anyone who may have stumbled through the front door know it is, in fact, "the crypto house", the property is overflowing with tacky, blockchain-themed decor.
The property listing shows a three bed, three bath Northern-Hollywood property featuring multiple NFT-themed wallpapers. The open-plan, combined living and dining area is lined with Bored Apes on one side, and framed CryptoPunks on the other, right next to the questionable metallic pink fireplace.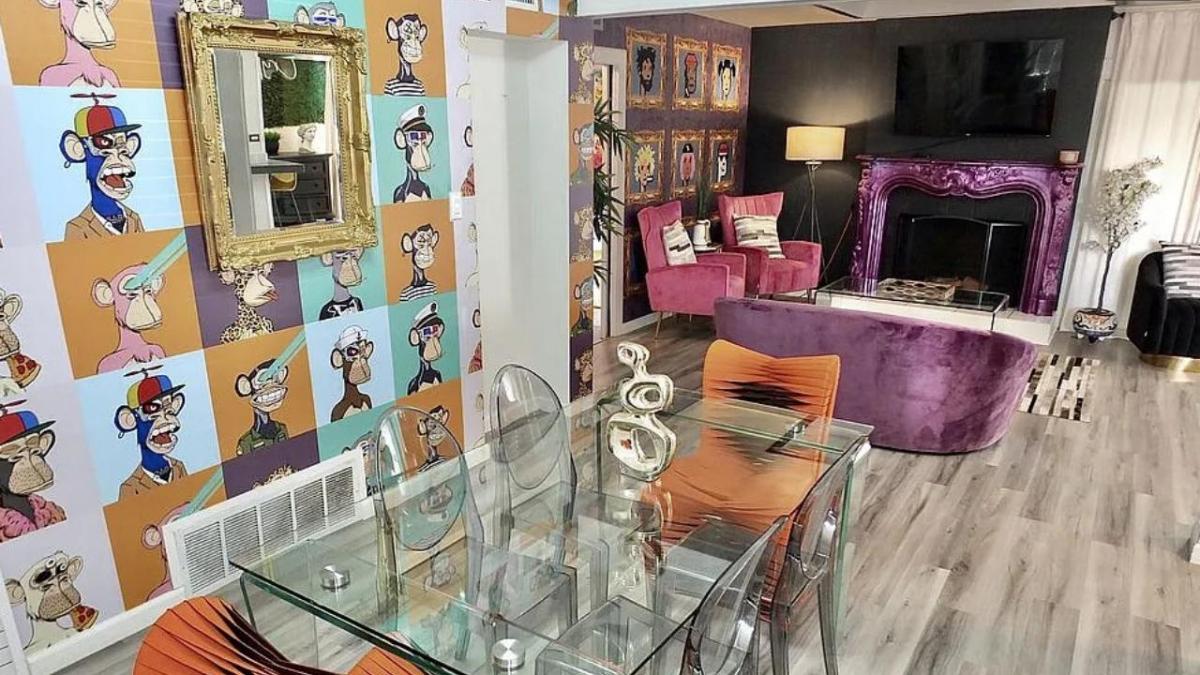 Venturing even further into the depths of aesthetically balanced interior decor, one of the bedrooms is lined with a wallpaper depicting hundreds of technicolour images of the 'doge' meme, most commonly associated in crypto with the popular meme-token Dogecoin (DOGE).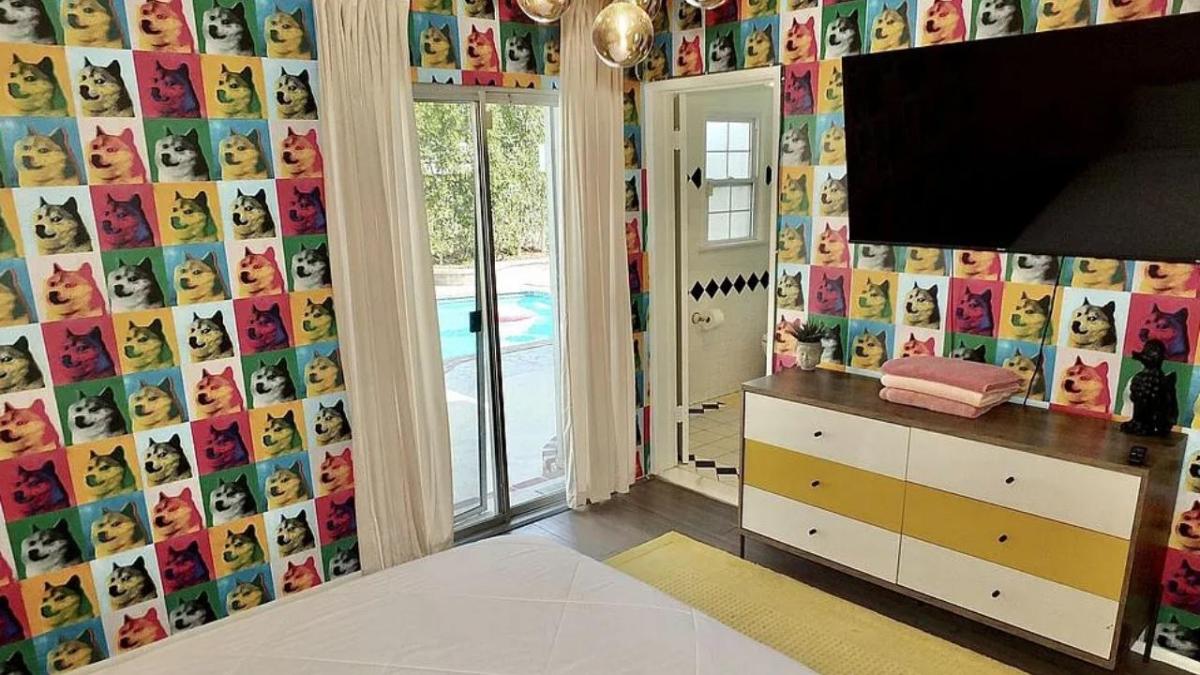 Most hilariously, the property is almost entirely unremarkable from the outside, looking like any other North Hollywood shack to the unassuming eye of a random passerby.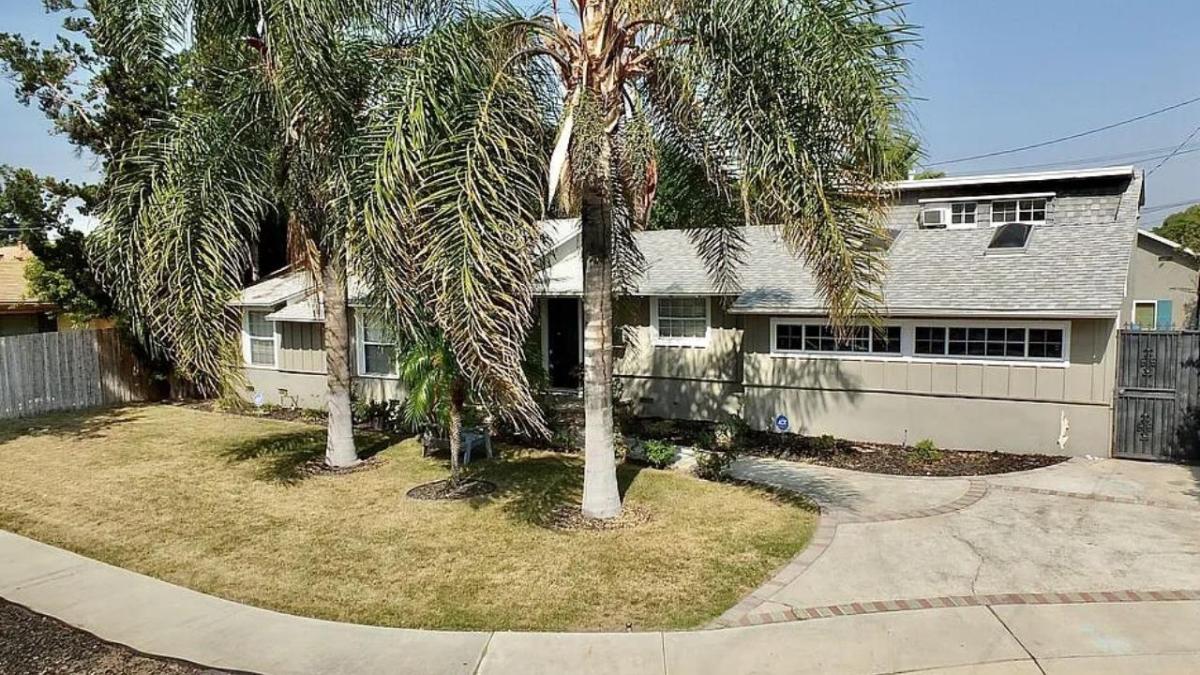 Twitter dragging
As always, Twitter users were completely unrelenting in their criticism of the house.
"This needs to be designated a national monument. People need to know what atrocities happened here," said one Twitter user.
Another user offered a simple, yet poignant, "ew".
Speaking to the utterly bland street-facing side of the property, another user added: "somehow it's even funnier that it looks plain as hell from the outside".
Even 'Guy' from the popular crypto YouTube channel CoinBureau couldn't resist weighing in with his thoughts, declaring it "the cringiest crypto-themed thing" he'd seen in a long while.
Now, if the US$1.2 million asking price is too much for any prospective buyers (especially considering the current state of cryptocurrency), they can always opt to rent the property on Airbnb… and for just US$750 a night, who could possibly resist?
Are the owners truly crypto fanatics or are they simply looking to find a unique selling point in a market that has taken a decidedly negative turn? You decide.