Damien Hirst NFTs: Dressed in silver boiler suit pants and a matching set of gloves, provocative British artist Damien Hirst set fire to thousands of his own artworks on a mission to transform roughly £10 million worth of paintings into ash.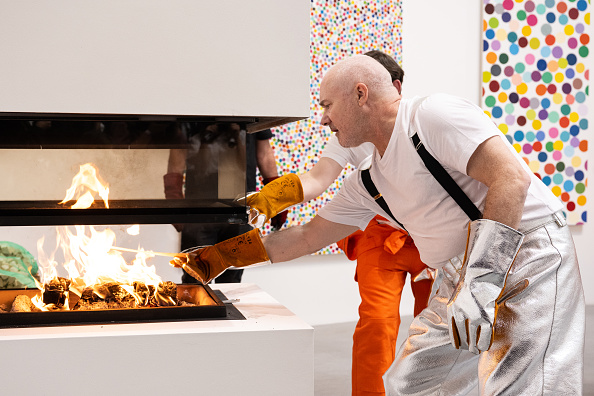 For those wondering why Hirst is burning thousands of pieces of physical artwork: in July last year, Hirst revealed a 10,000 piece NFT collection titled 'The Currency' with each NFT corresponding to a real piece of art.
Hirst then waited a year as collectors homed or traded their NFTs before giving them a choice to either keep the digital artwork as an NFT or exchange it for the physical version.
The crux? Whichever object the owner didn't choose would get burned in either physical or digital form — with thhe process of destroying digital assets also referred to as "burning".
NFTs
Those choosing to hold on to their physical artworks won over digital art enthusiasts, with 51.49% of all holders redeeming their NFTs for the physical version of the artwork. This meant that 4,851 pieces of art were left to be devoured by flames.
Notably, Hirst owned 1000 of the NFTs whose physical versions were destroyed.
"A lot of people think I'm burning millions of dollars of art but I'm not," Hirst wrote in a caption on his Instagram. "I'm completing the transformation of these physical artworks into NFTs by burning the physical versions."
"The value of art, digital or physical — which is hard to define at the best of times — will not be lost. It will be transferred to the NFT as soon as they are burnt."
The highest price paid for one of the corresponding physical works was US$30,642 which went through in a Sotheby's auction in June. Last week, prices of Hirst's NFTs on secondary markets hovered around the US$6,000 mark, although the all-time average price is closer to US$20,000.
Hirst Physical works
The physical artworks being burned were created in 2016 with Hirst using the medium of enamel paint on handmade paper. Each artwork was signed with a unique code, something that Hirst shows to a camera before burning so that he can keep count of every piece that goes up in flames.
Hirst will continue burning his art until 'The Currency' exhibition wraps up on October 30.
Before Hirst burned each artwork, he showed it to a camera logging its unique code to keep track of every piece that had been burnt. The collection, which forces viewers to question where the real value of art lies, has left many uncomfortable at the idea of burning millions of dollars worth of value while everyday people suffer through an affordability crisis.
Timout's Eddy Frankel was one such critic, penning an incisive criticism of Hirst's artistic sensibilities.
"It's almost like Damien Hirst is so out of touch with the real world that he's basically transcended to another plane of existence, populated only by oligarchs and the once-edgy artists they collect."
"Still, look at it this way, even if you can't afford to turn on your heating at home, just go to Newport Street Gallery: it's free and it should be nice and toasty with all those £20,000 paintings on fire."
While Hirst's provocatism is evidently rubbing many the wrong way, it's worth noting that the value of the art hasn't gone up in flames, it has simply been transferred (albeit dramatically) to the digital version of the asset, a concept that many of the most venomous critics find hard to stomach.
"Beautiful experiment, glad to be part of it, the NFT gives me the same sense of ownership as the physical…love mine!!" wrote a digital art collector on Twitter.