While September really put the 'non fun' in non-fungible tokens – officially the lowest month of total NFT sales this year – there were still some promising trends to be found.
According to a new report from Balthazar which analysed the activity from major NFT marketplaces, September witnessed a 13.85% (US$72.86 million) decline in total sales volume from last month.
LooksRare took the biggest hit month-on-month seeing its total sales drop 35.8%. It was followed closely by OpenSea, which posted a 28.9% decline from August. Owing to a great month for Solana-based NFTs, Magic Eden bucked the trend and saw its total sales volume nearly double, surging from US$66.52 million in August to US$128.21 million in September.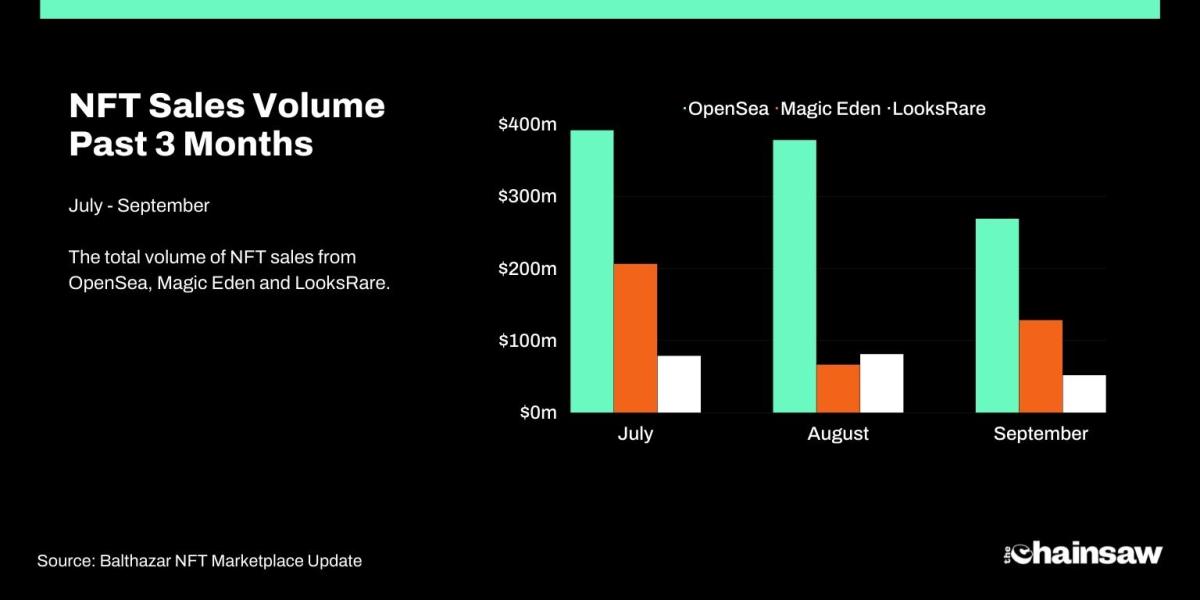 NFT sales volumes
John Stefanidis, co-founder and CEO of Balthazar said the NFT industry is progressing despite low sales volume:
"While there is lower trading activity, the NFT space is continuing to grow at a macro level. We're seeing more people learning about NFTs, more projects are adopting NFT technology and investment is still flowing into the space."
Continuing, Stefanidis added that, "As a result, this is strengthening the market for the long-term."
According to the report, OpenSea is expected to end 2022 comfortably in first place with US$17.18 billion in total sales volume, a 32% increase from 2021 (US$13.06 billion).
Solana-based NFT marketplace Magic Eden is set to record a near 600% increase in total sales this year, with total sales set to reach US$589 million by the end of the year. Of course, this figure should be taken with a grain of salt, given that the marketplace only launched in September of last year.
Biggest loser
The biggest loser of this year has been Solanart, which despite the growth witnessed by the broader NFT space earlier this year, is projected to see its total sales fall 80% with a meagre end of year forecast of US$128 million.
Despite the decline in trading volumes witnessed by the NFT industry over the past four months, total projected NFT sales volume of NFT for2022 stands at US$27.29 billion, an impressive 91% increase from US$13 billion in 2021.