Etsy has always been a platform for artists to sell exquisite, hand-made crafts and unique gifts. However, with artificial intelligence creeping into aspects of our creative lives, art generated by AI is slowly taking over Etsy's online marketplace. The most amusing part is: buyers are willing to pay hundreds for these unioriginal prints that take minutes to create.
A search of the keyword 'AI-generated' on Etsy returns with nearly 49,000 results of AI-made prints, t-shirt designs, and even guides on how to use Midjourney to emulate what you're seeing on Etsy in order to make money.
The most expensive item for sale is an AI-generated painting of what the seller describes as a 17th-century village in France, priced at $6,369. "The mesmerising design of the quaint village is perfect for any Francophile," the item's description reads.
"Maybe the painting is a very convincing replica of an obscure artwork by some legendary French artist in the Baroque period," you think. "That probably explains why it costs thousands."
Nope. The 'French village' painting is a digital file in the format of a JPEG. It's available for download once you pay for it. The item's description even stresses that "no physical item will be shipped". This means that after paying over $6,000, you still have to buy photo paper and fire up your printer at home to obtain the real thing.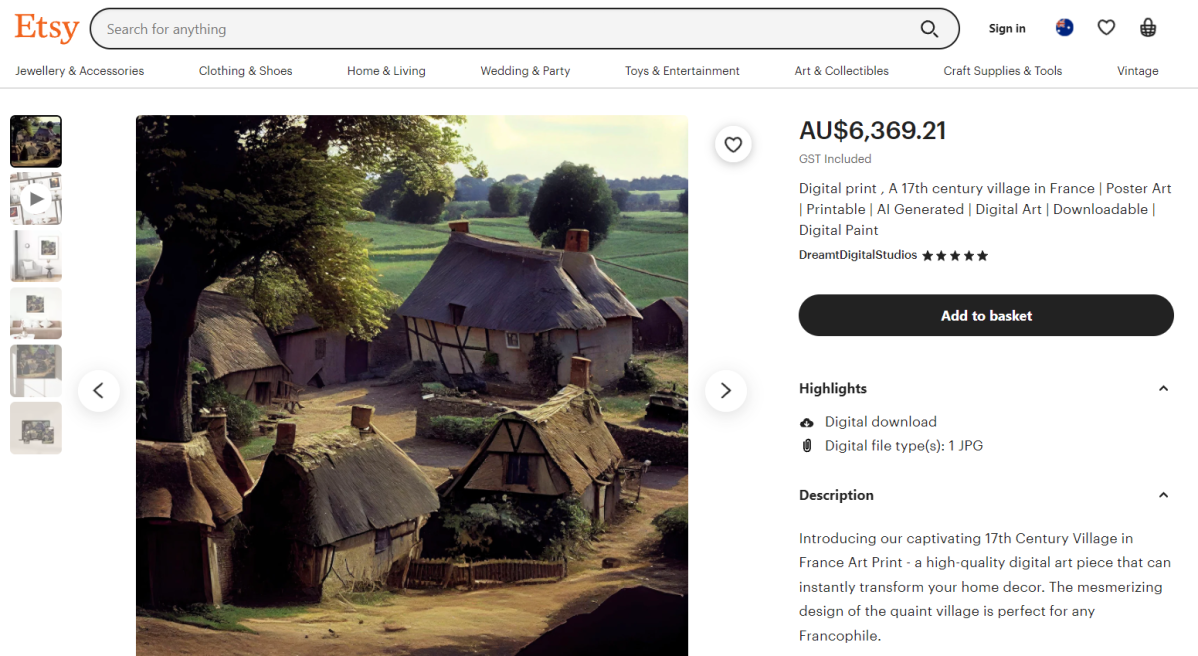 The seller behind the 'French village' JPEG is a studio named 'Dreamt Digital Studios' from London, UK. The studio appears to have a solid customer base, too. It has recorded 77 sales and several five-star reviews from patrons who understand their art.
'AI Melbourne' for $50
If high art isn't really your vibe, there is also AI-generated 'pop art' that sells for a lower price point. A more affordable item on sale is an AI bot's artistic interpretation of Melbourne. It is priced between $25 to $50 depending on size. Eh, at least this one's printed for you.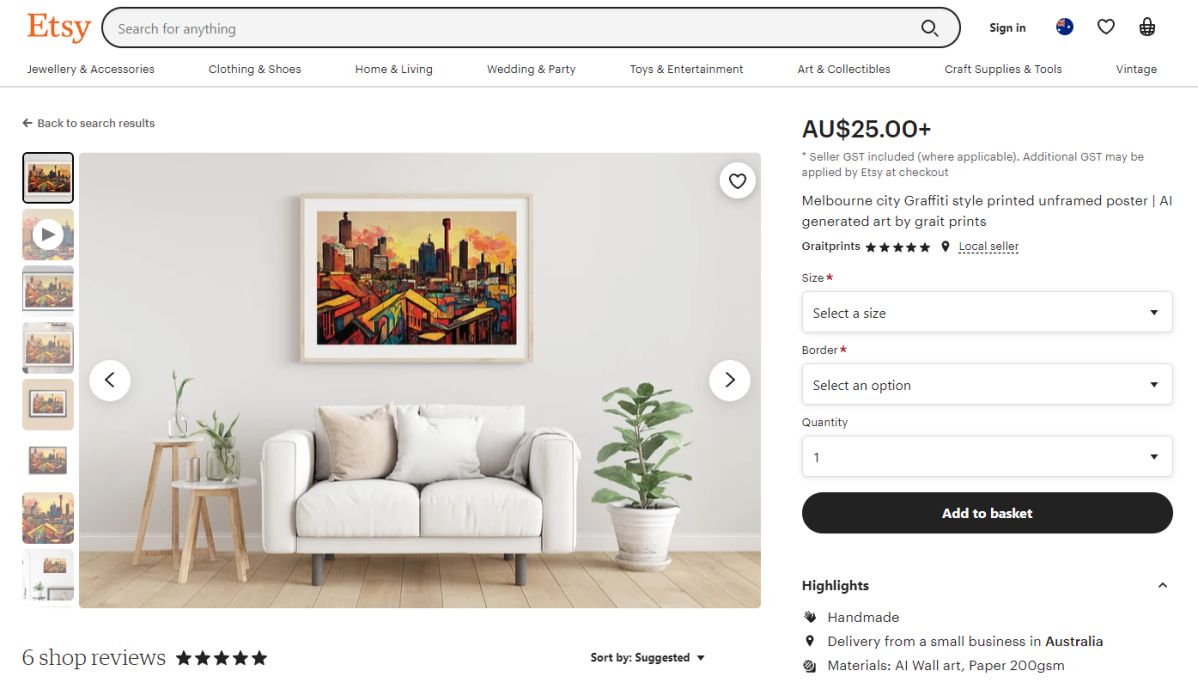 The seller is a small business from Melbourne named 'Graitprints', whose store was set up in February of this year. Besides Melbourne city, the store also features AI-generated prints of Great Ocean Road, Brighton Beach Boxes, and the Great Barrier Reef in watercolour.
AI cheat sheets
The AI-generated artwork that is flooding Etsy could perhaps be a side hustle for some sellers on the platform. After all, there are people who have made thousands from ChatGPT-written books, so it would not be surprising that people are doing the same by selling art.
So, for those who are now intrigued, some Etsy sellers are also selling professional 'guides' on how to hack Midjourney and ChatGPT to generate passive income. A search of the keyword "Midjourney" returns with over 21,000 results of said 'guides', available for purchase from as low as $4.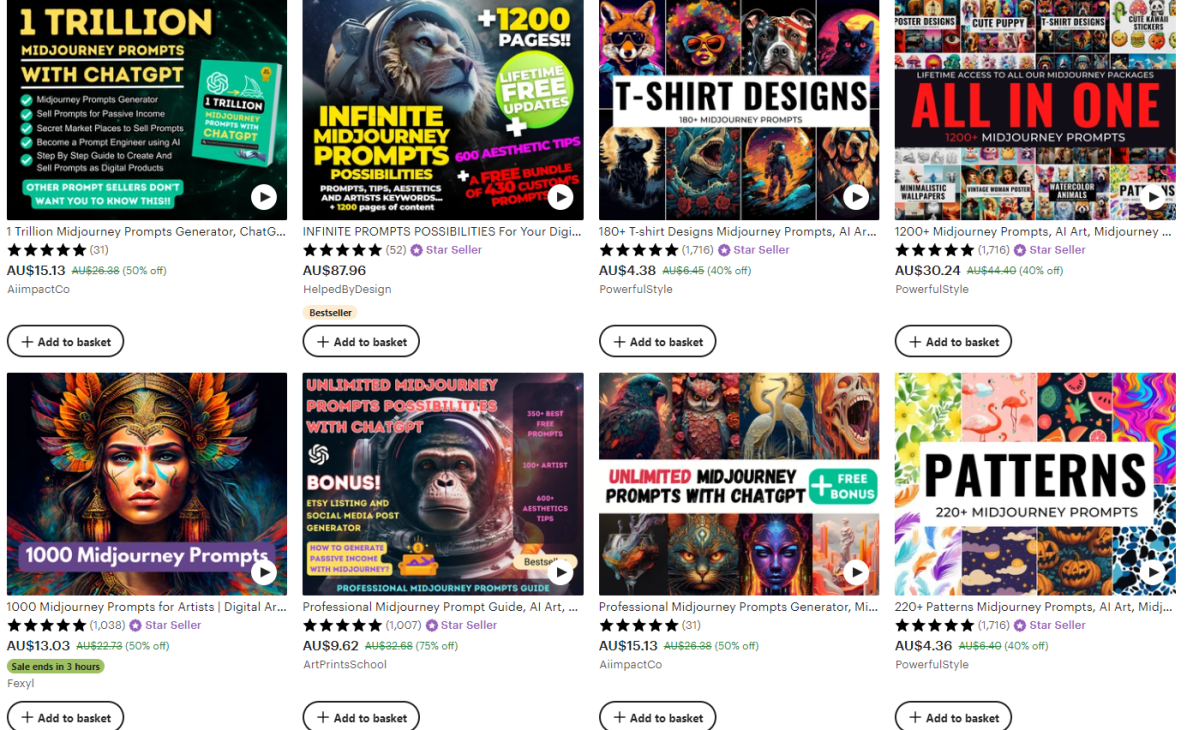 [Attach screenshots]
A top seller in the category is a shop named 'PowerfulStyle' from California, whose Midjourney guide is available for purchase for $27. The US-based seller has racked up over 1,700 reviews for their Etsy store, with customers thanking them for sharing their secrets.
Etsy and AI art
At the time of writing, Etsy's marketplace policy for sellers states that: "Everything listed for sale on Etsy must be handmade, vintage or a craft supply," and that handmade items "are items that are made and/or designed by you, the seller."
However, that AI-generated products are the swamping site, it seems that the online marketplace is having trouble enforcing its policy.