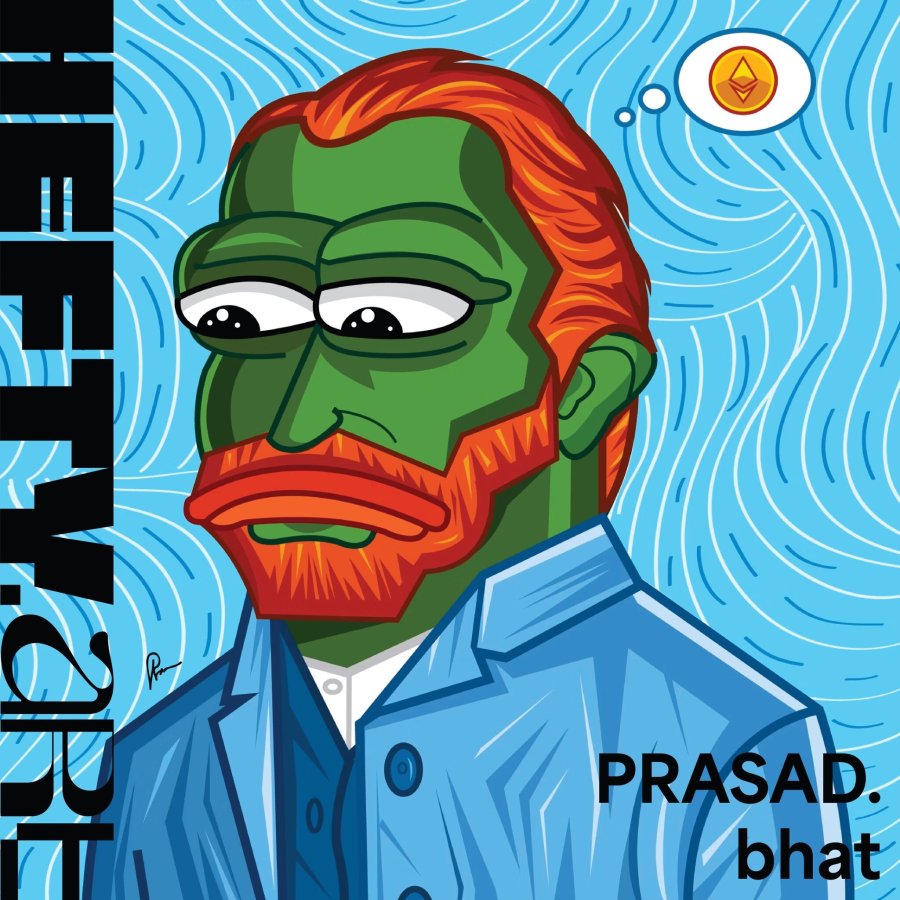 NFT Art: The NFT space is exploding at a rampant pace. Traditional artists have caught the NFT bug, given the endless opportunities floating in space. Despite crypto tokens and NFTs witnessing falling prices, there is evidence of significant movements taking place. While newer art forms dominate the market, we're seeing there is greater adoption from legacy art institutions to capture a slice of the NFT pie by showcasing traditional art on a global scale. 
Traditional art platforms like Hefty Art are making big moves by empowering conventional artists to delve into the global digital art market. Just recently, the former auctioneer sold M.F Husain's 'Fury' for over US$200,000. This is a clear testament to how there's more room for traditional art, and we clearly see the shift happening.
According to the Art Basel and UBS Global Art Market Report, the aggregate transactional value by auctioneers amounted to a whopping US$65.1 billion in 2021. NFTs by contrast saw explosive growth on the year before, racking up US$40 billion in sales over the same period.
The amalgamation of art and NFTs resulted in a market frenzy when Beeple's digital collage 'Everydays: The First 5000 Days' was auctioned at Christie's New York for US$69.3 million. It was the highest-grossing sale ever in the history of NFTs. This sale created a strong foundation for traditional art to set foot in the emerging NFT space. 
NFT Art: Opportunities
NFTs have widened the opportunity scope for traditional artists by providing an easily accessible technology, an audience without geographical limitations, and a cohesive culture regardless of their background or origin.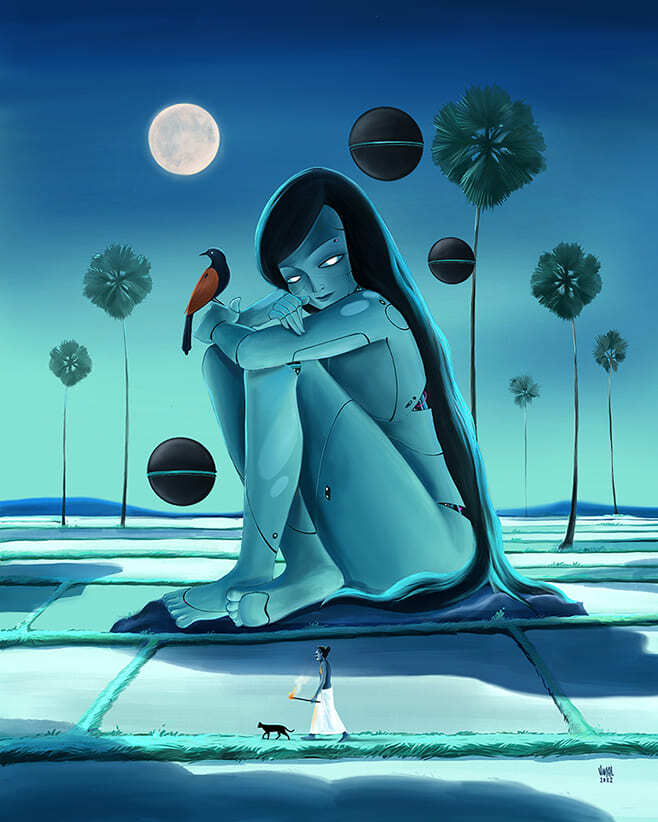 In contrast, the traditional art space made it extremely difficult for artists to showcase their work because of strict vetting criteria and industry practices undervaluing the potential of aspirational artists. With NFTs, we are witnessing a massive shift as artists can garner the true value of their digital artworks and explore passive income opportunities like royalties after their first sale. 
Celebrated artists launching NFTs, ''phygital' auctions' and more
Contemporary artists are delving into the NFT space, tapping into new audiences, and creating new revenue streams for their artworks. It is now safe to say that millions of dollars are being channelled into the traditional art space through NFTs. 
For instance, Polygon-backed Hefty bagged a quarter million deal for their latest October collection, providing support for the 'NFTs are here to stay' narrative. With NFTs going mainstream, there is also a  shift away from artists relying on traditional galleries and auction houses to sell their art pieces. Therefore, NFTs provide greater freedom, autonomy, and power to artists, along with the ease of displaying their years of hard work to get widespread recognition and credit.
Multidisciplinary Canadian artist Mad Dog Jonas, described as "the most expensive living Canadian artist," sold his first-ever NFT 'Replicator' for US$4.1 million through an auction block. His artworks include a flavour of Japanese animations clubbed with cyberpunks bringing out a unique distinctiveness in his artworks.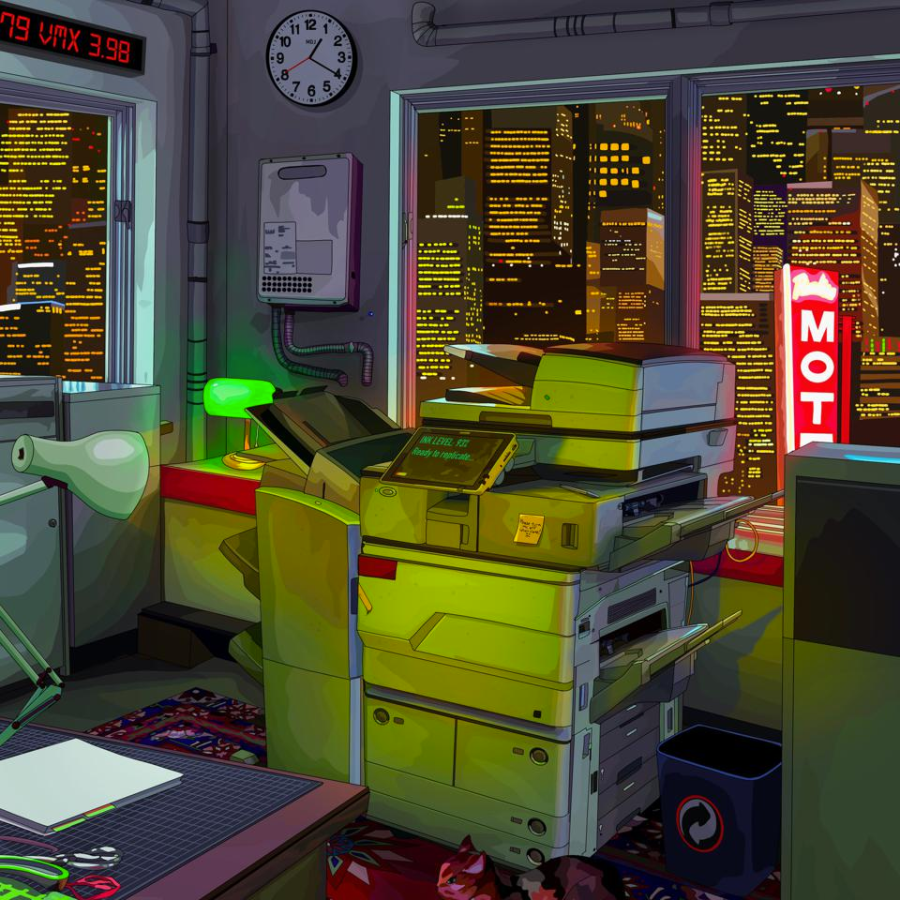 Projects
Famous artists like duo Matt and John also launched their favourite project Cryptopunks, and are working towards unveiling "The Meebits," featuring three-dimensional voxel characters on the proposed Meebits marketplace. With emerging markets, we are witnessing different forms of traditional art surfacing in the ecosystem, all thanks to NFTs. 
Renowned artist M.F Husain recently auctioned his artwork 'Fury' at the prestigious Sotheby's auction house in the first-ever 'phygital' sale in collaboration with Hefty Art. A 'phygital' sale essentially involves selling the physical painting of the artist along with its NFT artwork.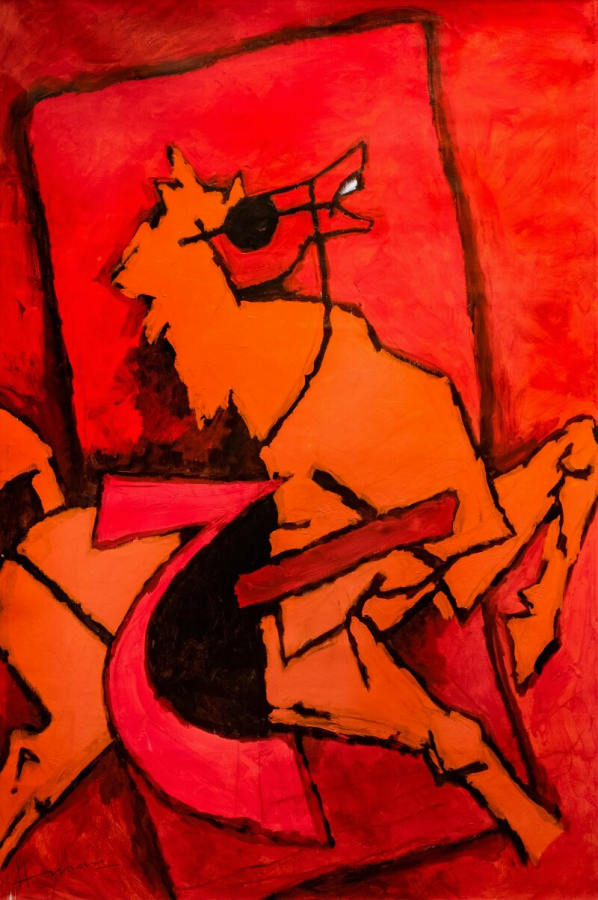 "The idea is to provide a platform that consistently delivers well-thought-out bespoke collections from traditional artists peppered with utility, where applicable. The thought behind conceptualising HEFTY.art and its distinction from other marketplaces is the idea that content isn't scarce; quality content is," said Ashish Chowdhry, Co-Founder of Hefty Art. 
M.F Husain witnessed a highly successful career from the 20th century with his previous artworks exhibited internationally at leading institutions, including V & A Museum in London, Serpentine Gallery, and Qatar Museum of Islamic Art in Doha. 
Traditional auction houses launching on-chain marketplaces
Witnessing several successful NFT art auctions, prestigious auction houses are increasing their Web3 presence through Christie's 3.0. The company has collaborated with leading players like Manifold, Chainlink, and Spatial to build a native on-chain marketplace. This new platform will amplify their NFT sales, drive increased transparency and fuel the Web3 culture forward. Leveraging blockchain technology, the new platform will enable scaling, strengthen the vision of Christie's and collaborate with emerging digital artists to showcase art on a global stage. 
If you were wondering if Christie's stint was an isolated move, think again. Multinational auction house Sotheby's has also launched an NFT marketplace to champion the NFT space. The exclusive marketplace will predominantly focus on technological advancements to make it easier for collectors to sell through their platform. The 277-year-old auction house celebrated its highest-grossing year marking over US$100 million in sales in NFTs. Moreover, Sotheby's was instrumental in brokering its first-ever sale with digital artist Pak resulting in a US$16.8 million transaction on Nifty Gateway – the marketplace owned by cryptocurrency exchange Gemini. 
Traditional artists: NFTs to the rescue
This new technology has levelled the playground for artists, and digital creators, as the barrier to entry is relatively low. By proliferating their artworks across the internet through NFT marketplaces, artists have finally found a way to build communities, share their work and gain global recognition. They are now a part of an equitable future, especially from a financial point of view. 
Traditional artists from unrecognised regions historically found it challenging to preserve artworks that were a greater part of their cultural heritage. Gatekeepers from the conventional art scene had made it extremely difficult for these antique and rare artworks to make it to the masses. Authenticity of the artworks and solving ownership-related issues by transacting on a public ledger are becoming prominent features of the traditional art space. 
While financial incentives have increased due to online auctions of digital artworks, artists are often entitled to royalties on the future resale of their NFTs. Therefore, there is a natural inclination from artists to explore the novel NFT landscape. 
By building online communities and upholding their vision, millennial artists can share their digital artworks without being judged on societal stereotyping of belonging to a specific age group. 
NFTs will transform how we view future art.
Mobile phones and computer screens have caught most of our attention in the modern digital world. Everything is bottled down to what we consume on our screens. While NFTs are relatively new, digital art has been part of our ecosystem since the internet era flourished. 
Today, owning a piece of artwork on the blockchain is simpler than ever but at the same time, it has the potential to add immense value to an individual's portfolio, or even act as a status symbol. With NFTs becoming mainstream, traditional artists can attract more buyers by launching on popular marketplaces like OpenSea, Magic Eden, or LooksRare. 
This might seem daunting to artists who aren't tech native. However, dealing with traditional art by integrating blockchain technology has opened up many avenues as compared to before. With NFTs gaining momentum and artists making the technological shift, one can expect future digitised iconic artworks and rare archives. Moreover, this has also empowered artists to employ different types of digital art and make bold moves by nurturing like-minded communities.