AI has made content creation cheaper and much more accessible. Online marketplaces including Etsy, eBay and Amazon are already seeing masses of users selling AI-generated merchandise to earn an income.
So, it seems that any internet platform that allows users to make money off the material they produce cannot escape the infiltration of AI-generated content. This time, YouTube is no exception. People who are looking to generate passive income are now using AI to create lo-fi music on YouTube – but do they cut the mustard?
YouTube's Lo-Fi beats
Generation Z internet users would immediately recognise the internet phenomenon that is the lo-fi girl. She's arguably the online character responsible for the popularisation of the lo-fi genre on YouTube throughout the 2010s. As of writing, the anime girl has over 13.3 million subscribers on YouTube – I mean, she even has her own Wikipedia page.
Although the lo-fi genre on YouTube has seen a decline in popularity in recent years, it still has a massive viewership base. A search of keywords like "lo-fi beats", "lo-fi hip hop", "chill beats", and "beats to relax/study to" on YouTube returns with thousands of relevant videos. Many of them have over millions of views, too, like this lo-fi hip hop mix featuring Bart and Homer Simpson.
Heck, even the Monterey Bay Aquarium in Canada has a "lo-fi shrimp beats" video for you to chill out to.
Lo-fi, music, and AI
Soon, some hustlers realised that YouTube's lo-fi music scene was an untapped money-making market. This, coinciding with the explosion of AI audio tools such as Eleven Labs and Llama2, have resulted in people leveraging AI to generate lo-fi beats videos at a very low cost – sometimes close to zero – and, supposedly, earning up to thousands of dollars in passive income.
A search of "AI lo-fi" on YouTube returns with hundreds of videos of self-proclaimed finance gurus teaching their viewers how to use AI audio tools, as well as AI art generators to craft the perfect lo-fi beats video.
One such guru on YouTube is Mr. Reis, who has over 385,000 subscribers on his channel. In a video that's been viewed more than 400,000 times, he claims to have made US$3,000 (AU$4,600) to US$10,000 (AU$15,500) per day with AI-generated lo-fi beats videos on the platform.
The YouTuber recommended AI music composer AIVA to produce music, and AI art generator Midjourney to create a thumbnail for an AI lo-fi beats video.
"Here is your way to financial freedom, trust me," Reis promised in his video.
However, it should be noted that YouTube's monetisation program has in place several stringent criteria that must be met before a channel can be monetised. 
Per YouTube's Partner Program FAQ, a channel has to have either "1,000 subscribers with 4,000 valid public watch hours in the last 12 months," or "1,000 subscribers with 10 million valid public Shorts views in the last 90 days." 
In other words, it's not that easy!
Besides AI-generated lo-fi beats videos, Mr. Reis has also created videos on how to generate passive income with AI art.
Finance influencers – or "finfluencers" – like Mr. Reis often build their brand on teaching others how to make money. "Finfluencers" are also often attached to affiliate programs where the creator gets a share of revenue whenever a follower clicks on their referral link. In Mr. Reis' AI lo-fi beats video, the creator clarified that some links in the video's description are affiliate links.
So, with "finfluencers" who make a living by teaching others how to make a living, keep in mind that there's a level of personal financial interest involved here.  
AI music and copyright
YouTube channel MusicbyAI churns out AI-generated lo-fi music videos – 705 of them at last count. However, despite having the capacity to mass-produce AI lo-fi beats, the account has only a little over 1,800 subscribers. So, we wouldn't say that the account is particularly successful – in fact, it's a far cry from the lucrative sums spoken about by Mr. Reis.
The thumbnails for the videos are also AI-generated, with most of them cookie-cutter like replicas of each other. Consider the robot cartoons and AI-generated faces of women below.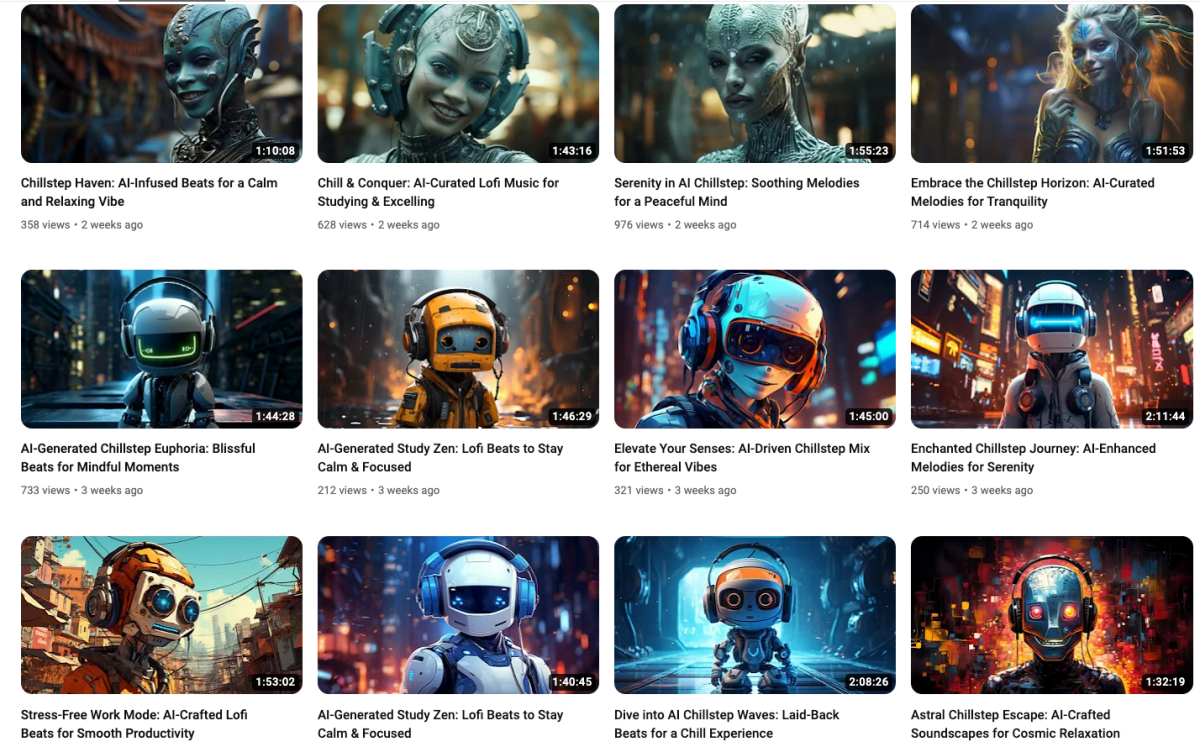 On Reddit, anonymous punters have also been giving out tips on how to monetise AI-generated lo-fi beats. "More subs, more cash – beer money, ads, [and] maybe even sponsors," the poster wrote. LoFiBeatGenerator.com is the platform that they shared. 
Did the person behind the MusicbyAI account on YouTube get their passive income tips from both Mr. Reid and Reddit? Is this actually a worthwhile side hustle? We wouldn't know, but it's apparent that some online aren't fazed by the possibility of producing content that won't go viral. Or content that could probably get them into trouble with copyright laws.
"Finfluencers" in Australia
In Australia, giving any form of financial advice as an unqualified financial advisor is treading risky grounds, and "could be the subject of enforcement action" according to ASIC. 

A spokesperson for Mr. Reis tells The Chainsaw: "[Mr. Reis] agrees that the lo-fi genre has declined in popularity on YouTube, making it a challenging space for passive income. The competition is high, and the same effort could yield better results in other niches."
"As for the matter of copyright laws concerning AI-generated content, when Mr. Reis created the video, there were no specific laws around AI copyright, and it's a topic still under debate. His perspective is that laws and regulations are ever-changing, so creators who started early could adapt to any future changes."