Last week, a content creator named 'demonflyingfox' uploaded a YouTube video of Harry Potter characters endorsing luxury designer brand Balenciaga. The entire video was generated with AI, and was so convincing that some social media users thought it was an actual ad from Balenciaga itself.
If you were wondering how complex it is to create such a sophisticated video, wonder no further: you can actually create similar 'AI ads' yourself. It's not a short process, but it's not too complicated.
A YouTube account named PromptJungle graciously shared a step-by-step tutorial on how to create your own luxury brand campaign. Here's how to do it.
How To Make Your Own Balenciaga Ad With AI
First and foremost, you need to have four AI tools ready: ChatGPT, Midjourney, ElevenLabs, and D-ID.
Next, you need to have a Discord account, and have the Midjourney Bot installed on any server. Here's a guide on how to add the bot onto Discord.
Generate characters
Step 1: Go on ChatGPT. Open a new chat window, and ask ChatGPT to give you the names of the ten most popular Harry Potter characters.
Step 2: Paste this prompt provided by PromptJungle onto ChatGPT.
"Now, act as a Balenciaga fashion designer with 20 years of experience. I want you to dress each of these 10 characters in a unique Balenciaga piece for a runway show. Just write the name of the character and the piece. Remember, it's a 1990 fashion show."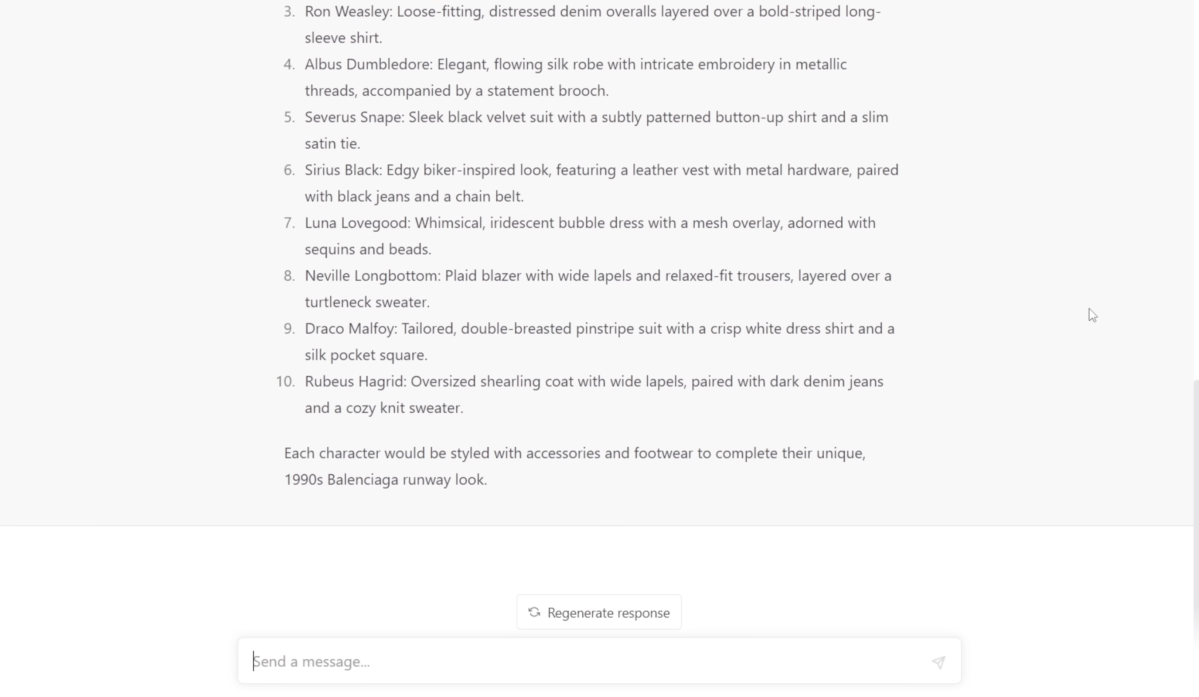 Step 3: Follow up with this next prompt on ChatGPT.
"'1990 screengrab of female model Hermione Granger wearing a grotesque black Balenciaga dress, fashion movie scene, Balenciaga commercial –ar 3:2 –v 5′. Just say 'Y' if you understand."
Step 4: After ChatGPT replies, follow up with this prompt.
"I want you to rewrite the prompt but for every character, with the clothes you chose for them. Remember to write the prompt exactly as I pasted it, with the same format and parameters. Only change the gender of the model, the name of the character, and the description of the clothing. Do you understand? Please ask if you need more information."
Step 5: With ChatGPT's responses to your prompts ready, head over to Discord, and open the Midjourney Bot. You can now start feeding the bot each prompt, one by one:
Copy a prompt with Ctrl + C.
On the Midjourney Bot, type "/image".
Paste the prompt with Ctrl + V.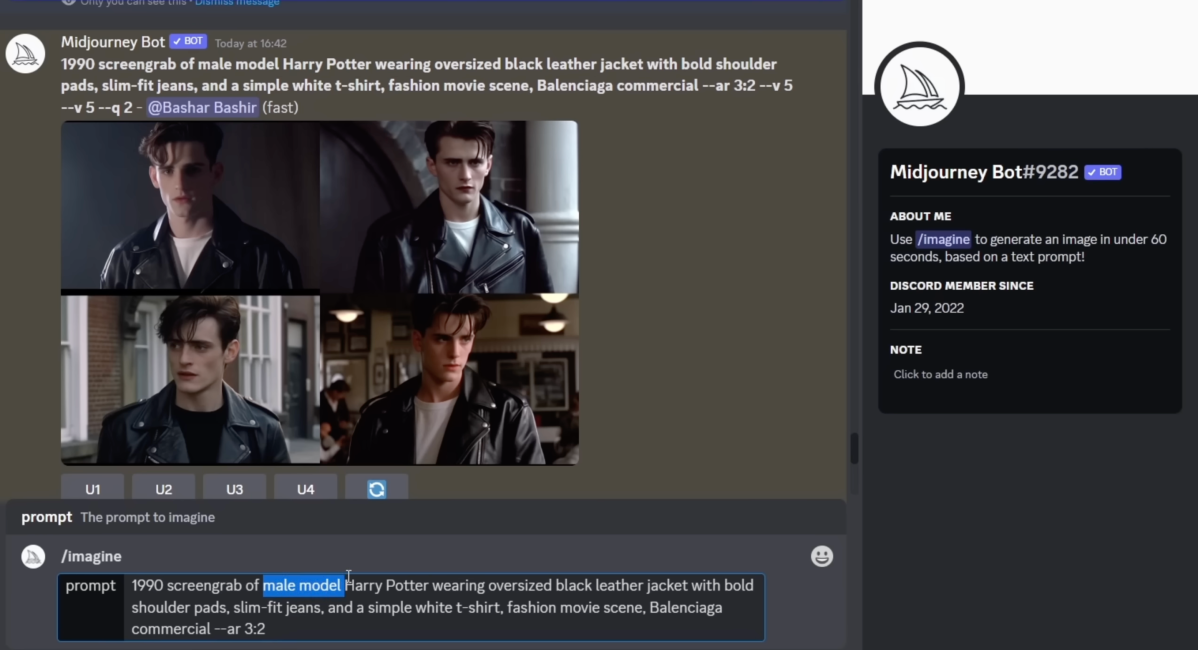 Step 6: The bot should generate a few images based on the prompt. Select the ones that you like and download them. PromptJungle advises to "always envision the video while you are choosing your images for the best outcome."
Tip: PromptJungle also shares that if you're not satisfied with the quality of the images, head over to upscale.media to enhance them.
Generate AI audio
Now, you need to generate the audio for the ad. Choose the characters that will talk in your video – let's try Harry Potter, which PromptJungle also selected.
Step 7: Go on YouTube and search for a video interview of Daniel Radcliffe speaking with high-quality audio. Copy the YouTube Link for the video, head over to YouTube to mp3 Converter, and paste the link. Download the mp3 file.
Step 8: Go to ElevenLabs. Click on 'VoiceLab' → 'Add Voice' → 'Instant Voice Cloning' → upload the mp3 file of Daniel Radcliffe → 'Add Voice'.
Step 9: Navigate to 'Speech Synthesis', and here's where you can get creative and write a script for Harry Potter. Click 'Generate' when done.
Generate AI animation
We're at the final stretch. You now need to animate Harry Potter.
Step 10: Head to D-ID. Click 'Create Video' → 'Add' → select the AI image of Harry Potter.
On the right hand side of the screen, you have two options to either let your animated AI character stay silent in the video, or move and speak.
If you want AI Harry Potter to remain silent, toggle to 'Script' → click on the clock icon that adds a 0.5 pause in the video → choose how long you want your animation to be pausing → click 'Generate Video'.
If you want AI Harry Potter to be speaking, toggle to 'Audio' → upload the AI-generated audio from Eleven Labs → click 'Generate Video'.
Step 11: Do the same with the rest of the characters, download them, and ta-da! Your very own 'Harry Potter x Balenciaga' ad campaign is now ready.
You can use any video editing software to stitch the videos together. PromptJungle used CapCut, a software owned by TikTok's parent company ByteDance that's wildly popular on the short-form video app.

The 'Balenciaga Harry Potter' campaign attracted nearly 7 million views so far and since then, the creator has released two more AI-made videos of fictional characters from Breaking Bad and Lord Of The Rings promoting Balenciaga. Who knows, maybe your ad could be the next viral video.