The cost of living crisis bites. It is not uncommon to have a second job to support oneself. But there's a new side hustle called 'The Hamster Project' on Twitch that wants to give its viewers free crypto – just by watching a hamster do hamster things.
The Hamster Project, created by two teenagers named Magnus and Paul from Western Europe, describes itself as a "cryptocurrency beyond human control."
The entire project centres around an adorable little hamster named Sunny. Little lady Sunny owns a digital token called 'HamsterBucks', and "regulates the total amount of tokens that can exist with the press of a button."
Button where? In Sunny's tiny cage, which is being livestreamed on Twitch, there is a little wooden box in the middle that is filled with nuts and grains. When Sunny plops her bum in the box, the button or "faucet" activates, and viewers can claim free HamsterBucks.
Sunny has a total of 3,500,000 HamsterBucks hiding in her chubby hamster cheeks. Each time the faucet is activated, 30,000 HamsterBucks will be transferred to the fastest person who claims them.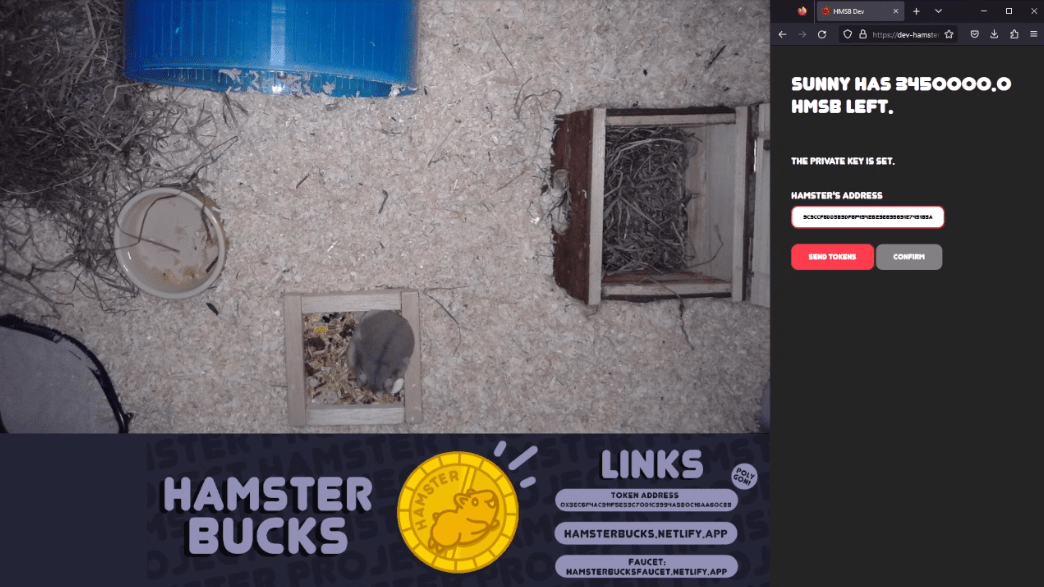 Dibidi ba didi dou dou
Is this an art project? A social experiment? A legitimate cryptocurrency that could dethrone Dogecoin? "We don't know," say Magnus and Paul on Twitch. However, on Reddit, they say that The Hamster Project "started as a joke we took too seriously."
A little bit too seriously, indeed. On Magnus and Paul's TikTok video about the project, the two described how they built the faucet from scratch. They also shared a link to the project's GitHub repository that displays the website's code, as well as the HamsterBucks token details on the Polygon blockchain network.
Feedback on the project on social media has been generally positive, with users joking that Sunny the hamster is more trustworthy than most crypto influencers.
One user in the crypto community also pointed out that the project is reminiscent of a notorious crypto trading hamster named Mr. Goxx. Mr. Goxx made headlines in 2021 for selecting crypto trades by spinning a hamster wheel. He ended up performing better than Warren Buffet and the S&P 500.
Could Miss Sunny do the same? We are not sure yet, because at the time of writing, she's fast asleep in her cage.