18-year-old professional gamer Kyle Jackson, better known by his online pseudonym 'Mongraal', has sold a rare Bored Ape Yacht Club NFT for 1,000 ETH (US$1.6 million) to the billionaire of a scrap metal company, Adam Weitsman.
Mongraal, known for his huge success on Fortnite, earned the NFT for taking out the highest score in Bored Ape Yacht Club's (BAYC) viral NFT game 'Dookey Dash', which saw players race through a sewer to track down a radioactive key lost in a toilet after it was swallowed by a fictional character called 'Jimmy' the monkey.
Mongraal NFT
"A special thank you to Yuga Labs for hosting an incredible competition. I look forward to competing in future events. Royalties will be paid in full," the pro gamer tweeted out to his two million followers.
Last week, a large Web3 community called 'UpDAO' placed a bid for 690 WETH (wrapped Ethereum) on the asset which was worth around US$1.1 million at the time. Popular meme website 9GAG then took out a 999 ETH (US$1.6 million) bid on the key but the meme team was ultimately outbid by Weitsman.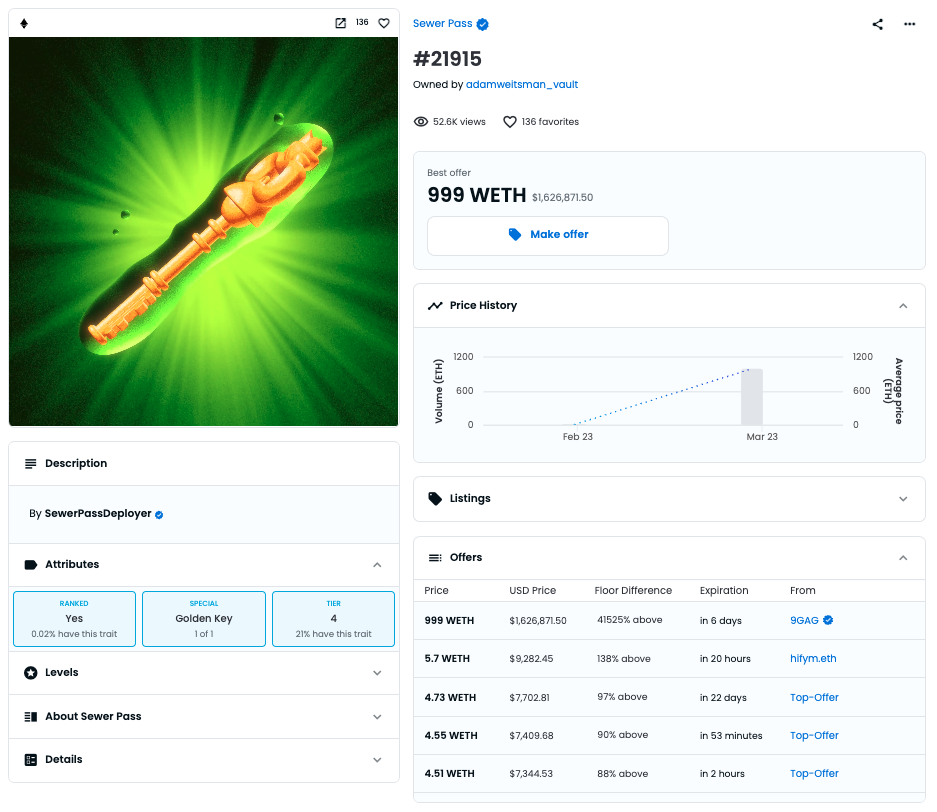 The key's new owner, Adam Weitsman is most well-known as the billionaire founder of Upstate Shredding, a wildly successful scrap metal recycling firm. If dropping a cool US$1.6 million on a single NFT wasn't enough to confirm Weitsman's interest in the Bored Ape Yacht Club, the billionaire also sports a BAYC NFT as his profile picture on Twitter.
This royalty payment will see Yuga Labs — the creators of Dookey Dash — receive a 5% cut of the sale, a sum that amounts to 50 ETH, or US$81,500.
BAYC win big with Dookey Dash
Between January 18 and February 8, gamers rushed to take out the top score on the viral NFT game Dookey Dash. The game was what's called an 'endless runner' and operates in a similar way to Temple Run, where players see how long they can survive without making a mistake. The longer players survived, the higher the score they earned.
The key itself unlocks an undisclosed prize, which Yuga Labs have remained extremely secretive about. At the time of writing, no one knows exactly what the prize will be, but popular guesses are that it could potentially be a new super-rare ape or an NFT from an upcoming unreleased collection. Yuga Labs are known for their lavish expenditure on high profile items and events, so expectations around the prize remain high.
Overall, Dookey Dash was a double-barrelled success for the Bored Ape Yacht Club.
Mongraal NFT
In order to play the game, users needed to first purchase a 'Sewer Pass' NFT, which are still selling for a staggering 2.4ETH on OpenSea. Currently, the total transaction volume for the Sewer Pass NFTs on OpenSea stand at US$64.7 million. With a blanket 5% royalties charged on all sales, this would have seen Yuga Labs net an income of US$3.37 million from NFT transactions alone. This amount doesn't include revenue earned from in-game power-ups purchased with the ecosystem's native Apecoin token (APE).

The widely covered dominance of Mongraal's success marks a key moment in Web3 gaming where the worlds of traditional gamers and Web3 gamers has intertwined.