After years of speculation from fans and leaks from Mark Gurman, Apple's much-anticipated virtual reality (VR) headset 'Vision Pro' was finally unveiled to the public. However, contrary to what some folks in Web3 had hoped for, the price of metaverse tokens did not jump after Apple's announcement – instead, they plunged.
Apple vs. Metaverse Tokens
A week before Apple's Worldwide Developers Conference (WWDC), the most popular metaverse tokens experienced gradual price increases, possibly due to good ol' hype by crypto influencers.
As a result of much pumping and shilling, Decentraland (MANA), The Sandbox (SAND), and Axie Infinity (AXIE), saw green in a sea of red.
First, the price of MANA increased 18% from US$0.45 (AU$0.68) to US$0.53 (AU$0.80).
Next, the price of SAND increased 17% from US$0.52 (AU$0.79) to US$0.61 (AU$0.92).
Finally, the price of AXIE increased 9% from US$6.83 (AU$10.30) to US$7.45 (AU$11.27).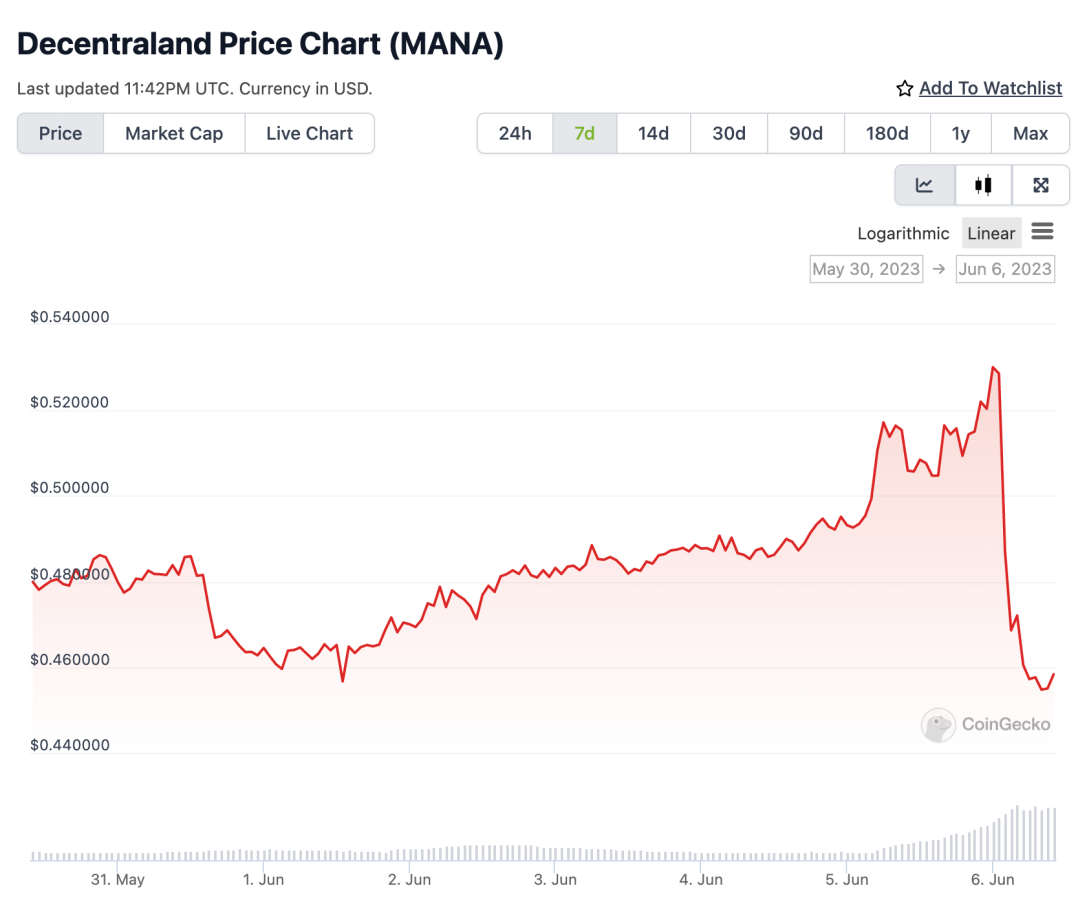 However, on the very same day that Apple announced 'Vision Pro', the US Securities and Exchange Commission (SEC) declared that metaverse tokens are securities. Shortly after, metaverse token prices fell sharply.
The SEC's labelling of metaverse tokens as securities is buried within its 136-page lawsuit against Binance and CEO Changpeng Zhao, which is, in and of itself, its own beast.
MANA, SAND, and AXIE are all available to buy, sell, and trade on Binance's platform. On Decentraland, the SEC's lawsuit noted:
"The information Decentraland publicly disseminated has led MANA holders, including those who have purchased MANA since August 2020, reasonably to view MANA as an investment in and to expect to profit from Decentraland's efforts to grow the Decentraland protocol, which, in turn, would increase the demand for and value of MANA."
The SEC provided identical reasons for its labelling of SAND and AXIE as securities.
This is certainly not good news for those who have invested in Web3 metaverse platforms. If an entity is deemed a security, they must be registered with the SEC or the relevant securities regulators in the region, which many are not. This could lead to heavy fines, and some cryptocurrencies may even be deemed as illegal.
At the time of writing, the price of MANA fell 18% from US$0.53 (AU$0.80) to US$0.45 (AU$0.68). SAND fell 16% from US$0.61 (AU$0.92) to US$0.51 (AU$0.77), and AXIE fell 12% from US$7.45 (AU$11.27) to US$6.58 (US$9.95).
Apple avoided the "metaverse"
At WWDC as well as Apple's promotional video for Vision Pro, there was no use of the word "metaverse". CEO Tim Cook also said that the new headset will be a device that "seamlessly blends the real world and virtual world."
Vision Pro will be on the market in early 2024 in the US, for $3,499 (AU$5,290). Wow, we heard you gasp. Don't worry, you're not the only one.