In the not-so-distant future, we will all be working, socialising and even doing business in a borderless, virtual-reality based world called a metaverse. At least that's what Facebook (now Meta) CEO Mark Zuckerberg and other major tech luminaries seem to think.
Putting any criticism to the side for a second, if Zuckerberg is convinced enough by the whole metaverse thesis to rebrand the world's largest social media company in its namesake, then now might be the ideal time to start asking some hard questions about what that future might look like.
While there are decades worth of philosophical scenarios to be pondered and ethical problems to be contended with, commerce expert and Director of Trade at market consultancy firm Flint Global, Sam Lowe believes that how we choose to conduct business might be one of the most major limitations to a successful metaverse.
The most difficult trade deal in the history of trade deals
Speaking to The Chainsaw, Lowe said that if the metaverse ends up being successful and people start conducting business there, governments are inevitably going to get involved, ever chasing those sweet, sweet tax dollars.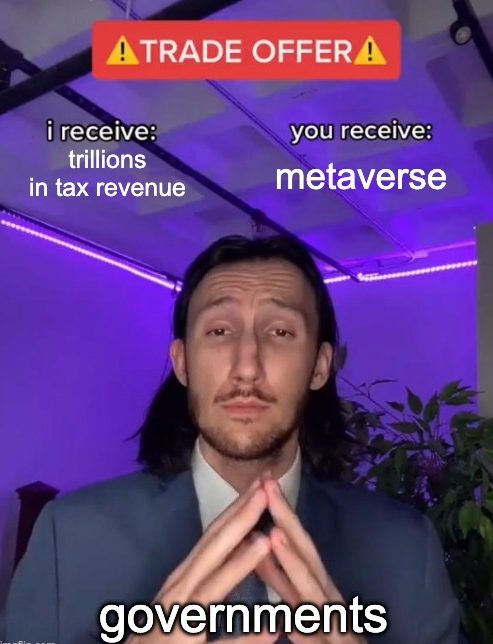 "While the pandemic has fast-tracked people's acceptance of remote working and meeting virtually, for big transactions and investment, face-to-face remains important," he said.
"But this is changing, of course, and in terms of long-term challenges, I think that if (and this is a big if) the metaverse is successful and we see a significant amount of economic activity shifting from the 'real' world to the virtual one, the government will increasingly seek to intervene, regulate and tax the virtual space," he said.
Lowe provided a general example of what this debacle might look like:
"Currently, if a musician wants to perform at a concert in Croatia, they will need to get a visa and a work permit. To stage the same performance for Croatian fans in the metaverse… no problem at all: no visa or work permit needed. But what if the Croatian government decided to try and do something about that?" Lowe asked.
"This might seem a niche example, but it applies to nearly every profession which involves some form of client or customer engagement."
Regulation is coming to the metaverse
"In essence, my view is — similar to what we saw with crypto — if the metaverse really does succeed, then government interest and, eventually, regulation will follow," Lowe continued.
By its very nature, the metaverse transcends the physical bounds of regular geography, so any new trade policy would have to reflect this. Limiting tariffs and taxes to where buyers and sellers — or web servers — are located is fundamentally too narrow in its scope.
Another major barrier to entry for the broadscale adoption of metaverse, according to Lowe, is how data currently travels across cyberspace.
"Personal data would need to flow more freely than it does now," he said.
"By which I mean, if the company running the global metaverse has to store and process the personal data of users in their respective real-world countries, the economies of scale aren't great. You might also get bits of the global metaverse entirely closed off to people from certain countries."
Metaverse business: Are digital borders inevitable?
Despite the limitless nature of the internet, we'd still end up with 'digital borders'. You've probably already experienced some frustration with a digital border when you click on a YouTube video and receive the message: "not available in your country". Feels pretty stupid, doesn't it?
Lowe goes into more detail about these problems in a blog post titled 'Most Favoured Nation: Trade Policy in the Metaverse', where he puts forward an interesting series of questions that prod at our intuitions about how best to regulate economic activity in the metaverse.
Lowe also points out the reality that digital goods might soon be treated like imports and exports as more of our resources become onboarded into the digital.
"But what if physical goods trade falls off a cliff as a result of everyone getting everything they need online? Some countries such as India still pull in quite a bit of tax revenue from import tariffs," he writes.
"Making up the shortfall could be difficult and it is only a matter of time before someone tries to apply tariffs to the virtual products being sold in the Metaverse," Lowe adds.
Metaverse business: Paradise or hellscape?
Unless we get a handle on the rules of how data, money and intellectual property flow through the metaverse, we are once again leaving ourselves open to being controlled by the ever-reaching hand of governments or exploited for our data and attention by predatory corporations.
The metaverse could very well be a utopia that humans use to complement our lives. Anyone, no matter where they are in the physical world, could put on some VR goggles and meet their friends in a virtual coffee shop aboard a space station orbiting a star in a procedurally generated solar system. From there, they might choose to teleport to a work meeting in an underwater city.
Unfortunately, if we don't starting ask the hard questions it seems most likely that we will have to watch as our society gradually shifts towards a Ready Player One-style world where Zuckerberg-like entities farm our attention as governments sit on the sidelines growing fat off the tax revenue.
Ultimately, Lowe concludes that our "dated trade policy and regulatory frameworks" are still struggling to keep up with the changes introduced by Zoom calls, let alone the advent of a borderless virtual reality.
When asked where he sees metaverse technology ideally actually taking us, Lowe answered, "I'd say that in an ideal world you would already have lots of different, hopefully interoperable, worlds all serving different functions."
Regardless, the emerging metaverse(s) will provide humans with ample fuel for discussion and debate moving forward.