Abbie Chatfield is the latest media personality to lend her likeness to artificial intelligence, joining the likes of Kendall Jenner and Billie Eilish.
The reality show star-turned-media host has taken up a new role as Chief Sensory Officer at the Northern Territory's tourism board, and introduced an AI chatbot called 'ChatNT' to, if it's not obvious enough already, chat about all things NT.
"Let's start planning your holiday to enliven your senses!" Abbie Chatfield's chatbot – powered by OpenAI's GPT-3.5 – exclaimed.
Sure, why not? We've never travelled to the NT and are keen to go one day, but we don't know where to start. So, we gave ChatNT a whirl. 
Abbie Chatfield: ChatNT
As an office girl in her mid-twenties who's trying to save money for a house, but who also stubbornly wants to see more of the world with limited finances, we opted for a budget-friendly trip. 
All we know is that flight tickets to the Northern Territory aren't cheap, and we've got limited days of annual leave. So, let's make this a ten-day trip with a budget of $4,000. We are flying out from Melbourne.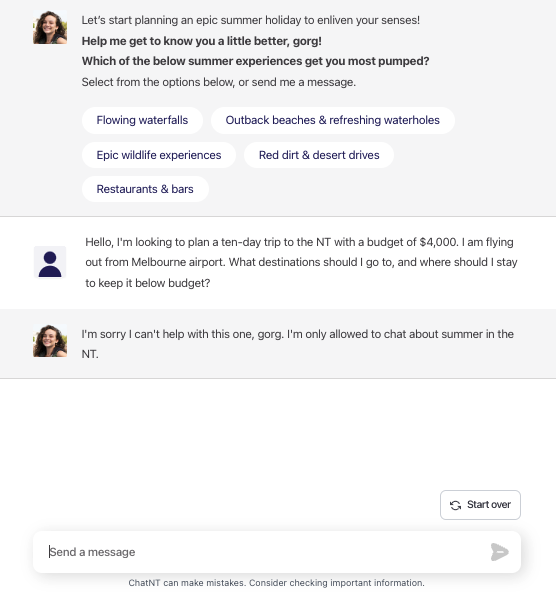 Abbie, gorg, come on – we're not talking about anything else, we just want a clear itinerary… nevermind. We want to make this happen, so let's cooperate with ChatNT and select from the travel options above. We go with 'Epic Wildlife Experiences' and 'Restaurants and Bars'.
Sure enough, ChatNT returned with some pretty impressive recommendations. First, Abbie's AI chatbot suggested we go to the Yellow Water Cruise for abundant wildlife, then the Yellow Water Wetlands to catch glimpses of saltwater crocodiles. The Crocodylus Park and Zoo in Darwin was also a fun place to check out, according to the chatbot.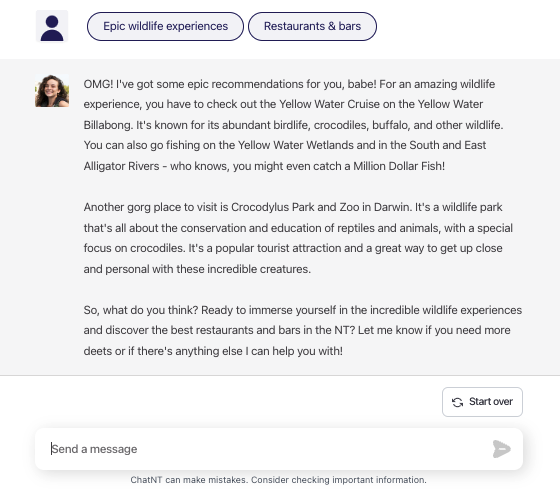 However, ChatNT didn't provide recommendations for restaurants and bars that we asked for. We attempted a second time.
ChatNT: Round two
We're not gonna lie: the responses we received this time round looked solid. First was Mimi's Restaurant & Barra Bar located inside Kakadu National Park, where customers can enjoy an alfresco dining experience with locally sourced ingredients.
Next was a list of restaurants and bars in Alice Springs. Epilogue Lounge & Rooftop Bar for cocktails and live music at the heart of Alice Springs, and The Juicy Rump for juicy steaks. Zero additional instructions by ChatNT on how to get to those places, though, but that's fine.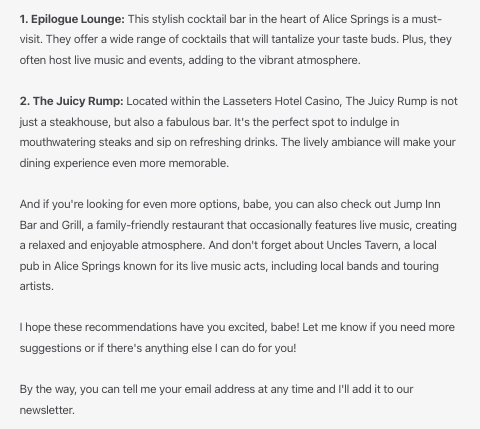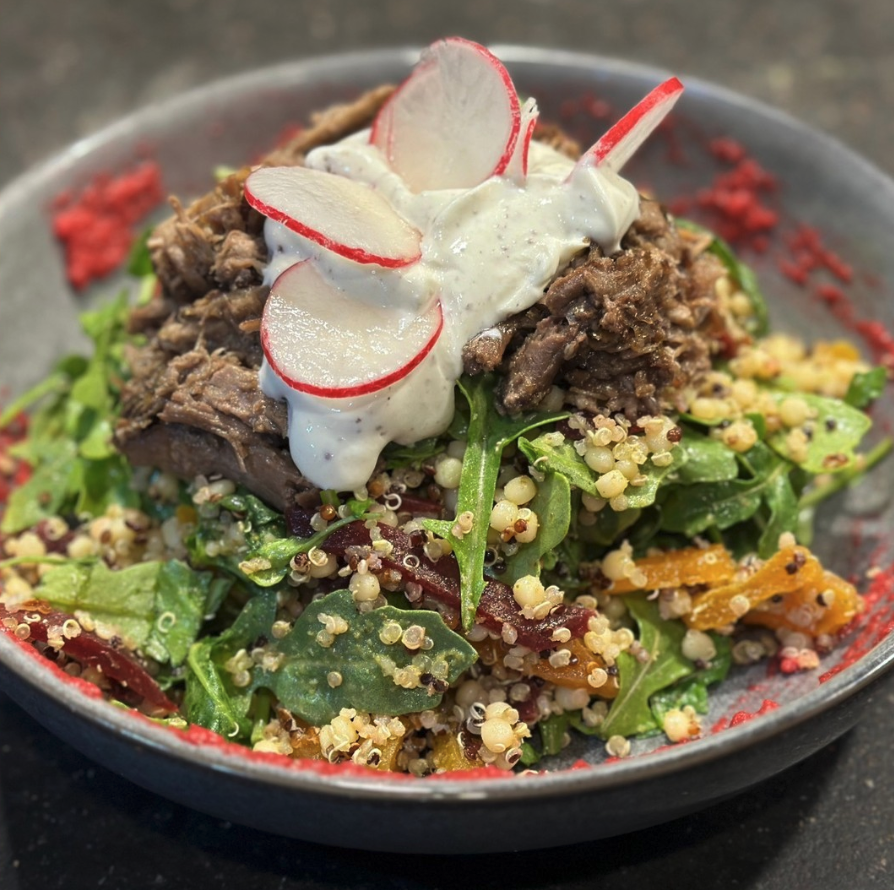 "Darwin is the place to be for incredible restaurants and bars, babe!" Abbie Chatfield's AI chatbot said. We agree, babe!
AI chatbot gives us travel tips
In all, ChatNT wasn't as comprehensive as we'd like it to be when it came to planning out our ten-day itinerary in the Northern Territory. We weren't provided with details like a breakdown of our budget, our recommended mode of transport, travel times between destinations, and so on.
However, we were given several attractive destinations as options to include in our itinerary, so extra points for Abbie's AI. Our planning process is also a reminder that AI chatbots like ChatNT are helpful when it comes to performing the role of an assistant. Given the ambiguities and inaccuracies in their answers, one should perhaps avoid using it to wholly replace work that requires human supervision – in this case, planning your dream holiday.
"To be able to help build a quirky new tech tool and experience a remarkably different kind of summer all in one; this might just be the best job I've ever had!" Abbie Chatfield said of her experience as Chief Sensory Officer.
"I can't wait to see how Aussies have fun interacting with 'me' on ChatNT, and hopefully I can help them plan the most unique summer holiday of their life!" she adds.