Filming your wedding in virtual reality (VR) means that ugly wedding fashions will haunt you in a more intense way as the years go by.
Have you met the hottie of your dreams? Is it time to put a ring on it and get them down that aisle? Then for those who love virtual reality, this actually might be worth considering.
These days, you can get your wedding filmed using virtual reality cameras. After the event is filmed, the photographer stitches it all together, after which you can watch yourself at your own wedding like you are a guest … even years after the event!
Your wedding day will be the best you have ever looked in your life, so you will be thrilled to be able to check yourself out, in VR of course.
VR for life
Here is another weird idea. Your subsequent children – if you choose to have any, no pressure but who will pay your pension – will also be able to attend as guests, even though they aren't born yet.
You can get a feel for the technology on YouTube, however it isn't the same without a headset.

Redbank Studio says you can relive your ceremony by being part of the reception and seeing yourself do the first dance. For their trouble, they will give you three hours of VR recording, and two headsets. This way, you can play the video on your phone and watch it in an immersive way anywhere. Others that could not make it to the wedding will be able to watch it too, as long as they have a headset.
And it's not just weddings where this tech gets fun. Virtual reality movies have been played in cinemas for quite some time. But as a wedding thing, not so much, until now.
Going mainstream
To watch your wedding in 3D, if the video company doesn't give it to you, you'll need to get yourself some equipment to watch it on. A good exercise is to look up some of the more professional headsets, but you don't need to spend a fortune. Some mobile phones are already being sold with a VR headset in which you insert your phone – and these headsets can be sold separately.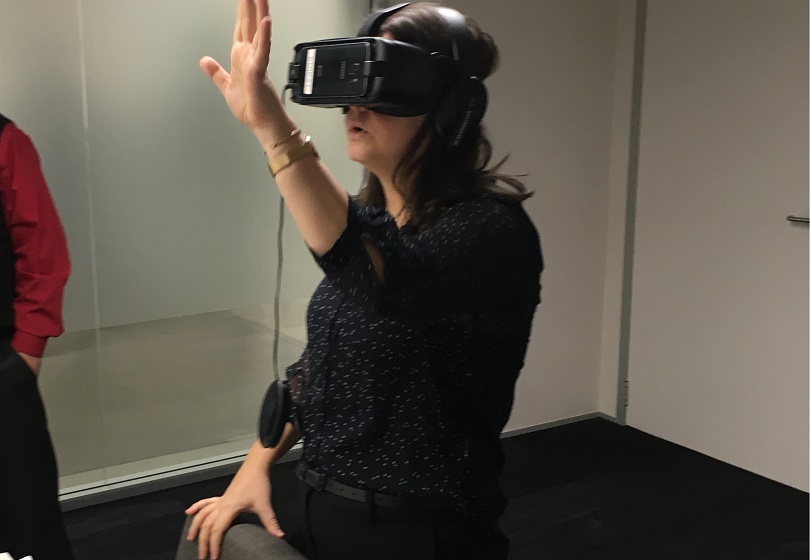 Preserving your memories in VR
Julieanne Edwards and her company Varamore film VR weddings and other events, and are based on the Gold Coast. Edwards says she got into VR filming because she really liked the immersive experience of people reliving their wedding day or event.
"When you put the headset on, you're literally back in time in that experience, like you're living it and feeling it then and there. Usually, I give the video to the client, and we'll include a headset."
Edwards says she loves the feeling side of it, "I just teamed up with nerds who knew how to put it all together. And then we created a team out of it."
VR accessibility
Still want to continue your VR adventure on your honeymoon? Personal VR cameras are starting to hit the market. So in fact, you can actually make your own VR movies. Major brands such as Kodak, Nokia, and soon Nikon, are pushing the quality of 360-degree videos exponentially.
There is now also a range of software available for stitching and editing the VR video footage together. However, VR footage is much more complex than normal video editing.
Maybe leave that part of it up to the professionals!