An interesting study was recently released about what AI products we humans were drawn to. And there were a few really fascinating things about this study that have made our humanness so apparent.
The first is that while most people would presume that most AIs would be used in a work context, this apparently wasn't the case. While it is true that ChatGPT takes centre stage – along with Google's Bard and Quora's Poe in the mix – there were other AIs in the chart that were likely not being used for work.
Companionship
While ChatGPT had a massive lead in terms of the most-visited AIs, CharacterAI emerged as the number two spot taker. And it was the position at number two that's fascinating.
AI companions like CharacterAI, offer users a personalised interaction with AI. In fact, companion AIs accounted for 13.2 percent of the top 50 list, second only to general assistant AIs which dominated at 68.7 percent.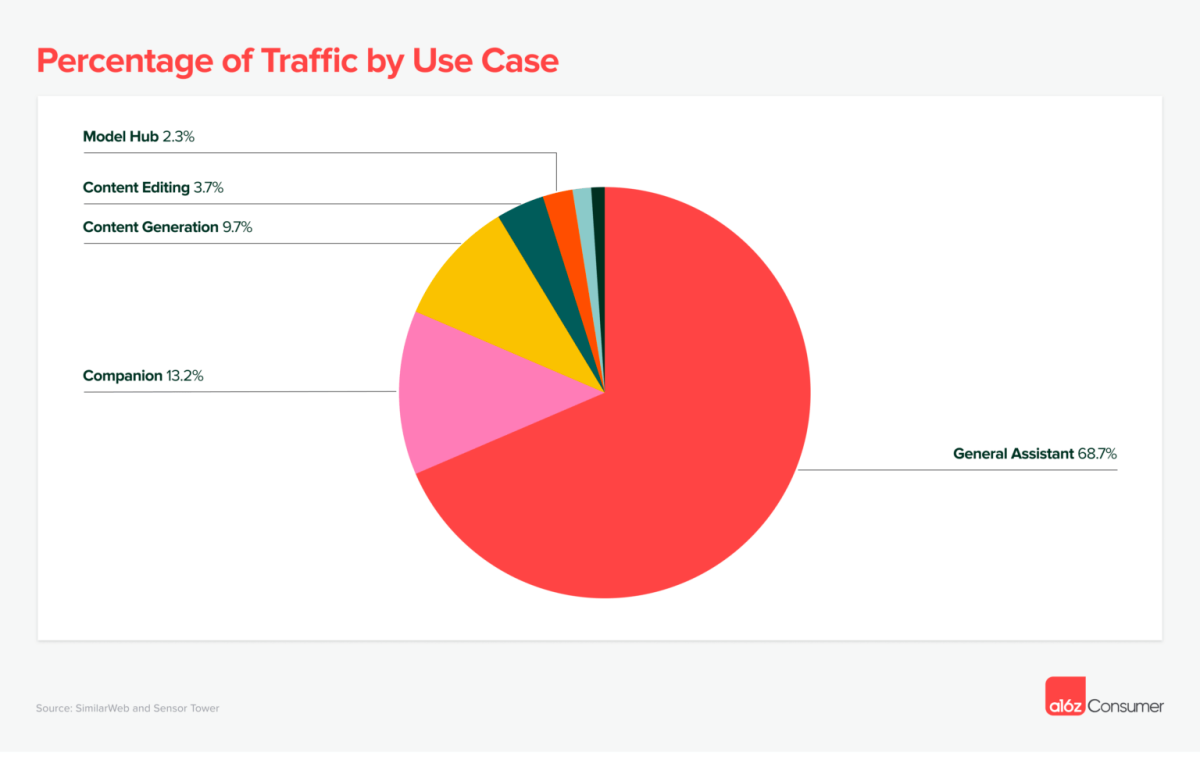 Top 50 GenAI Web Products, By Monthly Visits
1. ChatGPT 
2. Character.ai 
3. Bard
4. Poe 
5. QuillBot
6. PhotoRoom
7. CivitAI
8. Midjourney 
9. Hugging face 
10. Perplexity
11. You
12.  Leonardo 
13. PIXLR
14.  Veed.io
15.  tome 
16. AI-Novel
17.  Cutout.pro 
18. Forefront.ai
19. Clipchamp 
20. TheB.ai 
21. Nightcafe 
22. Replicate 
23. Speechify 
24. ElevenLabs
25. Lexica 
26. VocalRemover 
27. Writesonic 
28. ChatPDF 
29. D-ID 
30. Chub.ai
31. GPTGO.ai
32. Runway 
33. Playground 
34. Kaiber 
35. Hotpot
36. Stable Diffusion 
37. Copy.ai 
38. ZeroGPT 
39. Smodin 
40. ZMO.ai 
41. Fliki
42. Pornpen.ai 
43. Kapwing 
44. Gamma
45. Looka 
46. Human or not 
47. PIXai
48.  Writer
49. NovelAI
50. DeepSwap
AI and human interaction
Companion AIs are different from traditional chatbots or smart assistants, which are mainly designed to perform specific tasks or answer queries. Companion AIs aim to provide emotional support, social engagement, and entertainment to their users. They could also help users improve their skills, habits, and well-being.
Interestingly, companion AIs have a high retention rate compared to other consumer apps. Users tend to chat with their companion AIs regularly and for long periods of time. And they remained faithful to the sites they liked best.
So are we all terribly lonely as a species? Or is this just something new and exciting that we feel the urge to experiment with?