Is Taylor Swift a language mastermind who is secretly fluent in Mandarin? Some netizens in China seem to believe so, because the latest viral videos that have been trending on the Chinese language interwebs are two clips of the popstar giving interviews in Mandarin.
In the first clip, Swift shared how she'd been globetrotting, travelling to Italy, France and Japan. In the second, Swift enthusiastically explained the creative process behind her albums: "These songs didn't make it into the album because I want to save them for the next album … but the next album is completely different."
Deepfake Tay Tay
The two videos trended on Weibo, also known as Chinese Twitter, for over 24 hours with over 1.8 million page views. The hashtags "#TayTaySpeakingTheLocalLanguage" and "#TayTaysLevelTenChineseSkills" were also trending alongside the videos.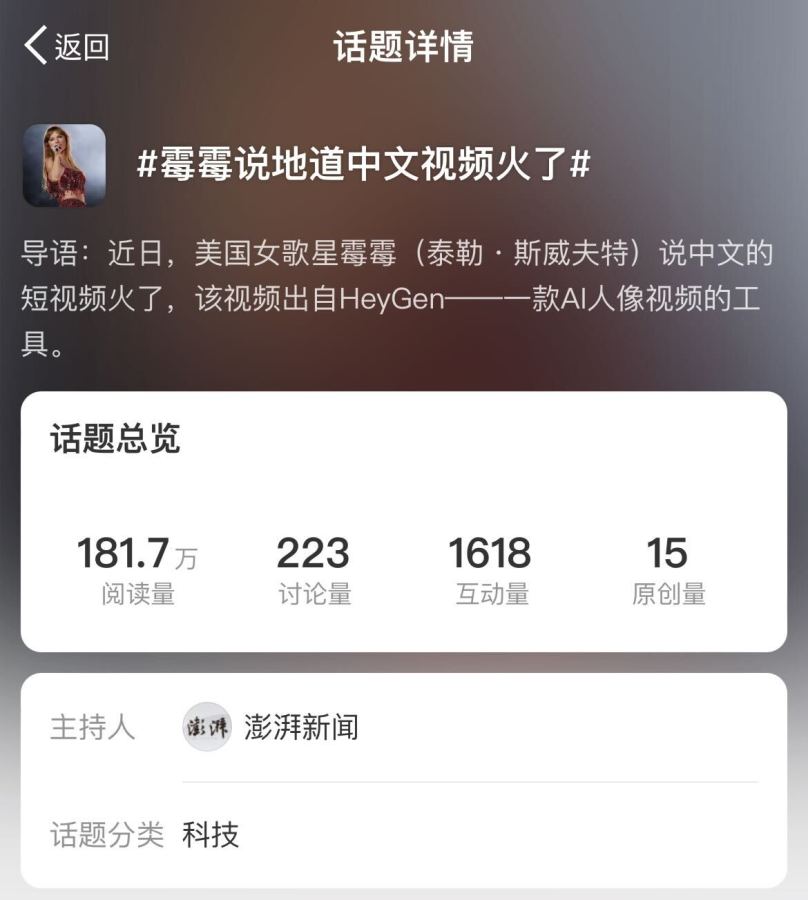 If it's not obvious enough already to some readers: Taylor Swift does not speak Mandarin, only ye olde English. Those videos are AI-generated deepfakes, and according to local Chinese media, they were created by tech startup HeyGen, which was founded in 2020.
HeyGen presumably created those videos to showcase the company's in-house AI technology. Native Chinese speakers would also immediately notice that AI Taylor Swift and her Mandarin-speaking skills are no joke: her lip movements are accurate, her pronunciation is perfect, and the AI's voice even sounds like Taylor. Look what they made her do!
Celebrity deepfakes: This ain't for the best
Taylor Swift is not the first, and won't be the last, famous figure to have their likeness used without consent. 
A recent AI-generated deepfake video of supermodel Bella Hadid voicing her support for Israel has also gone viral on social media platform X.
"… I can't stay silent. I apologise for my past remarks [about the conflict]. This tragedy has opened my eyes to the conflict and I stand with Israel against terror," a deepfaked Bella Hadid declared. 
However, the video of Hadid was originally from 2016, when the supermodel gave a speech about battling Lyme disease at the Global Lyme Alliance Gala in New York. Hadid is half-Palestinian, and the model's passionate advocacy for the Free Palestine movement throughout the years is well-documented.
The above AI-generated video of Hadid shows how easy it has become for opportunistic actors to create deepfakes to spread misinformation. Its virality also shows the reach of manipulated media – at the time of writing, the video hadn't been removed from X. It had also accumulated over 24.1 million views on the platform.
Swifties love AI-generated Taylor Swift
On Weibo, many Swifties were delighted by, and fascinated with, the Mandarin-speaking deepfake Taylor Swift. Some requested more AI-generated content of their favourite singer.
Others said the videos were "frightening", and warned of the rise of AI-generated frauds and scams online. 
"Voice actors are about to lose their jobs," wrote a Chinese user.
"You just can't trust anything online anymore," lamented another.
"While this at first glance seems at odds with the story of the deepfake-Swift, it may be that fans in China found her to be even more relatable and closer to their own experience because she was speaking their language," Dr. Michael Wildenauer, Senior Research Fellow at the Centre for AI and Digital Ethics at the University Of Melbourne, tells The Chainsaw.
"In my view, there is a fine line between tribute and trickery… If it was intended as a tribute, it may still be viewed as unethical if it takes away from Swift's ability to craft her own messages to her fans rather have them delivered by an unrelated entity… Such a mechanism may also be used to project a point of view that is deeply at odds with Swift's own views, causing moral injury to her and possibly also extreme reputational damage," he adds.