Shiba Inu (SHIB) may have started its life as a memecoin, but lately it is growing in utility. With strong support behind it, it's become one of the few coins that might actually 'GMI', especially if SHIB enthusiasts like shoes.
A luxury shoemaker has just announced that they will accept SHIB as payment for their footwear. According to a tweet by Bitpay, Atheist Shoes are now accepting the doggie coin in exchange for some super-trendy luxury sneakers.
The shoe company was started by Irishman David Bonney, based in Berlin.
Atheist Shoes are not the first shoe company to accept SHIB. Gucci has been accepting SHIB for their shoes and other merchandise for quite some time, and a range of other companies have been taking the leap in accepting SHIB as a payment method.

Merchants now have the option to accept crypto payments for goods and services through platforms such as Binance Pay (SHIB was added to Binance Pay last month). As long as Shiba Inu is one of many cryptocurrencies listed on such platforms, then greater adoption seems very likely.
So likely, in fact, that Australians have taken to paying their electricity bills with SHIB.
Growing acceptance
Other SHIB payments acceptors recently include major airlines, including Air Canada and American Air who were proud to say they'll accept the community coin on their bank books. Additionally, the FCF Pay Visa Card allows holders to pay for services like Netflix, as well as use SHIB to shop on Amazon.

Beyond paying for flights, shoes and TV, BitPay recently announced a collaboration between global software giant SAP and BitPay that allows people to have their wages paid in SHIB.
Could Shiba Inu be one of the only tokens beating the bear in a wild showdown?
Shiba Inu shoes, paid for by SHIB
For SHIB enthusiasts looking for themed apparel, a shoe company is selling footwear branded with the buyer's favourite crypto. Called Blockchain Kicks, the shoes are custom-made and can be paid for using cryptocurrency.

The company says the shoes are the first "blockchain-inspired custom sneakers printed with your favourite coins."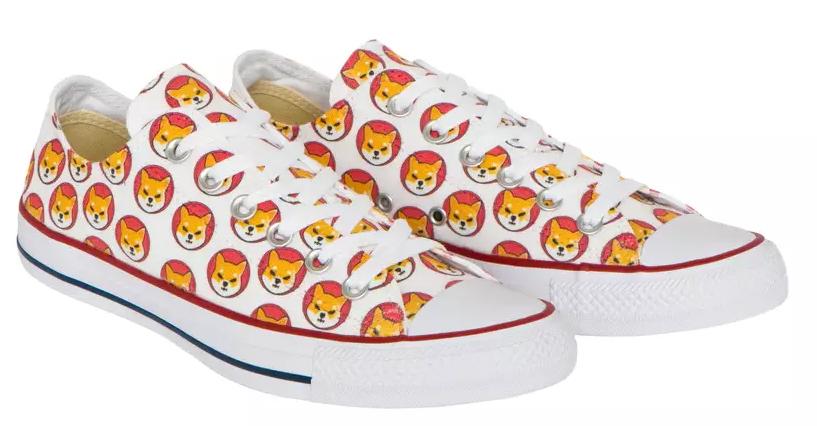 Shiba Inu may have originally just started as a joke, but it's utility expands well beyond what cryptos people once thought held weight [cough … FTX].