Brisbane crypto exchange Coinstash has introduced what it is calling the "Aussie Bundle". It's a packet of Aussie digital assets sold as one, to avoid individual transaction fees. So if you really care about being as Australian as a pavlova at Christmas this might appeal to you … or not.
Transaction savings aren't the only way that Coinstash is marketing the Aussie Bundle to newbies. The "Bundle" is also a way for beginners to invest in "top-tier Australian cryptocurrency projects" without having to do their own research or spend time trying to work out what these companies are doing. The bundle is a collab between Coinstash and Investified, a cryptocurrency education platform.
The selection of cryptocurrencies in the bundle includes those from gaming, decentralised finance (DeFi) and the Metaverse: ImmutableX (IMX), Illuvium (ILV), Maple (MPL), RedFOX Labs (RFOX), Synthetix (SNX) and Powerledger (POWR). So if you like Australian things like TimTams dipped in a Penfolds Grange, this may seem like a good idea.
Coinstash's Chris Graham told The Chainsaw: "Most of the coins selected are either leaders in their industry or their sector, or they're some of the largest coins by market cap within the crypto sector. We are the first Australian exchange to offer anything like this with a specific focus on Australian projects."
So why would people buy into the Australian Bundle as opposed to just buying coins of their own choosing?
"I guess for a lot of people the bundle product in general gives them an easy way to invest in certain sectors or niches." Graham said. "We have different bundles, like the top 10 coins by market cap, an AI bundle, or a DeFi bundle. It's a really easy way to get exposure to a diverse, focused group of assets. We haven't selected these based on their performance potential. But it is a way to get exposure to some of the best players in the market."
Aussie Bundle price
So what does it cost? Answer: Anything you would like it to cost.
"You can buy the bundle with any amount of money," Graham said. "Whether you have $10 or $100, once you purchase it, you will get an equal allocation of each of the coins within the bundle.
"If you're a beginner and you were to buy each of these coins, you'd have to buy them individually, research them individually, and pay transaction costs with each of them, which can really add up. With a bundle, it's just one simple transaction and you get access to all of these coins, and you aren't overexposed to one project specifically."
Drawbacks
Dr John Hawkins is a senior lecturer at the School of Politics, Economics and Society, University of Canberra. He told The Chainsaw he doesn't see anything particularly attractive about the bundle.
"It seems a bit odd to talk about an 'Australian bundle' when crypto is supposed to be about being decentralised. What is the 'nationality' of Bitcoin?"
That isn't Dr Hawkins' only reservation. "The reference to 'largest coins by market cap' is a bit misleading. None of those listed are among the 50 largest. Illuvium is 154th and Powerledger 283rd, for example."
Is it a good investment?
If you are looking for a way to support Australian crypto projects and are not entirely profit-driven, then the bundle is an easy way to save on transaction fees. But be prepared for a loose idea of "investing".

A look at the performance of the Aussie Bundle is a wild ride in volatility. The chart forms a "kangaroo formation" (bouncing up and down).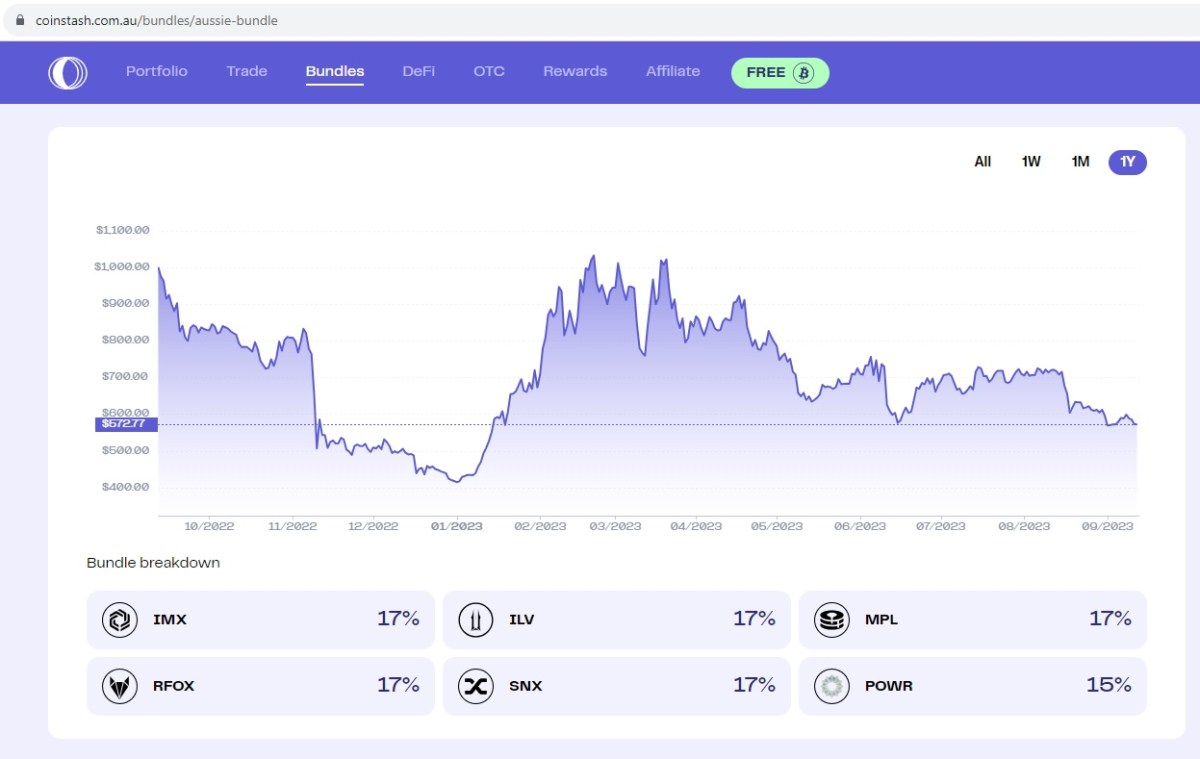 But if you are willing to risk your hard-earned cash for the sake of supporting something as Aussie as a Bunning's sausage, then go forth and spray your money at it. Or don't, and just spend your money on a six-pack of lamingtons instead.